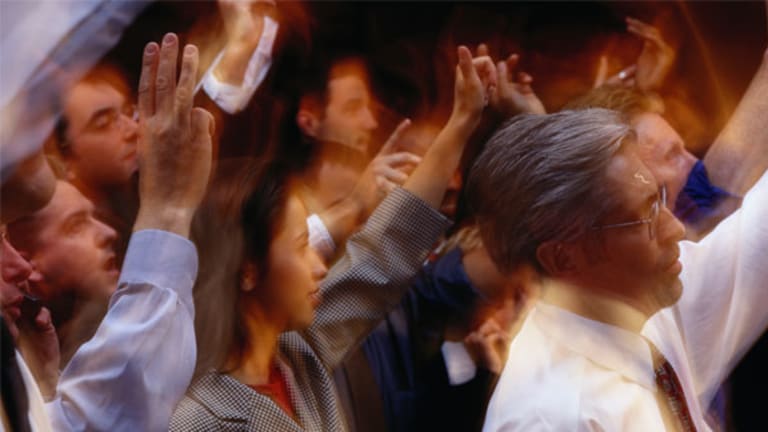 Kass: Why Now Is a Good Time to Be an Investor in Yahoo!
The sum-of-the-parts analysis yields a far richer share price vs. current levels.
(This article first appeared on Real Money Pro on Sept. 29.)
"[Yahoo will seek to] maximize long-term value for shareholders [in any deal involving the remaining stake in Alibaba]. . . . Please do not mistake our silence as a lack of awareness or effort on this issue."
--Ken Goldman, Yahoo chief financial officer, on the July 2014 conference call
About two weeks ago I suggested that the selloff in Yahoo! (YHOO) provided a buying opportunity, and I had planned to deliver my analysis last Monday before I was preempted by downgrades. At that time, I purchased shares at $39.30.
The following was at the core of the investment thesis that I was preparing. First, Yahoo has engaged in unsuccessful business strategy in the past, as manifested in the erosion of its core search and display businesses and in its inability to expand that core business. My thesis said that this, together with the  more transparent value of the balance sheet -- which itself as abetted by the recent Alibaba (BABA) - Get Alibaba Group Holding Ltd. Report initial public offering -- would lead to substantial interest on the part of multiple activists to effectively break up the company.
I was unable to complete my post on Yahoo a week ago, and the chaotic market that followed over the course of the next five trading days prevented me from publishing my analysis.
During the past week, four major brokerages lowered their rating of Yahoo's shares and the stock, despite a roller coaster ride in the markets, was essentially unchanged relative to my cost-basis.
On Friday activist hedge fund Starboard Value LP revealed it has taken a stake in Yahoo and pushed the company to reduce costs, explore a combination with AOL (AOL) , cease other acquisitions and spell out plans to efficiently monetize its ownership of Yahoo Japan and Alibaba's assets.
Later in the day Marissa Mayer, the company's CEO, responded to the activist "investor":
"We are committed, as an organization, to acting in the best interests of the company and all of its shareholders. We have maintained, and will continue to maintain, an open dialogue with all of our shareholders. As part of our regular evaluation of Yahoo's strategic initiatives to drive sustainable shareholder value, we will review Starboard's letter carefully and look forward to discussing it with them."
Yahoo's shares rose by nearly $2 on Friday.
Mayer Is Justifiably Under Fire
Over the last decade there has been a series of management upheavals at Yahoo. None of the changes has succeeded in arresting the deterioration of the company's core search and display businesses. Nor has the most recent executive change led to a meaningful and profitable new direction for Yahoo.
Marissa Mayer has held the post of CEO of Yahoo since July 2012.
This may seem to constitute a brief management skein of a bit more than two years, but in the world of the internet, Silicon Valley and social media that two years is far lengthier period of time. Time, deals and startups move quickly as revolutionary progress trumps evolution.
Perhaps part of Mayer's slow start was the distraction served up by another activist, Dan Loeb -- who acquired a sizeable and influential equity stake in Yahoo.
Yahoo's largest acquisition was the $1.1 billion Tumblr deal in May 2013.
Recently it has been reported that Mayer has recruited several leading venture capitalists and has asked the question, "What should I buy?"
One gets the sense that, after a slow start in acquisitions, Yahoo's CEO is thrashing around in her attempts to build up Yahoo's legacy platform and to expand its role in social media. She seems to have taken some shots in the acquisition arena but, quite frankly, change is so quick that the odds of success are long.
Indeed, activist Starboard wants Yahoo to cease its acquisition strategy.
As a result of the aforementioned factors, the focus for Yahoo investors has moved from the potential of the company's income statement to the value inherent in the company's balance sheet.
Indeed, from my perch, the sum-of-the-parts analysis at Yahoo represents nearly the entire investment debate.
The Alibaba IPO Hardens an Analysis of Yahoo's Sum of the Parts
Now, with the successful IPO of Alibaba, Yahoo's cash hoard has expanded and the value of its Asian assets are more transparent and better defined as we can "mark to market" the company's holdings.
Before the sale of a portion of the Alibaba holdings (in the second quarter), Yahoo has about $4.4 billion in cash, or $4.40 per share. Debt comes to $1.2 billion, or $1.20 per share. That makes for net cash of $3.2 billion, or $3.20 per share. Assuming overallotment and a 37.5% effective tax, the net after-tax proceeds of the Aliaba sale -- 140 million shares -- is $6.5 billion, or $6.50 per share. If we add second-quarter cash with the proceeds of the IPO, we get total cash of approximately $9.7 billion, or $9.70 per share.
Net Cash on Balance Sheet Is $9.70 per share
Yahoo's core business is dominated (70%) by search and display ads. Both are in secular market-share declines as the company's competition -- Google (GOOGL) - Get Alphabet Inc. Class A Report and so on -- has caught up and surpassed Yahoo.
Yahoo's core business produces about $1.2 billion cash flow. I value this at only 4.5x, or at about $5.50 billion, or $5.50 per share.
Value of Yahoo's Core Businesses Is $5.50 per share
Yahoo now owns 384 million shares of Alibaba, representing 16% of that company. At Alibaba's current price of about $90 per share, the untaxed mark-to-market value is $35 billion, or $35 share. The taxed value -- at a 37.5% effective tax rate -- stands at $22 billion.
The untaxed value of Yahoo's ownership of Yahoo Japan is approximately $8 billion, or $8 per share. The taxed value, at that 37.5% effective tax rate, stands at $5 per share.
Value of Alibaba Holdings (Untaxed) Is $35 billion, or $35 per share
Value of Alibaba Holdings (Taxed) Is $22 billion, or $22 per share
Value of Yahoo Japan Holdings (Untaxed) Is $8 billion, or $8 per share
Value of Yahoo Japan Holdings (Taxed) Is $5 billion, or $5 per share.
____
Value of Yahoo's Total Asian Assets (Untaxed) Is $43 billion, or $43 per share
Value of Yahoo's Total Asian Assets (Taxed) Is $27 billion, or $27 per share
____
Sum-of-the-Parts Calculation
Adding the above components yields an untaxed sum-of-the-parts value of Yahoo at $58.20 per share, and a taxed value of approximately $42.50 per share -- against the Friday's close of $40.50.
A Tax Efficient Search of Value Becomes the Base Case
The company's absence of success in turning core Yahoo around, and the failure to revive growth through acquisitions, will likely catalyze more activists -- likely placing more pressure on Yahoo's management and board of directors to engage in a tax-efficient breakup strategy that minimizes the company's and shareholders' tax bills, which could potentially total about $16 billion.
Normally, companies can't execute a tax-free spinoff unless they control at least 80% of the company being spun off. But John Malone has recently found a way to get it done. A September Barron's article, "How Yahoo Can Maximize Its $35B Alibaba Stake," explores the possibilities of a tax-efficient spin-out of Yahoo's Asian assets. Andrew Bary, the article's author, chronicles Liberty Ventures' spin-out of its 22% stake in online-travel site TripAdvisor (TRIP) - Get TripAdvisor, Inc. Report in a tax-free transaction blessed by the Internal Revenue Service.
It seems to me that, in this this world of tax-inversion deals, off-shore tax entities and so on, we think a plan can be delivered if Yahoo concentrates exclusively on the task -- much like John Malone has recently done.
Meanwhile, either Alibaba or Softbank may not be so patient, and may have acquisition plans for Yahoo of their own.  
Summary
It is my view that the market is incorporating the following notions:
Yahoo will be unable to unlock the store of value of its Asian assets on its balance sheet.
Future acquisitions by Yahoo will be value destructive.
Yahoo's core business will steadily erode in value.
The future of Yahoo's share price is dependent on Alibaba's stock price.
I disagree with the first two bullet points, agree with the third and am of the belief that a tax-efficient spin-off (to reduce the company's tax bill) can unlink Yahoo's shares somewhat from the fate of Alibaba stock.
As to the relationship of Yahoo's shares to those of Alibaba, each $1 move in Alibaba's share price translates into about $385 million in Yahoo's valuation. On an untaxed base, every $1 move in Alibaba stock price equates to almost $0.40 per share at Yahoo and to $0.25 per share on a fully taxed basis.
But the prospects for Yahoo's share price run deeper than the movement in Alibaba's shares.
Yahoo's management is now under the gun, and more pressure from other activists seems likely. Against this backdrop, I expect Yahoo to begin to focus on potential strategies to unlock its balance sheet values without paying taxes. Moreover, since the company has been unable to yet to produce a killer acquisition, Yahoo is not likely to do a sizeable and hasty shotgun-like deal.
The past and more recent unsuccessful metamorphosis of Yahoo and the rapidly changing social-media landscape, coupled with the transparency in value associated with the Alibaba IPO, has set up the base case: a breakup of Yahoo.
Yahoo is selling at $40 per share, or about a one-third discount to its sum-of-the-parts breakup.
This opportunity -- to tax-efficiently liquidate, sell off or spin out the company's Asian assets -- argues in favor of a share price well above current levels.
Given the company's history and the emergence of at least one activist investor -- and I think there will be more! -- Yahoo's board and management now have almost no valid justification when it comes to the lack of current progress in reshaping the core business.
At Friday's close, Yahoo's shares closed at about $40.50, and at a slight discount to the taxed sum-of-the-parts value of approximately $42.50, but well below the untaxed sum-of-the-parts value of about $58.20.
In light of the aforementioned catalysts, I expect Yahoo's shares to move closer to the untaxed sum-of-the-parts value in the year ahead.
At the time of publication, Kass and/or his funds were long YHOO, although holdings can change at any time.
Doug Kass is the president of Seabreeze Partners Management Inc. Under no circumstances does this information represent a recommendation to buy, sell or hold any security.