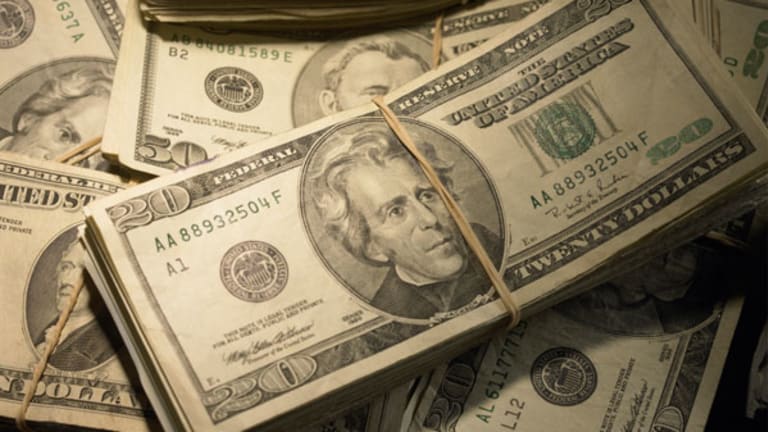 Kass: Why I Am Buying Bonds
Here is my rationale behind this trading position.
This column originally appeared on Real Money Pro at 9:43 a.m. EDT on Aug. 22.
NEW YORK (
) -- Longtime subscribers know my view that
is
.
Back in May 2012, I gave a
at Whitney Tilson's Value Investing Congress in Omaha that had as its theme that the yield on the 10-year U.S. note was preposterously low and that bonds should be (recklessly) shorted.
Prior to that, I gave a
lecture
at Northwestern's Kellogg School of Management on the
.
While I believe that the inevitable move of yields is higher, the move to higher interest rates will not likely be in a straight line, and there will be trading opportunities in the interim when bonds can be rented.
After the rise in the yield on the 10-year U.S. note from 1.45% in May 2013 to 2.92% this morning (the highest yield since mid-2011) -- and this on the heels of better overnight data out of the EU and China -- it is my view that a trading opportunity is now at hand and that interest rates are likely to back off in the near term.
Below is my rationale:
1.
Economic data are mixed.
While some measures of U.S. manufacturing activity have improved in July, housing is about to stall/pause, and growth in the jobs market is disappointing -- the jobs being added are low-paying ones. Last week's initial jobless claims (just released) confirms my view that employment growth will be slow. Claims came in at 336,000 compared to expectations of 330,000 and 323,000 the week before.
2.
Future domestic growth is expected to remain subpar.
At best, a slight acceleration of real GDP from second-quarter 2013's +1.8% is seen in this year's second half. It remains my baseline view, however, that the U.S. economy is an extended period of subpar 2% real GDP growth. This will disappoint stock investors but could reward bond investors.
3.
Sentiment is profoundly negative on the asset class.
Back in May, not a soul dared offer the concept of shorting bonds (as the investment graveyards were filled with beaten-down and bankrupt bond bears). Now, only three months later, the call of shorting bonds is the investment mantra of nearly everyone. No doubt, poor sentiment/psychology for this asset class could take yields higher and bond prices lower, but at 2.92%, I like the entry point.
4.
Yields as measured against nominal growth are finally a bit high.
Historically, the yield on the 10-year U.S. note is between 0.8x and 1.0x the nominal domestic GDP growth rate. (Note: I would argue that, given the structural headwinds to global growth, 0.8x to 0.9x may be an appropriate multiplier going forward.) Year-over-year nominal U.S. growth is currently +2.9%; 0.85 multiplied by 2.90 yields an equilibrium, or fair market value, of the 10-year yield at 2.465%, or about 46 basis points below the current yield.
5.
The long end of the yield curve has increased dramatically relative to the short end.
The spread between the 10-year yield and the federal funds rate is now over 280 basis points compared to the long-term average of about 180 basis points.
6.
Real interest rates are higher.
The real 10-year U.S. note yields +1.8% -- it was slightly negative only three months ago -- which is in line with expected trend/long-term real GDP of +2% to +2.5%.
I would buy the
iShares 20+ Year Treasury Bond ETF
(TLT) - Get iShares 20+ Year Treasury Bond ETF Report
under $103.
At the time of publication, Kass and/or his funds were long TLT, although holdings can change at any time.
Doug Kass is the president of Seabreeze Partners Management Inc. Under no circumstances does this information represent a recommendation to buy, sell or hold any security.