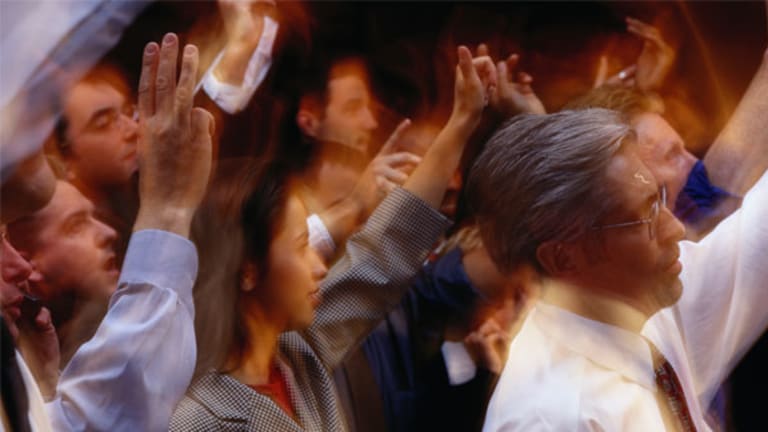 Kass: Warren and Me
He's the greatest investor of all time, and I most certainly am not. But we do have some things in common.
This column originally appeared on Real Money Pro at 8:45 a.m. EDT on April 30.
NEW YORK (
) -- Yesterday, I
how my pilgrimage to Omaha got started, what my initial reaction was to Buffett's invite, how unusual his invitation was, how I conducted my research, the challenge of the research process, what I expect to achieve in my questions, how I plan to conduct myself at the
Berkshire Hathaway
/
(BRK.B) - Get Berkshire Hathaway Inc. Class B Report
annual shareholders meeting and I finally gave some brief impressions I had of Warren Buffett based on my research over the past six weeks months.
Today, I shift to a different subject. I want to write about some of the similarities between Warren Buffett and myself. In doing my research, I was surprised how many things we have in common, though it certainly isn't our net worths!
Prostate cancer: Both Warren Buffett and I were diagnosed with cancer in 2012. I had my prostate removed in a robotic-assisted laparoscopic prostatectomy in December 2012. (I am now cancer-free.) Warren Buffett underwent successful radiation treatment last year.
Wharton School: We both attended Wharton. After graduating from the Woodrow Wilson High School in Omaha in 1947, Warren Buffett entered the Wharton School at the University of Pennsylvania. He studied at Wharton for two years, and in 1950, he transferred to the University of Nebraska-Lincoln where he graduated with a Bachelor of Science in business administration. I attended Wharton in 1970 and received my MBA in finance in 1972.
Horse tip sheet: We both published and sold a horse tip sheet. Handicapping horses combined two traits that Warren Buffett was good at, collecting information and mathematics. With his friend, Bob "Russ" Russell, Warren hawked a tip sheet, Stable-Boy Selections, at Ak-Sar-Ben racetack. At $0.25 apiece, his tip sheet undercut the "Blue Sheet," a staple at racetracks. I hawked a tip sheet, "Wharton's Picks," an independent study project in which I regressed variables in a computer and delivered the output in a computer-generated printout, for the same $0.25 cents at Liberty Bell Park racetrack, competing against "Lawton" and the "Orange Sheet," while attending business school.
"Stoopers": A "stooper" is someone who collects thrown-away betting tickets from the floor of a racetrack. Often bettors make mistakes, either by throwing out valuable tickets that haven't been cashed or when they discard tickets from disputed races whose order of finish is often changed. Warren, again with "Russ," was a stooper at Ak-Sar-Ben racetrack. I was a stooper at harness racetracks all around the country. (I would later breed, own and drive harness horses with some success.)
Early interest in the stock market: At the age of 12, Warren Buffett started buying stocks -- with his sister Doris as a partner, he purchased three shares of Cities Service preferred stock for about $38 a share. The stock tanked to $27 a share, and Doris reminded him every day that they were losing money. When it recovered to $40 a share, he sold, netting a $5 profit. Cities Service eventually soared to $202 a share, teaching Buffett several important investing lessons -- namely, don't fixate on your cost basis, be patient in your investments and not to take responsibility for anyone else's money unless you're was sure you'll succeed. My Grandma Koufax taught me the stock market when I was 15 years old. I spent my vacations as a teenager "watching the tape" in a small brokerage firm in Rockville Centre, Long Island. I bought my first stock, Teledyne, in 1967. I did better on my Teledyne investment than Warren Buffett did with Cities Service. But, well, he did better subsequently!
Northwestern Wildcats: Warren Buffett's wife Susan and his sister Bertie both went to Northwestern University. My son recently received an MFA in playwriting from Northwestern.
Baseball: Warren Buffett loves baseball -- it is likely his favorite sport. He is good friends with Omaha-born St. Louis Cardinals pitcher Bob Gibson and his wife Charlene. Bob Gibson entered the Baseball Hall of Fame in 1981. I love baseball. My cousin is Sandy Koufax -- don't forget my Grandma Koufax! -- and I count as good friends Susan and Jim Palmer, former Baltimore Orioles pitcher and Hall of Famer (1990).
Palm Beach: Warren Buffett experienced the snobbiness of Palm Beach, Florida, in 1970, when, at an excursion with his investment minions, he stayed at the Colony Hotel, which he called "a friendly family hotel that is friendly if you were the Kennedy family." I spent many nights at Palm Beach's Colony Hotel when I attended board of directors meetings at both DMG -- now named Danaher (DHR) - Get Danaher Corporation Report -- and for the Home Federal Bank of Palm Beach located on South County Road in Palm Beach. I currently reside in Palm Beach.
George McGovern and Allard Lowenstein: Warren Buffett supported George McGovern for President in 1972. Buffett also contributed to liberal Democrat Allard Lowenstein's Congressional campaign. I, too, supported McGovern. And I once babysat for Lowenstein's children -- he was a Long Island congressman (in the fifth district in Nassau county).
Penicillin allergy: We are both allergic to penicillin. (Warren Buffett had a terrible allergy incident in 1970.)
Paperboys: We both delivered newspapers as youths -- he in Omaha, Nebraska, and I on Long Island, New York (The Long Island Press and Newsday).
Train sets: We both had train sets in our homes.
Harmonie Club: Warren Buffett's pal, Walter Schloss's grandfather was a member of Harmonie Club of New York City. I joined Harmonie in 1982, and I remain a member.
Television appearances: Warren Buffett has appeared on "The Office" (2011) and on "All My Children" (1992 and 2008). I appeared on the quiz show "Tic-Tac-Dough" when I was in fourth grade.
Nicknames: Warren Buffett has been known, alternatively, as "The Wizard of Omaha", "The Oracle of Omaha" and the "Sage of Omaha." Again, in fourth grade, I was known as "The Professor."
*Note: I want to emphasize that this exercise was for fun. In
no way
do I want to imply that I am comparable to Warren Buffett, the greatest investor of all time.
At the time of publication, Kass and/or his funds were long/short BRK.B and DHR, although holdings can change at any time.
Doug Kass is the president of Seabreeze Partners Management Inc. Under no circumstances does this information represent a recommendation to buy, sell or hold any security.