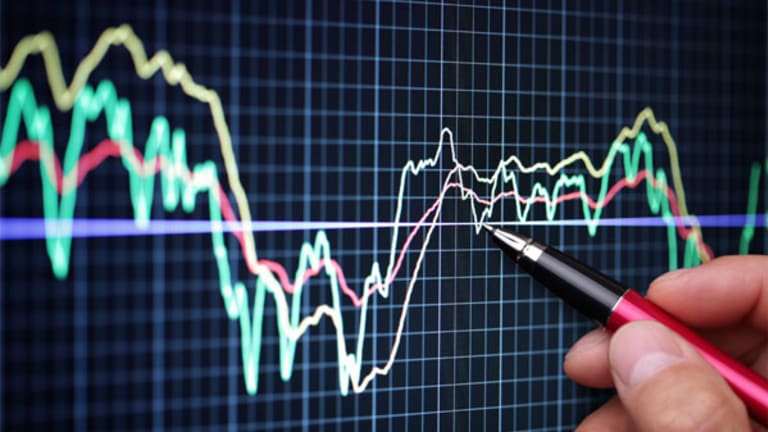 Kass: Topping Out
We could be putting in a 2012 market top.
This column originally appeared on Real Money Pro at 8:11 a.m. EDT on Aug 22.
NEW YORK (
) -- The thrust of yesterday's
was that the economic fundamentals and corporate profit outlook combined with political and geopolitical uncertainties suggest that the U.S. stock market might be in the process of making a meaningful top for the year.
In the face of a steady march of higher stock prices, investors seem to be (to a large degree) whistling past the graveyard and ignoring the weak foundations of growth domestically and abroad -- as well as other potential market headwinds.
On the latter score, slowing growth in China was one of the five near-term factors that I highlighted yesterday that should caution investors who are now chasing strength (of seven straight up weeks).
This morning, I want to briefly highlight China.
First, an interesting and concerning contribution from the lynx-eyed Stephen Roach which raises a number of issues regarding China -- most notably, the possibility of a calamitous trade war as growth pressures on China and the U.S escalate.
The United States and China are poised at the top of a very slippery slope. Creatures of two very different systems, they have much in common as they face critical tests of an increasingly contentious economic relationship. Both economies are at decisive transition points - old growth models have been taken to excess and must be replaced by rebalanced new models. Both governments are experiencing leadership changes, by different means, of course, but with equally important implications for the future.This combination of mounting economic tensions and leadership transitions heightens the risks of a destabilizing shift in the relationship that has a nontrivial chance of sparking a trade war. In any war, there is always the saga of the itchy trigger and the first shot. With America still licking its wounds several years after the Great Crisis, there is no shortage of itchy fingers in Washington.-- Stephen S. Roach, " A Nightmare Scenario" ( Caixin Online)
Second, are the economic warnings associated with the steady downturn of the Chinese stock market (hat tip Barry Ritholtz).
The only major global equity index which we monitor -- and it is a big one -- that is down for the year is the Shanghai Composite. The chart looks ugly and ready to break to new lows after its post-crash peak of 3,477, way back in August 2009.The Shanghai is down 39.2% from its post-crash high while the S&P 500 is up 42.3% over the same period. After falling 72.8% in a little over a year from its October 2007 peak, the Shanghai is now up a lowly 27% from its crash low. This compares to the S&P 500, which fell 57.7% from the October 2007 high to the March 2009 low, and has now recovered 112.7% and continues to move higher.A stunning divergence of the world's two largest economies' stock markets.What makes us a little nervous is the Chinese stock market was the first to really collapse after peaking in the fall of 2007 and the first to bottom just a year later. We can relax a little as such a large and sustained divergence since August 2009 largely dismisses the notion that the Shanghai leads U.S. and global equity markets, however. The chart below illustrates even the Hang Seng, one of our favorite indicator species for global risk appetite, has decoupled from the Shanghai.What does the continued poor performance of the Shanghai signal? Not sure, but either Chinese stocks are holding a massive fire sale and the Shanghai is setting up for a huge bounce or Air China is crash landing. And the latter, folks, ain't good.Another 20% drop in the Shanghai from current levels and it will be testing the lows of the 2008 crash. Keep this one on your radar.-- Global Macro Monitor, " The Chart That Keeps Us Up at Night"
The prospects for emerging economic weakness in China can be found in last night's report that Japan's July exports dropped by over 8% year over year vs. expectations of less than a 3% decline. Notably, exports to China, Japan's largest trading partner, fell by a far more than expected 11.9%.
As mentioned in Tuesday's column, China is but one of my near-term concerns; there are numerous others that suggest to me that the U.S. stock market is vulnerable.
For instance, I remarked that investor complacency, as measured by the
VIX
, was worrisome. Toward that end,
Investors Intelligence
this morning reports that bulls are starting to stampede, as bullish sentiment rose from 43.6 to 47.3 (the highest level in almost five months) while bears dropped from 26.6 to 24.7 (the lowest level since May 2012).
So on the issue of a 2012 market top,
.
At the time of publication, Kass and/or his funds were short SPY, although holdings can change at any time.
Doug Kass is the president of Seabreeze Partners Management Inc. Under no circumstances does this information represent a recommendation to buy, sell or hold any security.