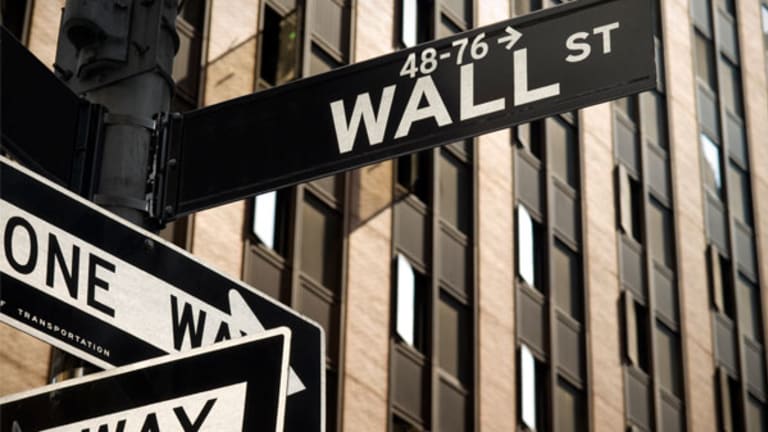 Kass: Time for Intermission
I expect the U.S. stock market to be range-bound with a slightly downside bias over the near term.
This column originally appeared on Real Money Pro at 8:25 a.m. EDT on June 21.
NEW YORK (
) -- In the midst of the market's schmeissing, on the morning of June 1, I penned a column
that the conditions for a contrarian and sharp market advance (and reversal) might be imminent. The market accommodated that forecast and has risen brilliantly over the past three weeks.
On Monday, my opening missive highlighted the
. In that post, I dreamed the dream of 12 factors that could help deliver an explosion to the upside for the U.S. stock market in the second half of 2012.
We can distill my optimism (and the 12 potentially favorable market influences) in Monday's column into three factors that must be resolved before Mr. Market can move to new heights:
an improvement in domestic economic conditions;
concrete moves to contain the sovereign debt crisis in Europe; and
either the implementation of pro-growth fiscal policy and/or a growing probability of a Romney win in the presidential elections in November (as he is seen by market participants as pro-business and pro-market).
I still believe in the dream, but the economic and market realities now must be weighed (and in the future monitored) in order for the dream to be realized and for stocks to move to new highs later in the year.
We have to deal with the following current realities:
Economic conditions in the U.S. and elsewhere are deteriorating. A worldwide economic slowdown is taking hold now. Though I continue to expect a muddle-through scenario, the rate of decline is slightly worse than I had anticipated. Perhaps it is a direct response to fiscal inaction over here and the economic and financial chaos over there in Europe. Yesterday the Fed reduced its 2012-2013 economic growth forecast (by about 0.5% per year) and slightly raised its projections for unemployment relative to its previous projections in April. (The trend in job growth is particularly concerning.) Overnight, the PMIs for China and Europe signaled slowing worldwide growth.
The corporate profit growth outlook is eroding. Based on my company/industry contacts, the latest casualty, Procter & Gamble (PG) - Get Procter & Gamble Company Report, seems to be the tip of the profits iceberg. While an important positive is the rapid drop in the price of energy products, which will buoy profit margins and improve the consumer's well-being, slowing worldwide economic growth and a strong U.S. dollar will likely produce earnings disappointments in other consumer companies, in technology and in the oil sector, where the weight of lower natural gas and crude oil prices produce broad-based profit misses. I expect pre-announcement (earnings) risk in the weeks ahead.
Little progress has been made in Europe. For now, eurozone leaders and central bankers remain behind the curve in implementing bona fide fiscal reform and effective monetary policy in order to stabilize the sovereign debt crisis. Importantly, Europe is far removed from addressing its long-term problems.
The impact of domestic monetary policy is waning. The Fed instituted Operation Twist (Light) yesterday. It is becoming clear that the marginal impact of easing is losing its benefit. The onus is now on fiscal policy. Unfortunately, our politicians still appear divided. Those wonderful folks in Washington, D.C., who couldn't agree on the budget 10 months ago (which brought the U.S. stock market to its knees in August 2011), continue their dysfunctional, divided, divisive and infantile stances. It seems more likely now that our leaders will wait until the last moment to address the upcoming fiscal cliff, as political rhetoric grows more heated into the November election. (A positive is that Romney's candidacy is gaining traction.)
In summary, stocks have rallied nicely from the June 1 low.
It may now be time for a market intermission, during which we assess (and monitor) if there is further deceleration in the rate of domestic economic growth, if there will be substantive progress being made in dealing with the European sovereign debt crisis and if U.S. leaders will address the fiscal cliff and implement pro-growth fiscal policies.
It is fortunate that valuations are not demanding and that many investors have de-risked. This should serve to limit the market's downside, but, for now, we must wait for the market's second act in 2012. We are increasingly data-dependent now, as we monitor the above important determinants in order to determine if my optimistic market expectations will emerge.
Given the positives and the negatives, I expect the U.S. stock market to be range-bound with a slightly downside bias over the near term.
I have taken down my market exposure, and I plan to trade opportunistically until I see some resolution of the economic, profit and political issues raised this morning.
For now, we are in a
trading-sardine market, not an eating-sardine market
.
At the time of publication, Kass and/or his funds were long PG, FXI and OIH, although holdings can change at any time.
Doug Kass is the president of Seabreeze Partners Management Inc. Under no circumstances does this information represent a recommendation to buy, sell or hold any security.