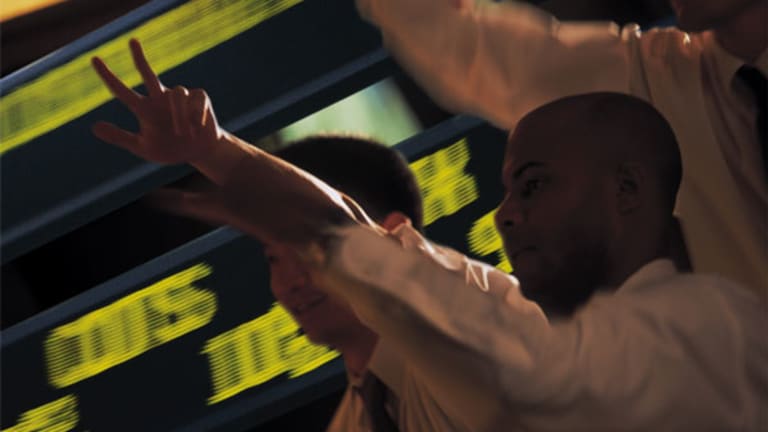 Publish date:
Beware the 'Stock Market Trading Jones'
Trading stocks too frequently is hazardous to your wealth. Doug Kass calls this condition the 'stock market trading jones,' and explains why it happens.
Trading stocks too frequently is hazardous to your wealth. Doug Kass calls this condition the 'stock market trading jones,' and explains why it happens.
This column originally appeared on Real Money Pro at 8:47 a.m. EST on Dec. 24.
NEW YORK (
) -- Today, I see many traders and investors afflicted with what I call the stock market trading jones. Market participants feel compelled to overtrade. It comes in the form of a near-obsession in overtrading both on news-based dislocations (to the upside and downside) and on non-dislocations in the normal course of business, typically through chart gazing. The need to play too many earnings reports and the desire to trade macroeconomic events reside among numerous other catalysts.
There are several obvious influences that contribute to the addiction of too-frequent trading:
Brokers. Brokerage companies have made trading at home easy and inexpensive. Sophisticated Internet-based trading platforms allow individual investors to trade actively at markedly reduced commission rates relative to any other time in history.
Societal pressures that favor short term over long term. As a society, we have grown increasingly impatient. The media (and for that matter our society) increasingly emphasizes short term over long term and instant gratification over building value through intermediate-/long-term value. Today, we even communicate more briefly than ever in staccato-like form via tweets of under 140 characters on Twitter and the acronym soup of instant messaging. How-to-profit books, teaching us how to gain money and fame quickly, outsell more thoughtful investing books such as Benjamin Graham's The Intelligent Investor. All of these pressures (in the pursuit of instant riches) contribute to excessive trading by individuals.
Quick solutions and foolish acceptance of a special sauce to investment success. We too often seek quick solutions to complex problems/issues. Increasingly, traders seek a special sauce, an algorithm or stock chart that evokes the promise of immediate success, often shunning the heavy lifting and time-consuming analysis. In its simplicity, this also leads to excessive trading, as if the appearance of a chart is an almost mystical and certain way to produce the Benjamins. Technical analysis has a broad definition and when utilized intelligently can be a very helpful adjunct in making (and timing) trades and investments. But too often the decision to make so many of these trades is seen purely through the narrow interpretation of a stock chart, a view that historical price action will provide us with a guide into the future. I see this often on Real Money Pro -- particularly in front of an earnings release. Does anyone really think that prior to, say, Nike (NKE) - Get NIKE, Inc. (NKE) Report reporting its most recent earnings, a trader can outsmart the legions of other traders by virtue of looking at a chart? Does that really make sense to any of you?
Shortening cycles. In our fast-moving world, economic, corporate and investment cycles are ever more truncated. Performance definitions grow ever briefer, whether it is the duration of a CEO's or baseball manager's career, measuring a company's profit performance, investors' patience with their investments (manifested in heavy turnover and reduced holding periods compared to any time in history) or with defining investment performance.
All of the above factors contribute to the impatience and heavy trading manifested in the stock market trading jones.
I have believed that by developing a variant view through hard-hitting and investigative research (e.g., contacting company managements, their competition, suppliers or through other means), you will have a much better chance of succeeding with an occasional trade. But, even that fundamental approach (which is time-consuming and doesn't fit in with some who believe that trading gains can be as easy as gazing at a chart) represents a difficult journey toward trading success, especially when it, too, is done with too much frequency.
Regardless of the rationale for action, however, a large portion of traders simply seem to have a trading jones -- a need to play, a need for action. (Just look at the lion's share of the remarks in our Comments section every day; they are dominated by intraday or multiday trading plays.)
In my investment experience, I have seen many more professional traders armed with every trading system that money can buy (who have been inflicted by the jones of constant trading) blow up rather than succeed over time. Then, why should you, as an individual investor, be more successful?
The answer is that, in all likelihood, you will not be.
Nonstop Trading Is a Mug's Game
So, let me be direct and straightforward on this subject -- nonstop, excessive trading is a mug's game.
Any market mathematician will tell you that the more trades you make the less successful you will be.
I have written for years that waiting for the right pitch in trading
and
investing is the way to succeed over the long run in this game.
I believe this now as strongly as ever.
Oaktree as Our Template
A superior investment will likely trump the jones of too-frequent stock market trading.
Let me demonstrate this observation by
of
Oaktree Capital Group
(OAK) - Get Oaktree Capital Group, LLC Class A Report
, a stock I have consistently praised since it went public in spring 2012.
Oaktree is a nonvolatile, low-beta stock. It's an intelligently and conservatively managed company that does not present the thrills and agonies of volatility that are possessed by many favorites of traders such as
Apple
(AAPL) - Get Apple Inc. (AAPL) Report
,
Google
(GOOG) - Get Alphabet Inc. Class C Report
or
Amazon
(AMZN) - Get Amazon.com, Inc. Report
. Over the last six or seven months, however, the shares have steadily advanced and have provided a great risk-adjusted return.
In theory, a buy-and-hold of Oaktree (just to use one example) will likely have trumped the numerous trades of someone possessed of the stock market trading jones.
Or go to the
SEC
filings of some of the great modern-day investors such as Lee Cooperman's
. What you will find is a remarkably stable and consistent list of the hedge fund's top stock holdings -- it's the real pro's proven and time-tested antidote to delivering superior risk-adjusted returns.
The Media Sell Constant Trading
The business media is well-intentioned and inhabited by a lot of my friends. I am respectful of their contributions, but they too often encourage the stock market jones.
By and large, the media have an agenda that is different from yours. It doesn't make them bad guys -- their objectives of a growing audience and higher ratings are inherently dissimilar to your objective of making money.
Moreover, as I have recently
, the media's reaction to events of the day (e.g., the sovereign debt crisis, the Presidential election, the fiscal cliff, etc.) is often hyperbolic and simply wrong-footed (from an investment standpoint).
Always remember that they are in the press box, and you are on the playing field.
Not surprisingly and understandably (it's in their basic interest), the media too often advance the idea of constant trading and even, at times, (by inference) the dream of instant investor gratification. For every long-term investor queried, it seems as if there are at least 10 traders (maybe more) questioned in the business media.
Maybe it wouldn't sell as well, but I wish there were more forums and time spent on long-term investing in the media.
Unfortunately, many investors watching and listening can't help from being influenced by the media's barrage and sometimes short-term emphasis of time frame. By contrast, long-term price targets (defined in years) are deemphasized, as these are not subject matter seen as capturing ratings and audiences, and typically take a backseat in discussions.
We are often inundated with ways to make fast money. By inference, the pundits and talking heads tell us that this is best accomplished by trading almost every market or individual stock wiggle, often based on technical levels and/or in the knowledge of how to react to certain triggers or events.
In the ultimate level of the absurd, the media conduct contests to guess where the
S&P 500
and
DJIA
will close at month's end, what will be the exact jobs number and so on, as if these guesses will provide some sort of magic market elixir to delivering outsized trading gains. The thrust of many of the conversations on
CNBC
and
Bloomberg
are too often based on mindless guessing of short-term forecasts of which few really have any edge whatsoever.
How often does a business show start with the moderator saying something like this: "The S&P is up by half a percent today, so where is it going to end the day?"
Or the dialogue goes something like this:
"What is the next move in Apple?"
"How do we play IBM's (IBM) - Get International Business Machines (IBM) Report earnings report tonight?"
"Whither Research In Motion( RIMM)?"
"If Friday's jobs report is 150,000 or more, how will the market react?"
"How will the fiscal cliff debate impact the market today?"
"Sovereign debt yields are lower today -- how will our markets react?"
You get my point by now -- continually going one on one against the trading world by guessing on near-term market and individual stock moves is a difficult (if not impossible) pathway to investment success.
Trade in Moderation
Importantly, I want to emphasize that there is a place for trading, as I believe intelligent trading can be a profitable adjunct to investing.
I am very much an advocate of opportunistic trading, especially when one concludes that the market is range-bound without a clear bias in either direction or, for example, when one can get in front of an earnings report with an informed and variant view or by responding quickly to an earnings quality in an earnings report (among other means).
Done effectively, trading can result in a cash-register effect, contributing to the aggregate returns in your investment account.
But only in moderation and only when the right pitch (read: enhanced reward vs. risk) is offered up.
In Summary
"Millions of people die every year of something they could cure themselves: lack of wisdom and lack of ability to control their impulses." -- Irving Kahn, Chairman Kahn Brothers Group
The essence of today's opening dispatch is that my definition of a good trading setup is far narrower and more selective than most on
Real Money Pro
and elsewhere.
My advice is to stop multiple and numerous trades that one justifies by reacting to the media, based on technical analysis or based on any number of other reasons -- unless you are very lucky, it will not pay off in the long run.
More likely, you will trade (and churn) your way into investment oblivion.
At the time of publication, Kass and/or his funds were long OAK, although holdings can change at any time.
Doug Kass is the president of Seabreeze Partners Management Inc. Under no circumstances does this information represent a recommendation to buy, sell or hold any security.