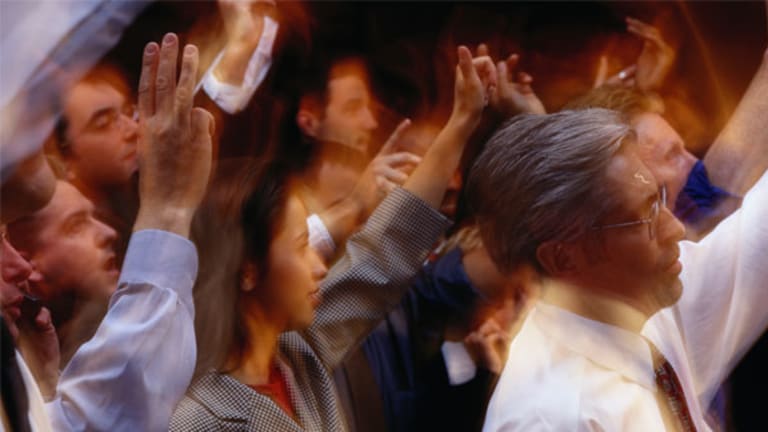 Kass: The Rabbi and the Oracle
Here is the story of the relationship between Rabbi Myer Kripke and Warren Buffett.
This column originally appeared on Real Money Pro at 7:53 a.m. EDT on June 4.
NEW YORK (
) -
"The nice thing about an agnostic is you don't think anybody is wrong." -- Warren Buffett
I spent two months researching for
that I asked at the
Berkshire Hathaway
(BRK.A) - Get Free Report
/
(BRK.B) - Get Free Report
annual shareholders meeting in early May. My challenge was a difficult one, as both Warren and Berkshire have previously been analyzed widely and comprehensively.
As a result, I felt part of my process should be to interview a number of individuals who knew Warren Buffett but not on a business level. Some of those interviews were revealing and, in part, formed the basis of the questions I finally asked Warren and Charlie.
I learned quite a lot about Warren and Berkshire -- some things little-known.
This morning I wanted to pass on what I think is the one of the nicest tales I learned about, one that is not well-known and has a beautiful ending.
It is the story of the relationship between Rabbi Myer Kripke and Warren Buffett. (Heartfelt thanks to Radine and several others who initially related the story to me.)
Kripke came from a middle-class family in Toledo, Ohio. He travelled to New York City 83 years ago to attend New York University and the Jewish Theological Seminary on 122nd Street.
At the Jewish Theological Seminary (the flagship institution of the Jewish Conservative movement), he met a Brooklyn girl, Dorothy Karp, and they married seven years later at the Seminary. The couple had little money and the Seminary didn't charge the couple for the wedding.
Kripke, then a rabbi, worked at synagogues in Racine, Wisconsin; Long Island, New York; and New London, Connecticut. In the mid-1940s, he became the rabbi at Beth El Synagogue in Omaha, Nebraska. (Dorothy and Myer Kripke are the parents of three children, including the noted philosopher, Princeton University's
.
In the early 1960s, while performing his rabbinical duties, Rabbi Kripke's wife authored several books on Jewish studies and beliefs. One of the books,
Let's Talk About God
, was read by Warren's wife Susie. (Susie Buffett's father was a minister in the Disciples of Christ Church, and Warren Buffett's parents were Presbyterians. Warren is religiously agnostic.) After learning that the Kripkes lived around the corner from the Buffetts, Susie telephoned Dorothy Kripke, and they soon became good friends.
At the time, Dorothy Kripke had developed a brain disorder and was usually bedridden. Once every week, Susie Buffett would take Dorothy to physical therapy. When she was well enough, the Buffetts and the Kripkes would play bridge together at their houses.
In time, the couples became closer, and the Buffetts began to host the Kripkes (with some other friends) at their house for Thanksgiving dinner. The Kripkes were kosher, and it became a tradition that Susie would serve the Kripkes tuna salad for the holiday and turkey for the other guests.
At the time, Warren had accumulated some wealth but nothing monumental. He was managing several partnerships for a small cadre of investors (mostly his family), and few had heard of him -- he was not yet been crowned The Oracle of Omaha.
Rabbi Kripke never earned more than $35,000 in any year, but the Kripkes had been saving their money and, combined with an inheritance, had accumulated nearly $70,000. Myer Kripke's wife Dorothy implored him to "invest the money with your friend Warren." Three years later, he got the courage to ask Warren to invest his worldly savings, and Warren accepted the money into his partnership. When Warren closed his partnership, he suggested that the rabbi roll his investment into Berkshire Hathaway's shares, which he did.
In 1976 Rabbi Kripke retired from his Congregation in Omaha and began to teach at a Jesuit school, Creighton University. He also began to write for a Jewish newspaper.
Fast forward 30 years after the time Rabbi Kripke invested in Warren's partnership and in Berkshire Hathaway -- his original investment of about $70,000 was now worth almost $25 million!
"Dorothy once asked me, 'Wouldn't you like to buy a better car?' I said, 'There's nothing wrong with a Chevrolet.'" -- Rabbi Myer Kripke
The Kripkes, despite their enormous worth, were never big spenders. They never owned any real estate and lived in an apartment in Omaha that they rented for less than $1,000 a month.
By the mid-1990s, the rabbi's (now almost 85 years old) wife's health had deteriorated, and she was moved to a nursing home.
Rabbi Kripke felt he had a debt to the Jewish Theological Seminary, and, in 1996, he called Rabbi Carol Davidson, the Director of Planned Giving at the Seminary to make a gift of $100,000. At a meeting at Rabbi Kripke's house in Omaha, Rabbi Davidson suggested that Myer donate the money to help fix the Seminary's high tower -- it housed the library where Myer studied decades ago -- that was almost destroyed by a fire 30 years earlier (ironically, the same year that Myer gave his life savings to Warren).
"Listen, I'm a rabbi, I believe it was destined. No such thing as coincidence here.... Most people would have considered putting everything into one investment stupid.... I guess it was stupid. It was chance, just chance. " -- Rabbi Myer Kripke
Rabbi Kripke asked Rabbi Davidson how much would it cost to repair the entire tower, and she responded $7 million. "We'd like to do the entire amount," Myer said.
In December 1996, the Kripkes donated $7 million (plus an additional $8 million more was contributed in a deferred gift through family trusts), and the tower was fully repaired in 1997-1998.
And that, as
would say, is the rest of the (beautiful) story.
At the time of publication, Kass and/or his funds were short BRK.B, although holdings can change at any time.
Doug Kass is the president of Seabreeze Partners Management Inc. Under no circumstances does this information represent a recommendation to buy, sell or hold any security.