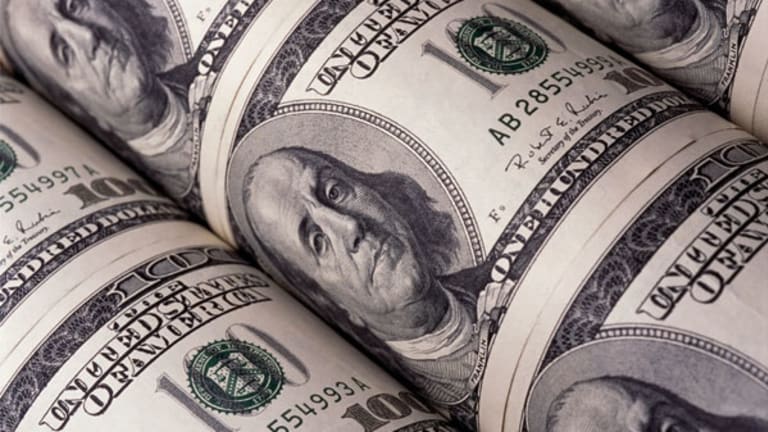 Kass: The Market Is Overvalued
I have slightly reduced my calculation of the S&P 500's fair market value.
This column originally appeared on Real Money Pro at 8:24 a.m. EDT on March 19.
NEW YORK (
) -- In recent weeks, many investors, traders and strategists have abandoned their previously bearish market and economic views (which had dominated their thinking at the beginning of the year). Some of the contributing factors that have led to a rekindling of the market's animal spirits in 2012 include:
I view both the more optimistic economic and profit forecasts as well as the outgrowth of elevated price targets with some skepticism -- just as I
that Wall Street's dour outlook of three months ago was too pessimistic and as I anticipated that the European debt crisis would move from a potentially fatal affliction to a condition that would be stabilized (but would still have to be monitored) and that the U.S. economy would muddle along.
The Spring of Our Discontent
Fundamentally (and crucial to our somewhat negative near-term market outlook), my assessment of the cyclical factors impacting the trajectory of economic growth is little cloudier than the growing and more optimistic consensus.
No Market Pause but Developing Technical Flaws
Technically, ever-rising share prices sow their own seeds of potential destruction. For example, I would beware the VIX, which is the best measure I know of measuring complacency in a market that has had no pause but contains a number of technical flaws.
Importantly, I depart from some of the (newly) converted bulls in that I do not expect that P/E multiples to reach their historical multiplier (of about 15x) experienced over the last five decades, as the new normal of slower and below-trend economic growth and other factors weigh on valuations. (Implicit in my melded fair market value of 1335 for the
is a 13x P/E multiple.)
Secular Issues and Deflating Cap Valuations
Below are some of the other secular factors that investors should be concerned with over the near term that will likely cap the market's upside.
My Fair Market Value Is 5% Below Current Levels
My starting point when I determine long exposure is valuation, which is accorded by four different economic scenarios.
In looking at my four outcomes, I am making the following changes this morning:
Based on those changes below, I have slightly reduced my calculation of the S&P 500's fair market value from 1345 to 1335. My methodology, though appearing precise, recognizes the difficulty of attaining investment precision given the numerous moving parts (economic, interest rates, sentiment/psychology and exogenous factors) in its calculation.
Below are the criteria I use to evaluate the S&P 500 and upon which I conclude that fair market value is approximately 1335 (or about 5% below Friday's closing price of 1404).
Scenario No. 1 -- Economic Reacceleration Above Consensus
(probability goes from 25% to 10%): The pace of U.S. economic recovery reaccelerates to above-consensus forecasts (3%-plus real GDP) based on pro-growth fiscal policies geared toward generating job growth; corporate profit margins being preserved (with low inflation and contained wage growth); interest rates remaining low; and housing recovering sharply, owing to the adoption of aggressive plans by the government to enact a massive home refinancing effort and deplete the excess inventory of unsold homes. Europe stabilizes (and experiences only a shallow recession), and China has a soft landing. S&P 500 profit estimates for 2012 are raised modestly to $106 to $110 per share. Stocks, valued at 14.5x under this outcome, have 16% upside over the next 12 months. S&P target is 1,565.
Scenario No. 2 -- Recession
(probability goes from 5% to 0%): The U.S. enters a recession precipitated by a loss of business and consumer confidence, producing a fall in manufacturing output and personal consumption expenditures. A series of bank failures and sovereign debt defaults in the eurozone contribute to a deep European recession and a hard landing in China and India. S&P 500 earnings estimates for 2012 are materially slashed to $75 to $80 per share. Stocks, valued at 10.0x under this outcome, have 42% downside risk over the next 12 months. S&P target is 775.
Scenario No. 3 -- Below Consensus Economic Growth
(probability goes from 25% to 30%): The U.S. experiences a disappointing sub-1% real GDP growth rate, and Europe experiences a medium-scale recession. S&P 500 profit forecasts for 2012 are cut back to $98 to $100 a share (only slightly above 2011's levels). Stocks, valued at 12x under this outcome, have 12% downside risk over the next 12 months. S&P target is 1185.
Scenario No. 4 -- Muddle Through
(probability goes from 45% to 60%): The U.S. muddles through with 1.5%-2.0% real GDP growth, and the European economies suffer a modest (but contained) business downturn. S&P 500 profits for 2012 trend toward a range of $103-$105 a share as some margin slippage occurs. Stocks, valued at 13.25x under this outcome, have 2% upside over the next 12 months. S&P 500 target is 1,375.
At the time of publication, Kass and/or his funds were short AAPL and SPY, although holdings can change at any time.
Doug Kass is the president of Seabreeze Partners Management Inc. Under no circumstances does this information represent a recommendation to buy, sell or hold any security.