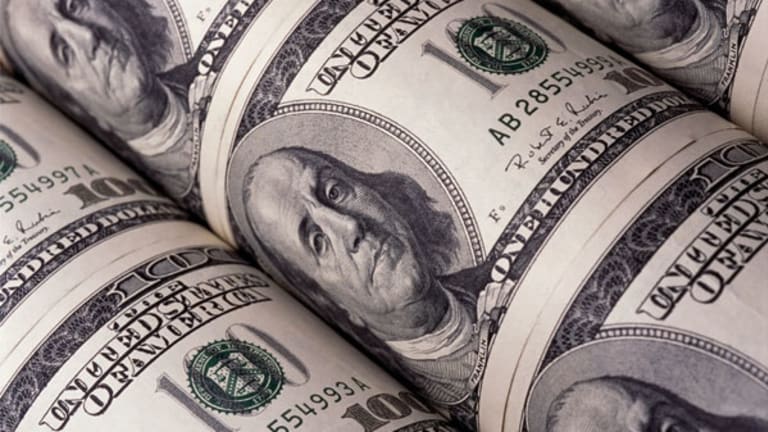 Kass: The Market Is Overvalued
I have slightly reduced my calculation of the S&P 500's fair market value.
I have slightly reduced my calculation of the S&P 500's fair market value.
This column originally appeared on Real Money Pro at 8:24 a.m. EDT on March 19.
NEW YORK (
) -- In recent weeks, many investors, traders and strategists have abandoned their previously bearish market and economic views (which had dominated their thinking at the beginning of the year). Some of the contributing factors that have led to a rekindling of the market's animal spirits in 2012 include:
better jobs data;
stabilization of the European sovereign debt problem (thanks to massive liquidity provided by the LTRO);
a short-term Greek resolution (and debt exchange); and
performance-chasing (as investors move from underinvested positions).
I view both the more optimistic economic and profit forecasts as well as the outgrowth of elevated price targets with some skepticism -- just as I
that Wall Street's dour outlook of three months ago was too pessimistic and as I anticipated that the European debt crisis would move from a potentially fatal affliction to a condition that would be stabilized (but would still have to be monitored) and that the U.S. economy would muddle along.
The Spring of Our Discontent
Fundamentally (and crucial to our somewhat negative near-term market outlook), my assessment of the cyclical factors impacting the trajectory of economic growth is little cloudier than the growing and more optimistic consensus.
The consumer outlook is mixed. While payroll data has improved (recording three consecutive months of 200,000-plus jobs growth), income growth is still weak in absolute terms and relative to rising inflation.
The costs of life's necessities (gasoline, education, health care and food) are rising. As a result, the growth in wages and salaries is lagging the rise in consumer prices.
Warm weather has pulled forward retail sales (particularly in construction and leisure spending).
The 100% tax credit for capital expenditures (expired on Dec. 31, 2011) has pulled forward business equipment spending.
Rising interest rates will likely slow down refinancing activity and dampen the improvement in the housing markets.
The spring appears likely to bring a loss of business and spending momentum. Already, industrial production and University of Michigan consumer sentiment have begun to show signs of weakness last week.
No Market Pause but Developing Technical Flaws
Technically, ever-rising share prices sow their own seeds of potential destruction. For example, I would beware the VIX, which is the best measure I know of measuring complacency in a market that has had no pause but contains a number of technical flaws.
Importantly, I depart from some of the (newly) converted bulls in that I do not expect that P/E multiples to reach their historical multiplier (of about 15x) experienced over the last five decades, as the new normal of slower and below-trend economic growth and other factors weigh on valuations. (Implicit in my melded fair market value of 1335 for the
S&P 500
is a 13x P/E multiple.)
Secular Issues and Deflating Cap Valuations
Below are some of the other secular factors that investors should be concerned with over the near term that will likely cap the market's upside.
Monetary: I see a U.S. monetary cliff at the end of June coincident with the completion of the Fed's quantitative-easing program.
Fiscal: I see a U.S. fiscal cliff at year-end 2012, with the $500 billion fiscal drag of rising tax rates and government spending cuts.
Deficit: Our fiscal imbalances have yet to be addressed. Every day that goes by raises the size of our fiscal challenge, as does every basis point that bond rates climb.
Unemployment: Despite the recent improvement in the jobs market, a number of factors will conspire to keep the unemployment rate elevated. Those factors include technological innovation, globalization, a mismatch between job needs and talent/skills/education and a large drop in U.S. home prices (which reduces geographical mobility, as many homes are underwater).
Valuation History: The history of markets during periods of relatively modest changes in corporate profits (I estimate a range between +3% and +5% for both 2012 and 2013), subpar economic growth (less than 2%) and rising inflation make for a flat, not an expanding, P/E multiple. Revenue and profits forecasts are coming down, conspicuously so, if one excludes the exceptional results and very upbeat forecasts for Apple (AAPL) - Get Report. I continue to see a growing probability that corporate profit margins are in jeopardy, as unit labor costs rise and as core PPI is running ahead of core CPI.
Political: The outcome of the U.S. and French elections introduces market uncertainty and could adversely limit addressing fiscal issues and reverse recent strides in containing the debt crisis in Europe.
Black Swans: We have witnessed a greater frequency of black swans (economic, political, geopolitical and physical disasters) over the past two decades. I have speculated that the price of oil might be the next black swan.
My Fair Market Value Is 5% Below Current Levels
My starting point when I determine long exposure is valuation, which is accorded by four different economic scenarios.
In looking at my four outcomes, I am making the following changes this morning:
I am lowering the probability of an economic reacceleration in domestic activity (defined as +3% for 2012 real GDP);
I am eliminating any possibility of a recession this year;
I am modestly increasing the chance of sub-1% 2012 real GDP; and
I am substantially raising the likelihood of a muddle-through scenario (defined as 2012 real GDP growth of between +1.5% and +2.0%).
Based on those changes below, I have slightly reduced my calculation of the S&P 500's fair market value from 1345 to 1335. My methodology, though appearing precise, recognizes the difficulty of attaining investment precision given the numerous moving parts (economic, interest rates, sentiment/psychology and exogenous factors) in its calculation.
Below are the criteria I use to evaluate the S&P 500 and upon which I conclude that fair market value is approximately 1335 (or about 5% below Friday's closing price of 1404).
Scenario No. 1 -- Economic Reacceleration Above Consensus
(probability goes from 25% to 10%): The pace of U.S. economic recovery reaccelerates to above-consensus forecasts (3%-plus real GDP) based on pro-growth fiscal policies geared toward generating job growth; corporate profit margins being preserved (with low inflation and contained wage growth); interest rates remaining low; and housing recovering sharply, owing to the adoption of aggressive plans by the government to enact a massive home refinancing effort and deplete the excess inventory of unsold homes. Europe stabilizes (and experiences only a shallow recession), and China has a soft landing. S&P 500 profit estimates for 2012 are raised modestly to $106 to $110 per share. Stocks, valued at 14.5x under this outcome, have 16% upside over the next 12 months. S&P target is 1,565.
Scenario No. 2 -- Recession
(probability goes from 5% to 0%): The U.S. enters a recession precipitated by a loss of business and consumer confidence, producing a fall in manufacturing output and personal consumption expenditures. A series of bank failures and sovereign debt defaults in the eurozone contribute to a deep European recession and a hard landing in China and India. S&P 500 earnings estimates for 2012 are materially slashed to $75 to $80 per share. Stocks, valued at 10.0x under this outcome, have 42% downside risk over the next 12 months. S&P target is 775.
Scenario No. 3 -- Below Consensus Economic Growth
(probability goes from 25% to 30%): The U.S. experiences a disappointing sub-1% real GDP growth rate, and Europe experiences a medium-scale recession. S&P 500 profit forecasts for 2012 are cut back to $98 to $100 a share (only slightly above 2011's levels). Stocks, valued at 12x under this outcome, have 12% downside risk over the next 12 months. S&P target is 1185.
Scenario No. 4 -- Muddle Through
(probability goes from 45% to 60%): The U.S. muddles through with 1.5%-2.0% real GDP growth, and the European economies suffer a modest (but contained) business downturn. S&P 500 profits for 2012 trend toward a range of $103-$105 a share as some margin slippage occurs. Stocks, valued at 13.25x under this outcome, have 2% upside over the next 12 months. S&P 500 target is 1,375.
At the time of publication, Kass and/or his funds were short AAPL and SPY, although holdings can change at any time.
Doug Kass is the president of Seabreeze Partners Management Inc. Under no circumstances does this information represent a recommendation to buy, sell or hold any security.