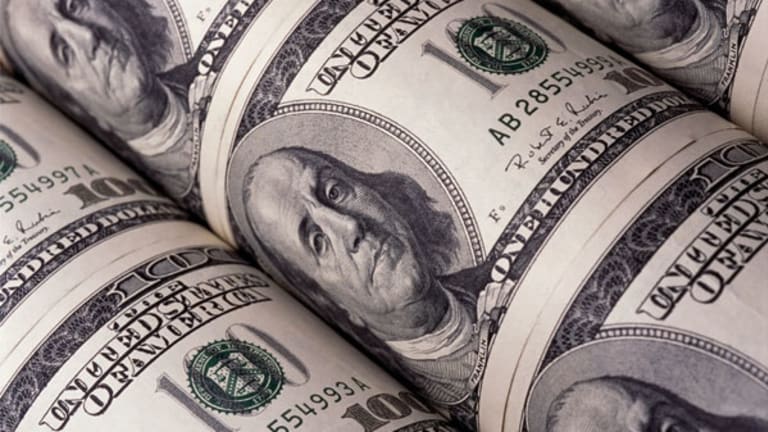 Doug Kass: I'm Increasing Long Exposure to Stocks
Doug Kass is currently at his highest long exposure in about five months.
Doug Kass is currently at his highest long exposure in about five months.
This column originally appeared on Real Money Pro at 9:05 a.m. EDT on Oct. 25.
NEW YORK (
) -- With the recent additions of longs in
SPDR S&P 500 ETF Trust
(SPY) - Get Report
,
Ford
(F) - Get Report
,
AIG
(AIG) - Get Report
,
Procter & Gamble
(PG) - Get Report
,
CSX Corporation
(CSX) - Get Report
and others, I am now 40% net long, which puts me at my highest long exposure in about five months.
The proximate causes of the steep declines on Tuesday and late last week were likely a delayed reaction to
, reports that Bernanke might not seek reappointment and
that could contribute to a steeper fiscal cliff.
These factors worried me more at 1470-plus on the
S&P 500
(at which point I was net short) than at 1410 (at which point I am net long). Mr. Market has begun (though not fully) to discount these three developments.
I am not one of those gloom-and-doom guys, and I have been slowly expanding my net long exposure into the week's weakness.
Unlike some, I am indifferent about the S&P 500 breaching technical support at 1425 (as I previously
it). Support lines are there to be tested -- sometimes they fail and a bear market commences; other times they are successfully tested and stocks move higher.
I see the latter now, and I draw, to some degree, on the following factors:
I continue to see fair market value of the S&P 500 at about 1390 (only 20 S&P points lower than Wednesday's close), but before then, many stocks have and will be moving back into buyable areas. This is the most important factor -- individual stocks are coming into my buying levels. Procter, Ford and AIG are good examples.
I am laser focused on the yield on the 10-year U.S. note. At 1.84% (5 basis points over Wednesday's close, this morning), it is close to its recent high of 1.91%. Despite near-universal domestic growth concerns, yields are rising and bond prices are moving lower, sending a possible message that once we get through the fiscal cliff, a lot of pent-up demand will lift U.S. economic growth. The prospects for a recovery in automobiles -- the average vehicle on the road is a record 10.5 years old today -- and other durable spending comes to mind.
The long-expected reallocation trade out of bonds and into stocks is inevitable, though its timing is uncertain.
We have more empirical support over the past month for my long-standing and optimistic thesis that housing is embarking on a durable, multiyear recovery.
Many, including myself, may have gotten too impatient with the ineffectiveness of QE3. While I still subscribe to the view that the marginal impact will be small, considering its recent introduction in September, I and others might be too impatient and too pessimistic.
There is now an interesting dichotomy between consumer strength and weak business confidence (reflected in poor hiring rates and punk capital spending). Should there be some resolution of the fiscal cliff, business activity could come back strongly in early 2013. This would mean pent-up hirings and business fixed investment. On top of a surprisingly strong consumer, this could be a wonderful cocktail of growth. It is too early to tell, but this is the message in the recent ramping (in the last few days) in bond yields.
We have better economic numbers out of China. I am now less fearful of a hard landing, and a soft landing is my baseline expectation.
Skepticism is on the rise. You only have to watch the business media. Two 90% down days over the past week has warmed the cockles of Cassandras and those technical analysts that rely solely on levels. Many of those who worship at the altar of price momentum and were glibly confident and bullish with the S&P Index at 1470 (going to 1550!) are now bearish at 1410. Though singing the S&P tune of 1550 two weeks ago, they are now singing the tune of 1375, as if there is something mystical and a certain truth about the technical levels.
As Raymond James' lynx-eyed strategist Jeff Saut reminds us this morning, the market has been a confusing temptress, "If there is a strong rebound from here, the bullish pattern can resume quickly. In fact, that is the way it has played at such critical levels for over three years."
Regardless of my higher long exposure, this remains a good backdrop for opportunistic trading (buy red, sell green) and, for now, a poor environment for investing.
I am keeping it real and transparent, as I am honestly not sure whether my increased long exposure is simply a trade or positioning for a start of a new leg up.
I am still doubtful that a new leg up is likely, but I also recognize that it is important to stay flexible in market view, as there are some improving conditions (see above) that have been disregarded during the recent market downturn.
As I have written, the only thing certain to me is the lack of certainty.
The balance of the year should be interesting.
At the time of publication, Kass and/or his funds were long SPY, F, PG, AIG, CSX, F and TBT common/long TBT calls, although holdings can change at any time.
Doug Kass is the president of Seabreeze Partners Management Inc. Under no circumstances does this information represent a recommendation to buy, sell or hold any security.