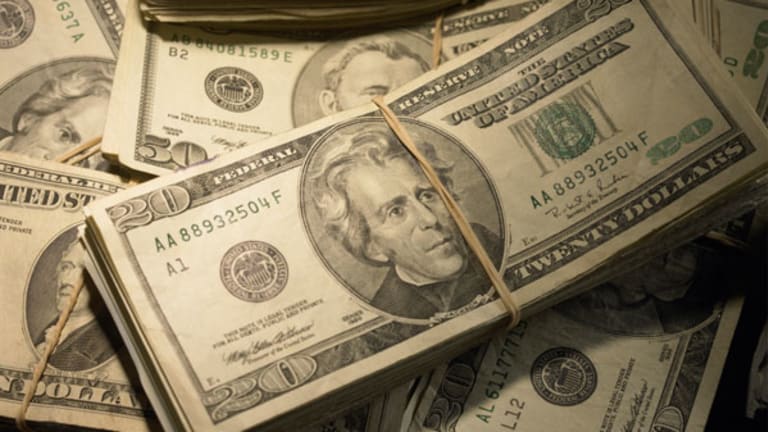 Kass: The Broken Brokers
They are not too big to fail, and they are not profitable enough to invest in.
This column originally appeared on Real Money Pro at 8:46 a.m. EDT on July 9.
NEW YORK (
) -- Key takeaways:
The brokerage industry's business model is broken and has been disrupted.
Cyclical industry conditions are weak.
The group's adverse secular changes will translate into considerably lower industry returns on invested capital and profits.
Trade the sector, but don't invest in the sector.
With all the seedy bank behavior that has been exposed since the financial crisis, it's stunning that there's still dirty laundry left to be aired. We've had predatory subprime lending, fraudulent ratings, excessive risk-taking and even clients being taken advantage of in order to unload toxic mortgages.Yet even with these precedents, the Libor scandal still manages to shock.-- Joe Nocera, " Libor's Dirty Laundry," The New York Times
Joe Nocera's op-ed column in Saturday's
New York Times
brought me back to thinking about the intermediate- to long-term outlook for the brokerage sector. (My observations have some applicability to the outlook for bank stocks and profits as well.)
There is little doubt that there will be many trading opportunities in brokerage stocks over time, but a combination of current cyclical and future secular factors will likely weigh on the stocks and inhibit a return to anything like their former glory -- whether measured in share price, P/E multiples or, most importantly, returns on capital.
This is a big and topical subject -- it has been since the bank and brokerage industries exported financial weapons of mass destruction and nearly bankrupted the world's financial system in 2008.
After several high-profile bankruptcies, the crippled financial sector became a political piñata. The Dodd-Frank Wall Street Reform and Consumer Protection Act was introduced (and the Volcker rule was reintroduced) to not only avoid the mistakes of the past but to prevent a repeat of 2007-2008. Recently, the
JPMorgan Chase
(JPM) - Get JPMorgan Chase & Co. Report
trading gaffe and
Barclays'
(BCS) - Get Barclays Plc Report
involvement in Libor fixing have led to some high-profile bank resignations, which are obvious signals that little has been learned from past abuses and that the clarion call of separating propriety trading from traditional customer activity will ring louder in the months ahead.
"We shape our buildings; thereafter they shape us." -- Winston Churchill
Today's opening missive covers a polarizing and emotional subject to many who are in the investment business.
Some of the points I bring up will not be greeted well by bankers and brokers, but frankly, considering the magnitude of the abuses (particularly in the last economic upturn), it is hard to be sympathetic: Three to four years later the global economies still feel the weight of the abuses of the 2000-2005 period, as reflected in subpar economic growth.
Secular
Capital markets activity will be far less in the future than in the past. Let's break this into investment banking, proprietary trading, institutional (research, sales and trading) and investment advisory.
Investment banking: Dodd-Frank has limited the product available to be sold by investment bankers. M&A business has changed little -- Goldman Sachs (GS) - Get Goldman Sachs Group, Inc. Report and Morgan Stanley (MS) - Get Morgan Stanley Report could dominate the league tables in M&A -- and will remain a still-high-margined mission critical service. But competition will heat up further, reducing profits, as banks and brokerages focus on this, one of the few remaining high-margined businesses.
Proprietary trading: The near elimination of this typically profitable business line -- margins were in excess of 25% -- will be impossible to be filled by the other products offered. The disclosure by JPMorgan of the large contribution that their prop trading business had on overall historic bank results -- they juiced returns! -- is further evidence that past returns on invested capital are not guarantees of future ROICs.
Institutional (retail, sales and trading): The high-fixed-cost institutional business has changed materially over the last 10 to 15 years. In equities, the value of maintenance research is debatable. When I entered the investment management business in the 1970s Fidelity and Putnam (where I worked) had superior research departments to the brokerage industry.In time, the sell-side's product eclipsed the buy-side's product, but the abuses in the late 1990s led to the best research talent going to the hedge fund industry. The value of execution is debatable in a world in which commissions have moved from $0.07 a share to $0.06 to $0.05 and now down to less than a penny a share on trading platforms. Institutional salesman used to be the big money earners; today they are salaried plus a discretionary bonus.In fixed income, the changes in Moody's ratings will cause the migration of the longer-dated derivative business (and profits) toward JPMorgan and Goldman Sachs, two of the more highly rated institutions. The shorter-dated derivatives trading will be subject to a lot of competition. In the aggregate, the over-the-counter derivatives trading business' profitability will suffer as it migrates onto public exchanges. Margins could halve from 35%-40% margins to 20% or less. The prime brokerage will also grow more competitive given lower leverage permissible and the absence of growth of the hedge fund industry.
Investment advisory: Industry resources (and personnel) are moving toward the investment advisory area. Again, competition will be heated and fees/margins (of profitable wrap business) will be lowered as the industry grabs for the same golden ring.
Cyclical
Investment banking: M&A activity is reasonably solid, but the recent Facebook (FB) - Get Meta Platforms Inc. Class A Report IPO probably cooled down the equity new-issuance market. Generational low interest rates are restricting restrict bond issuances. Municipal bond underwritings are mediocre.
Proprietary trading: A downsized prop trading profile was not helped by the JPMorgan trading gaffe or by the recent revelation that Barclays (and others) have manipulated Libor. Though difficult to gauge because of opacity, something tells me that prop trading is slow going.
Institutional (retail, sales and trading): Hedge funds have de-risked and are generally inactive. Most of the equity exchange volume has been high-frequency/quant related. Few hedge funds are being created, and the prime brokerage business is suffering. In fixed income, a slowdown in derivative activity and moves toward central trading/clearing are hurting profits.
Investment advisory: Interest on the part of individual investors in the U.S. stock market continues to be weak, as has been the case of outflows since 2007.
Higher Capital Requirements = Lower Leverage = Lower Returns
The next three to four years will be disruptive to the brokerage industry and will likely augur poorly for share price performance.
As a result of these cyclical and secular influences, most banks and brokerages face a more competitive landscape. They will likely be reducing their leverage ratios (Basel III) and will be forced to shift their business mix away from high-return businesses (prop trading) and to drastically reduce compensation by eliminating personnel (in a constant attempt to reduce fixed costs). In doing so, a challenge is presented, as it will be difficult for these companies to differentiate themselves in their newly found world of product homogeneity.
It is almost impossible to be specific about what all this means for the level of banking and brokerage industry profits and for target ROICs given the differing product mixes at individual institutions, but one thing is certain: The earnings and returns on capital of the financial sector in the past will not likely be repeated in the near future, and valuations will suffer as sustained and low returns on capital equate to share prices at discounts to tangible book values and well below market multiples.
In summary, the brokerage industry's business model is broken. Capital limitations will force a massive re-engineering of the industry over the next decade. Not only are cyclical influences weighing on earnings but unique secular challenges will translate into considerably lower industry returns and profits.
Trade the stocks but don't invest in the group.
At the time of publication, Kass and/or his funds were long JPM, although holdings can change at any time.
Doug Kass is the president of Seabreeze Partners Management Inc. Under no circumstances does this information represent a recommendation to buy, sell or hold any security.