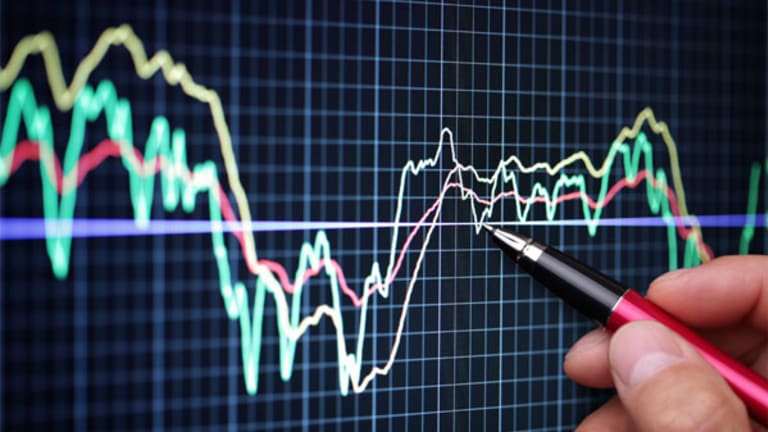 Kass: The Big Picture Remains Cloudy
Fantasy and fundamental economic/profit progress are being blurred.
This column originally appeared on Real Money Pro at 10:21 a.m. EST on Feb. 4.
NEW YORK (
) -- While fourth-quarter 2012 real GDP fell by -0.1%, reflecting lower exports, a decline in federal government spending and a large drop in inventory investment, if one takes out the contraction in inventories, final demand was +1.1% (annualized). The fourth-quarter annual rate of inflation was +0.6%.
For the full year of 2012, real GDP grew by +2.2%, and inflation rose by +1.8% -- nominal GDP increased by a tepid +4% (and those with plenty of juice from the
Fed
).
Growth remains slow, as the household sector continues to deleverage.
Despite market optimism, the consumer sector remains the Achilles' heel to growth, as I don't see the deleveraging ending anytime soon:
Household savings rates are well below historical averages.
Home values, though up by nearly 6% in 2012, are still close to 28% below the previous peak six years ago.
Higher interest rates are already taking a bite out of refinancing. (Refinancings liquefy the consumer and infuse cash, generally serving to raise personal consumption expenditures.)
Most importantly, consumers will absorb nearly $250 billion of tax increases, the Obamacare surcharge and possible government spending cuts (March sequester).
Given the fiscal headwinds, much lies on the shoulders of the corporate sector, which will need to take the growth baton from the consumer sector.
Business fixed investment was weak last year, reflecting weak global demand and the uncertainties of tax and regulatory policies.
As evidence of my conerns regarding a revival of business fixed investment, factory orders for December rose by a less-than-expected +1.9% (consensus was +2.3%), as the previously reported durable goods component was lowered. Significantly, core capital expenditures (non-defense capital goods, excluding aircraft) declined by -0.3% (the initial report was +0.2%). Durable goods orders also were revised lower by -0.3% (to a rise of +1.0%).
Given the economic and policy uncertainties (particularly the upcoming fractious Washington follies), I find the renewed belief in an improvement in corporate confidence (manifested in more hirings and enlarged capital spending) to be an unjustified leap of faith.
Over There
The U.S. will likely benefit from a slight acceleration in Asia's growth. (There was a small increase in the January China PMI services index, to 56.2, over the weekend.)
Contrary to most market observers, however, I don't see an all-clear sign yet in Europe. Though stabilizing from a low base of economic activity, the overall growth outlook in the EU still remains subpar and challenging.
Overnight there are emerging political and economic chinks in the armor, as Spain Prime Minister Rajoy has been accused of accepting illegal payments. Spain's 10-year note is yielding 5.38% (up almost 20 basis points), for a seven-week peak in yields. As well, the Spanish IBEX has fallen to a seven-week low (down by 2% after falling 6% last week).
The Italian MIB Stock Index has fallen to a four-week low, and the yield on Italian bonds has risen to a one-month high.
Domestic Challenges
Fortunately, for now, the inflation outlook is muted, and the
Fed
remains friendly.
All this said, domestic economic growth (as measured by real GDP) is still is challenged, and +1.5% real GDP (2013) growth remains my baseline expectation. With modest inflationary pressures, nominal GDP growth looks to be in a range of +3% to +3.5%, providing a challenge to corporate top and bottom lines in a competitive world business climate.
I continue to believe that the handoff between the consumer and corporate sectors is fragile (and uncertain), that the outlook for corporate profits is likely well below consensus and that the U.S. stock market has disconnected from many of the above economic realities.
For now, investors are rejecting my concerns, as confidence in this handoff coupled with global money printing are contributing to growing bullish investor sentiment and an expansion in P/E multiples.
Nevertheless, from my perch, fantasy and fundamental economic/profit progress are being blurred.
Turning Toward the Technicals
It might seem odd that a fundamentally oriented investor should write the foreword for a book devoted to technical analysis. After all, many fundamental investors view technical analysis as nothing more than fortune telling, and technical analysts as wizards who should be locked up and kept away from the children (and investors/traders who behave like children). But here I am, a fundamental investor, doing just that.The fact is that the business of investing is complicated. Think of it as a pyramid, with each angle of the pyramid representing a different approach -- you've got the fundamentals, valuation and the technical.It is the influence on equities called the "technicals" that Jeff Hirsch captures so eloquently and succinctly in The Little Book of Stock Market Cycles .Jeff's thoughtful book takes a cue from Winston Churchill, who once wrote that "the farther back you can look, the farther forward you are likely to see."As Jeff writes, the lessons of stock market history are invaluable. The study of patterns from the past makes future trends clearer, just as the avoidance of history makes them potentially lethal to your investment's well-being.Mr. Market is not an easy guy to get to know. Analysis of market history and the rhythm of financial cycles isn't a simple task and especially not the way Jeff does it. Determining the roles that human behavior. holidays, elections, seasons and the calendar play in influencing the stock market's direction requires careful observation and critical thinking. Even the role of peace and war is fair game in Jeff's analysis....In The Little Book of Stock Market Cycles , Jeff presents a common sense message and invaluable lessons for how to take advantage of time-proven market patterns. Both individual and institutional investors should take notice.After all, those who cannot remember the past are condemned to repeat it!-- Doug Kass, foreword to Jeff Hirsh's The Little Book of Stock Market Cycles
Away from the fundamentals, which are being interpreted as positive by most, investors seem to be equally enamored of the current technicals.
Yesterday, my buddy/friend/pal Jeff Hirsch (the hard-working son of Yale Hirsch) came over to my Florida home for a visit. He and his dad are masters of technical patterns. (Note: I proudly wrote the foreword to Jeff's recent publication,
The Little Book of Stock Market Cycles
.)
The January barometer was first mentioned by Yale Hirsch in 1972. Yale's hypothesis was that stock market performance in January predicts its performance for the rest of the year. Historically, if the
S&P 500
rises in January, the trend will follow for the rest of the year. Conversely, if the S&P falls in January, then it will fall for the rest of the year.
From 1950 to 1984, both positive and negative prediction had a certainty of about 70% and 90%, respectively, with 75% in total. After 1985, however, the negative predictive power had been reduced to 50% -- or, no predictive power at all. (
Raymond James'
Jeff Saut had a good rundown of Hirsch's observations in his morning commentary today, "The January Barometer.")
With a gain of 6%, we all recognize that January 2013 was a great month for stocks. In fact, it was the best January in nearly 20 years.
At the same time, however, the record shows that when outsized January gains are achieved, in five of the seven years (1971, 1975, 1976, 1987, 1994, 1997 and 2011) the stock market peaked in the first half of the year -- in three years, the market peaked by April -- and four of the seven years ended lower than the January high and another ended flat. (The positive observation is that there were no large drawdown years, though there was a mighty selloff during the crash of 1987.)
At the time of publication, Kass and/or his funds were short SPY, although holdings can change at any time.
Doug Kass is the president of Seabreeze Partners Management Inc. Under no circumstances does this information represent a recommendation to buy, sell or hold any security.