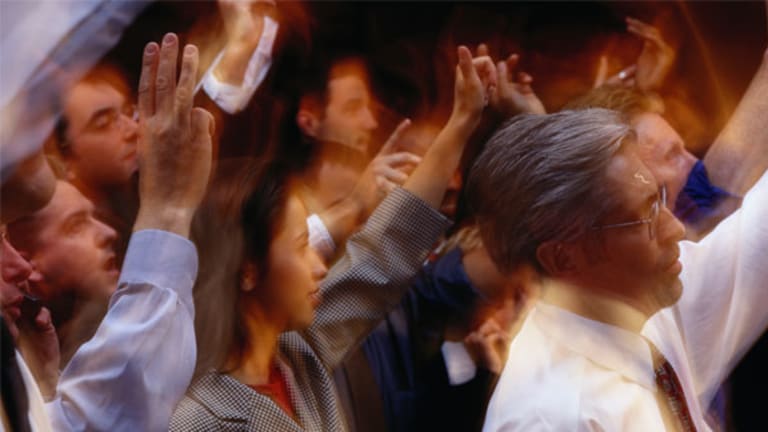 Rental Car Value Traps; Yahoo! a Buy Again: Best of Kass
In highlights from this week's trading diary, Kass sees car-rental stocks as 'value traps,' ventures into Yahoo! shares (again) and makes sense of housing starts and sales and manufacturing activity.
NEW YORK (RealMoneyPro) -- Doug Kass of Seabreeze Partners is known for his accurate stock market calls and keen insights into the economy, which he shares RealMoney Pro readers in his daily trading diary.
This past week, Kass sees car-rental stocks as "value traps," ventures into Yahoo! shares (again) and makes sense of housing starts and sales and manufacturing activity.
Put the Brakes on Car Rental Stocks
Originally published on May 19 at 10:30 a.m. EDT
Rental-car stocks such as Hertz Global (HTZ) - Get Free Report and Avis Budget (CAR) - Get Free Report have been market losers over the past 12 to 18 months, despite attracting the interest of several activist hedge funds. This has led me to initiate an analysis over the last few weeks of the industry in the hope of finding value.
Unfortunately, my analysis led me to the investment conclusion that rental-car equities are value traps because the industry's business model, competitive landscape and secular growth prospects are being upended by peer-based services Uber and Lyft. I would avoid CAR and HTZ, despite their apparently cheap share prices.
Position: None
Housing Starts Rebound, Boosting Treasury Yields
Originally published on May 19 at 9:59 a.m. EDT
Housing starts in April totaled 1.135 million, well above expectations of 1.015 million and up from 944,000 in March -- and it's the highest reading since 2007. Both housing components -- single-family homes and multifamily dwellings -- contributed to the jump. Single-family starts rose by 105,000 starts to 733,000, while multifamily starts rose by 86,000 to 402,000.
The permit side also saw a jump to 1.143 million from 1.038 million in March, but that was mostly for multifamily units. Single-family permits rose by 22,000 to 666,000 -- a touch above the 12-month average of 650,000 -- but multifamily permitting was up by 81,000 to its highest level since 2008.
Bottom line, there was a weather rebound in the Northeast and Midwest for starts, but now we're just back to pre-winter trends.
Smoothing out the January-through-April starts figure in the Northeast puts the four-month average at 109,000 vs. 113,000 in December and 107,000 in November.
For the Midwest, the four-month average is 138,000 vs. 168,000 in December and 172,000 in November.
For the South, unrelated to weather, starts totaled 503,000 vs. 512,000 in March and 509,000 in February.
In the West, starts jumped to 278,000 from 200,000 in March and 243,000 in February, but they were at 293,000 in January.
Looking at overall starts over the past four months (which smooths out weather issues in the seasonal adjustments), those averaged 1.015 million vs. 1.080 million in December, 1.007 million in November and 1.079 million in October. The 12-month average is 1.019 million overall starts.
It was good to see a sharp snapback in starts after the sub-1 million readings in the prior two months, but if we smooth out the winter influence, starts are just back to pre-winter trends. For single-family permits, as stated, the figures are running about in line with the 12-month average, while multifamily permits remain the particular bright spot. The 477,000 level in April handily beats the 12-month average of 416,000.
Just prior to the release of the data, the 10-year Treasury yield was getting back all of what it lost in response to this morning's European Central Bank quantitive easing-timing news. Combine that with an upside surprise to starts and the 10-year yield now stands at around 2.26% to 2.27%, up 12 basis points from Friday's close.
Position: None
Kass Katch: Buy Yahoo!, Part Deux
Originally published on May 20 at 9:31 a.m. EDT

I am once again buying Yahoo!  (YHOO) shares (under $42 in premarket trading) based on the opportunity presented in the stock's decline on Tuesday.
With shares of YHOO and China's Alibaba Group (BABA) - Get Free Report trading lower and given the ambiguous nature of the IRS statement on Yahoo!'s proposed spinoff of its BABA stake, the upside-downside ratio is finally compelling.
It's important to note that even if the IRS spinout ruling is agreed to (only 33% chance, from my perch), the value of the residual Yahoo! is now slightly negative.
First, a bit of history.
I know Yahoo! well from an analytical understanding. Last year, Yahoo was made a Kass Katch in late September at about $40.
My principal focus was a "sum-of-the-parts" analysis. My main catalyst at the time was an expected tax-free exchange of Yahoo!'s BABA holdings, which was indeed announced shortly after my buy. Within four or five weeks, I sold out the stock for a near $6-a-share gain.
Yahoo!'s shares continued rising toward $52 after I sold -- until Alibaba recorded an earnings and sales miss. Then the stock came back to earth. At that time (when the shares were in the high $40s to low $50s), I debated several bulls like Eric Jackson and suggested Yahoo! should be avoided because of a lack of transparency and opaqueness at Alibaba.
Eventually, BABA shares tanked from over $120 in November to briefly flirt with $80. But the company recently came in with a much better quarter and the shares have risen about 10% from that low point of about  $80.
Still, as mentioned, the IRS yesterday made a statement that questioned Yahoo!'s ability to spin off its BABA holdings on a tax-free basis.
To me, it's unclear if the IRS statement will affect Yahoo!'s BABA spinoff. (Again, I would arbitrarily give it a 33% possibility.) Moreover, as BABA's share price has declined from $120 to $88, this reduces the downside risk to Yahoo! stock. And so does Yahoo!'s share price drop from $44 to $41!
The bottom line: I believe the BABA spinout will occur, and that Yahoo! shares can return to the high $40s over the next three to six months. But even if the IRS statement becomes a ruling, I see some margin of safety for Yahoo! stock based on my belief that the market is putting zero value on the company's non-Asian investment assets.
Position: Long YHOO
Parsing the Data

Originally published on May 21 at 11:27 a.m. EDT 
HOUSING: April existing-home sales, measuring contracts likely signed between January and March, totaled 5.04 million -- about 200,000 fewer than expected and down from 5.21 million in March (which was revised upward by 20,000). That's according to the National Association of Realtors.
A drop in single-family sales led the month-over-month drop. The level of 5.04 million is about in line with both the six- and 12-month averages of 5 million to 5.02 million. The smaller-than-expected sales gain and a jump in the amount of homes for sale (which hit the highest level since October) boosted the quantity of available homes to 5.3 months of supply vs. 4.6 in March. That's the highest supply has been since September.
Prices rose 8.9% year over year and were up 10% for single-family homes, remaining well above income growth and likely the reason why the tally can't break out of the 5 million-ish range. First-time buyers totaled just 30% of purchases, unchanged from March and little changed from the 29% seen in April 2014.
All-cash buyers and investors made up 24% and 14% of purchases, respectively, unchanged from March. About the continuing lack of inventory that is resulting in aggressive price increases, the NAR said, "Roughly 40% of properties sold last month went at or above asking price, the highest since NAR began tracking this monthly data in December 2012."
Bottom line, as I've stated many times before: If you already own a home, the price increases are great. But those looking to buy a home for the first time are again being priced out of the market -- and that's why the homeownership rate continues to fall. To arrive at a more-healthy, self-sustaining housing recovery, aggressive price gains need to slow.
Must Read:Warren Buffet's Top 10 Stock Buys
MANUFACTURING: The Philly Fed's May manufacturing index fell slightly to 6.7 from 7.5 in April and remains on trend with the sluggish pace for the year to date. The year-to-date average is 6.1 vs. 2014's 18.6.
After falling by 3.2 points in April, new orders rose by 3.3 points, to 4.0, but remain below the six-month average of 6. Backlogs fell below zero, as did inventories. Employment slowed by 5 points, but jumped by 8 points last month. The workweek fell below zero.
Prices paid fell deeper below zero, to -14.2, and prices received declined 1.3 points, to -5.4, but both were steady in the six-month outlook. The overall business-activity six-month outlook fell a touch, to 33.9 from 35.5, and is 5 points below the six-month average. Capital spending plans rose 1 point after falling by 0.6 points in April.
Bottom line: The song remains the same. "Manufacturing activity in the region increased modestly in May," according to the Philly Fed. "Modest" or "moderate" remain the description of U.S. growth -- and I keep adding "mediocre." Regardless of what level first-quarter GDP ends up with in multiple seasonal adjustments, growth basically remains in the 2% to 2.5% range.
MANUFACTURING (PART DEUX): The Purchasing Managers Index, Markit Economics' measure of overall U.S. manufacturing, moderated a touch in May. The indicator fell to 53.8 from 54.1, the lowest level (by a hair) since January 2014.
New orders also saw their slowest growth since January 2014, but "robust pace of job creation [was] maintained in May" according to Markit. Also, input costs rose for the first time this year.
Exports were down slightly in May, "with a number of manufacturers noting that the strong dollar had a negative influence on competitiveness in external markets," according to Markit. Backlogs also fell to a four-month low.
Bottom line: Mediocre growth both here and abroad on top of a stronger dollar continues to weigh on U.S. manufacturing. Still, the Purchasing Managers Index  remains well above 50. Also of note: While it's great that job creation is so "robust," it also means that productivity continues to be punk if it's not resulting in a faster level of output.
Position: None
Must Read:The Week Ahead: Shorter but Still Lots of Data to Absorb
Doug Kass is the president of Seabreeze Partners Management Inc. Under no circumstances does this information represent a recommendation to buy, sell or hold any security.