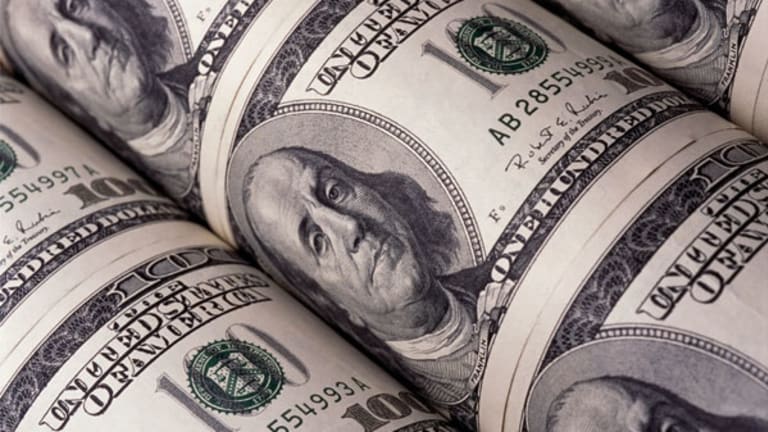 Kass: Shorted Apple Because It's Shortable!
Apple's short interest is low -- only 10 million shares short relative to the float of 930 million shares and to its average trading volume of 32 million shares.
This column originally published on Real Money at 12 p.m. ET Tuesday.
NEW YORK (
) -- I am going to repeat what I said on "Fast Money" last night -- but with a bit of a twist. My narrative this morning is intended to show the anatomy of a trade (an
Apple
(AAPL) - Get Apple Inc. (AAPL) Report
short rental on Monday morning).
But first,
To start I must totally admit that the correct strategy with regard to Apple shares has been simply to own the stock ... and not to trade it from the short side. Long and strong in Apple has been the right investment for many years. The company's remarkable success is undeniable, and, with another 3 million iPads sold last weekend, by all accounts that success is continuing.
I didn't see Apple's success coming, so I have been relegated to trading the stock -- from both the long and short side -- during share price dislocations and by interpreting events (e.g., earnings releases, capital market strategy moves, etc.). Having missed Apple's run (and never willing to suck it up and buy), I can occasionally trade the shares or do nothing at all.
I have picked the former.
So, this morning I'm going to present why and how I approached yesterday's Apple short trading opportunity in premarket trading, why I thought my entry price provided some near-term margin of safety and why I covered most of it in a swoosh lower.
Basically I'm laying out my approach, in this instance, in putting on and taking off a short-term rental.
One warning: As a practice, shorting one of the most powerful shares that have led the market rally for the last several years (or more) is not typically a good idea except for the most agile trader. And, even for a quick trader, like myself, it might not be a good idea -- there are far easier ways to make profitable trades.
In terms of background, as most will recall, on Sunday Apple announced that it would make a long-awaited announcement on its capital strategy. The shares ripped almost $20 a share higher in premarket trading on Monday morning -- ultimately rising to more than $608 a share -- as the anticipation surrounding the release intensified.
I shorted Apple around $605 in premarket trading based on some of the following considerations:
Apple's short interest is low -- it passed my first litmus test -- so it was shortable (with only 10 million shares short relative to the float of 930 million shares and to its average trading volume of 32 million shares).
Microsoft's (MSFT) - Get Microsoft Corporation (MSFT) Report July 2004 capital moves was a historic template for Apple's release on Monday. MSFT was another large-cap tech company flush with cash, though admittedly not with as stellar profit growth as Apple. Eight years ago MSFT launched a $75 billion capital reallocation -- it doubled its cash dividend, announced a $30 billion buyback and doubled the size of its regular dividend.So what did MSFT stock do back then immediately following the release of the strategy? It gapped from under $28 the day before the announcement to $29 ... but within two weeks the shares were back under $27.I saw a Microsoft redux -- though Mel thought I might be comparing apples to oranges! (I will address her very reasonable objection in a second, by underscoring MSFT's rapid profit growth after its 2004 announcement).And it wasn't that Microsoft's shares were weak for just two weeks. From mid-2004 to late 2007, Microsoft's shares flat-lined. For those who say the comparison is unfair (as Mel suggested) because Apple is hitting it out of the park, it should be noted that Microsoft nearly doubled earnings from $0.75 in 2004 to $1.42 in 2007. And by 2008 earnings per share rose to $1.87, or 30% above 2007. (Frankly I believe Apple will find it hard to match those gains in the next three or four years -- especially from its lofty base after successive hits with the iPhone and iPad -- but we will see.)
I expected the announcement to be a nonevent, as I suspected that Steve Jobs' historic disillusionment with dividends would still have some weight with the Board of Directors.
Moreover, since nearly two-thirds of the company's cash hoard was overseas, this too would be a factor that would result in a modest capital move that would not likely extend the share gains over the short term.
At around 8:30 a.m. EDT the announcement was made. I would describe it as a safe move (though I guess it was bold by Apple's standards). It bordered on a nonevent, in my view.
The initial response was negative; the stock fell to $584 where I covered half of the short. (I covered more on the way up as the shares recovered.)
When I looked at the press release, I saw that the $10 billion buyback only offsets anticipated stock option issuance and there was no special dividend, which some had anticipated. So I held off covering the balance of the short, as the announcement failed, I thought, to address concerns of many shareholders. (I should have covered my entire short with the benefit of hindsight.) Moreover, the buyback doesn't even begin until Oct. 1 -- more than six months from now. And it would be conducted over three years!
From the company's press release:
"Board has authorized a $10 billion share repurchase program commencing in the company's fiscal 2013, which begins on September 30, 2012. The repurchase program is expected to be executed over three years with the primary objective of neutralizing the impact of dilution from future employee equity grants and employee stock purchase programs."
The response form the analytical community, not surprisingly, has been universally positive. Goldman, as an example, raised its price target to $700 early in the afternoon. Morgan Keegan and others raised their targets even higher.
As a group the analysts have been universally bullish on Apple and, over time, they have been perfectly correct in their views. But while I suspect the analysts are great people and good to their mothers, frankly, as a group those geniuses missed the last quarter by nearly 40% on sales and profits. So, after such an extended advance, I am not willing to take them on face value ... to buy, buy, buy!
I am left (in terms of gaming the stock) to my own devices.
That said, I am a realist. I don't believe Apple has matured (as evidenced by the continued success of the new iPad) and it is clear that the company has still a lot of runway ahead of it.
But who doesn't know the story by now?
For now, to me Apple is now solely a trading vehicle, a high-beta tech stock that is leveraged to the stock market which I think is now overextended. After its run I don't see the sort of alpha ahead in the shares that has been seen in the past as we wait awhile for the next significant data point (2Q2012 results).
I certainly may be wrong; the crowd may continue to outsmart the doubters and Apple may continue to be the stock market favorite. Regardless, as I wrote, there will be trades ahead (on both the long and short side) for the agile trader in the stock.
The Divine Ms. F (Karen Finerman) chimed in: She liked the fundamentals. I can't dispute that, for as Grandma Koufax used to say after a stock had a great run, "Dougie, what's not to like?"
But there is always a point when the fundamentals are baked into the share price -- and yesterday morning was one of those points to me.
Some of the things a fundamentalist -- again, this was a trade for me, not a fundamental short! -- should monitor going forward include:
worsening macroeconomic conditions;
possible supply disruptions;
the potential for increased platform competition;
a changing competitive landscape; and
a possible change in the company's cost structure (e.g., suppose Sprint fails and declares bankruptcy -- what does that do to carriers' subsidies that have really kept down the costs to the consumer of iPhones?)
At the time of publication, Kass was short Apple.
Doug Kass is the president of Seabreeze Partners Management Inc. Under no circumstances does this information represent a recommendation to buy, sell or hold any security.