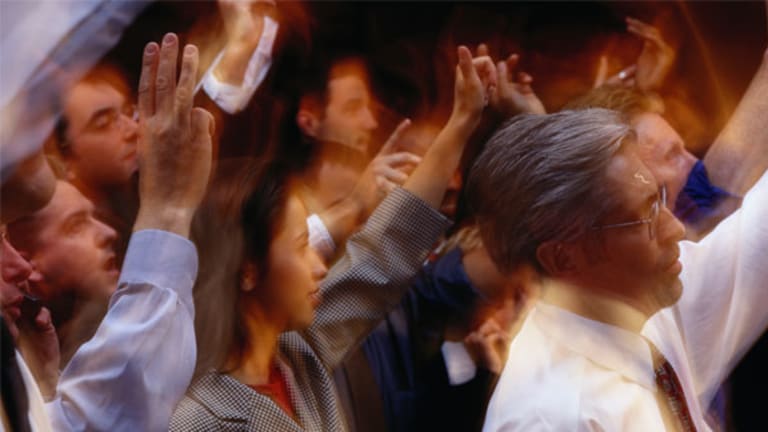 Kass: Sell Rosh Hashanah
It's only rational to be suspicious of the recent market gains.
This column originally appeared on Real Money Pro at 8:05 a.m. EDT on Sept. 17.
NEW YORK (
) -- Over the past four months or so, as the markets approached and sliced through
of 1390 on the
S&P 500
, I have been moving toward an underinvested or net short position based on:
an out-of-consensus, negative and what I had thought was a realistic view of the world's economies;
a deteriorating outlook for corporate profits;
somewhat stretched valuations, given the unique structural headwinds; and
other exogenous risks, including but not excluded to the world's geopolitical temperature was rising.
While my fundamental concerns have generally proven accurate, my investment view and positioning have been wrong, as the markets have climbed in an almost uninterrupted manner since June.
On Friday, I suggested going go over a checklist when things go differently than one expects in the market. Below are the basic tenets of this process:
Most importantly, spend some time objectively reevaluating your investment thesis.
Be honest with yourself in challenging that thesis.
If conditions have changed (which they have not), change your investment strategy.
Seek counsel from smart investors you know and sit down and discuss your thesis and get his/her feedback.
Take 10 deep breaths and do nothing for a while. Similar to Being There's Chauncey Gardiner, just sit there and observe.
Stay balanced emotionally, and don't press your investment positions.
Do not double down or average up until some time elapses and you have enough time to settle down, analyze your positions again and, again, get input from others.
Finally, if you conclude that your current investment position is not wrong-footed, do not be dissuaded, and stand firm in your view.
I have concluded this exercise and stand unambiguously behind my relatively negative and variant market view. Economic data (in the U.S., Europe and China) is coming in weaker than general expectations, third-quarter 2012 earnings will likely show the first decline since 2009, and we expect disappointing guidance ahead given the slowdown in worldwide manufacturing activity. Moreover, inflation expectations are rising, and geopolitical risks are multiplying.
Stated simply, the investment environment is growing more dangerous, as the world's economies and profit outlooks are weakening just as valuations are expanding -- a potentially toxic cocktail.
Recently, the anticipation (and realization) of more global easing has been the proximate reason for the sharp rise in equities around the world.
I have already
the five myths of easing, but I wanted to expand a bit on my reaction to the
Fed's
actions last Thursday.
A global monetary put is seen as a shield that protects risk assets, especially stocks, but it is only a protective put if more easing has a substantive impact on the real economy by improving aggregate demand, which would be expressed in more hirings, expanded capital spending, rising consumer spending and an improving housing market.
The absence of liquidity and the level of interest rates are not what ail the world's economies -- rather, it is the pain of deleveraging and austerity (which has only just started in Europe) and the neglected structural headwinds (in the U.S. jobs market and with regard to sovereign fiscal responsibility) that represent the true challenges to growth in the years ahead. Until these headwinds are dealt with, there is little room for expansion in P/E multiples, and there exists potential downside to valuations.
It could be argued that the finite nature of QE1 and QE2 strategies successfully lifted asset prices without lifting inflationary expectations, but to me, the Fed's QE3 strategy is borderline reckless, as the Fed has removed the constraint on inflationary expectations and on U.S. dollar weakness, which could, in the fullness of time, lead to a loss of control of its balance sheet.
I am skeptical that QE3 (i.e., open-ended purchases of mortgage-backed securities) will mollify the modified liquidity trap we are currently in, and I am skeptical that the labor market and/or real economy will feel any benefits from the recent Fed announcement. In fact, I see the unintended consequences of higher inflation and rising intermediate- to longer-term interest rates as, at the very least, diluting what the Fed is trying to accomplish.
While since June 2012, mortgage-backed securities yields are down by about 40 basis points relative to the yield on the 10-year U.S. note, the yield on the 10- year U.S. note is up by over 40 basis points, so mortgage rates are actually slightly higher in the last three months despite the promise (and now actuality) of easing. I am worried that the U.S. housing market, which the Fed is seemingly targeting, may not even benefit from QE3.
Inflation is taxation without legislation; it is not market-valuation-friendly and could, if severe enough, choke off the consumer. The prospects of more easing have already lifted inflationary expectations (measured by the imbedded inflation rate in TIPS) by over 50 basis points since June 2012.
The open-ended nature of QE3 could conceivably reduce the pressure on our leaders to fix our deficit because the cost to finance it is kept artificially low (creating a moral hazard) and owing to the growing perception that Bernanke "has our back." In turn, the U.S. dollar might continue to drop, and competitive devaluation will become a risk, as the Fed will have no credible means of ending QE3.
Even though we have concluded that the benefits of easing are small and the consequences are large, the QE3 announcement was followed by pronouncements by many that fundamentals don't matter anymore, as the world's central bankers are giving an all-clear signal. One commentator even said, "You cannot fight the Fed; just buy everything." Excuse me? And ignore economic statistics and political and geopolitical challenges?
Uh oh.
Grandma Koufax put it more succinctly and visually than I ever could when she used to say, "Dougie, you can't make chicken salad out of chicken scat" (only she didn't say scat). I will stick with my Grandma, who was an exceptional investor for nearly 80 years.
At best, I expect QE3 to have only a muted positive impact on the domestic real economy. At worst, QE3 could produce more damage than good.
I believe the market's lifeblood and its ultimate fair market valuation importantly lie with the direction of U.S. corporate profits. As I mentioned previously, third quarter 2012 will represent the first drop in S&P earnings in three years. But more important to investors today than the current level of profits is the future trend in profits. The bottom-up consensus for 2013 S&P profit growth is for gains of at least 10%, while the top-down estimates are at about 5% growth. But given the limited effect QE3 will have on the U.S. economy, the current modest and slowing +3.5% nominal U.S. GDP (which implies punk corporate top-line sales), the threat of a fiscal cliff in the U.S. at year-end, 55-year highs in corporate profit margins, declining and uncertain Chinese economic growth, a deepening recession in Europe (which will likely continue further into next year) and the universal signs of a slowdown in manufacturing activity in nearly every other region in the world, an outlier expectation of a decline in corporate profits of as much as 5% is more likely for next year.
I wanted to add a quick mention of the extreme investor optimism that has emerged, especially after the Fed's announcement on Thursday. It should be emphasized that, unlike the introduction of QE3 in this month, during a time when share prices are overbought and at near-five-year highs, QE1 (November 2008) and QE2 (August 2010) were introduced with the market extremely oversold and testing yearly lows. Sentiment readings, not surprisingly, are elevated today. As an example, on Friday the five-day CBOE put/call ratio was at its lowest level since July 2011 -- this reading preceded a 20%-plus three-month correction that started in the next month and ended in October of last year.
In summary, I believe I have every rational reason to be cautious and suspicious of the recent market gains.
Doug Kass is the president of Seabreeze Partners Management Inc. Under no circumstances does this information represent a recommendation to buy, sell or hold any security.