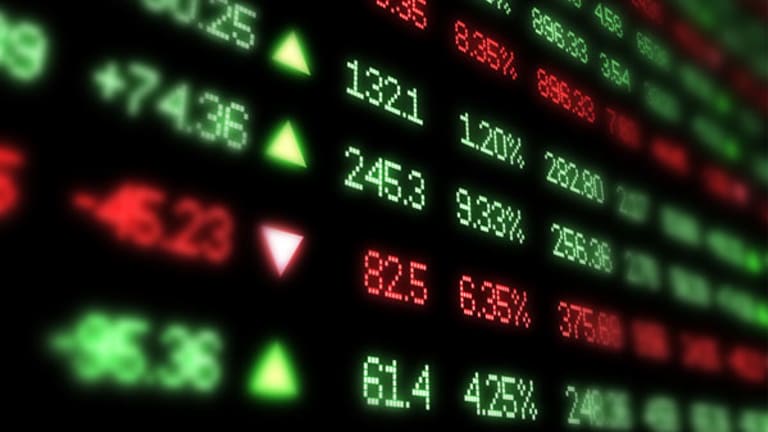 Kass: QE's Growing Impotence
The law of diminishing returns applies to each round of quantitative easing.
The law of diminishing returns applies to each round of quantitative easing.
This column originally appeared on Real Money Pro at 7:45 a.m. EDT on July 23.
NEW YORK (
) --
The massive rally in in the U.S. stock market has increasingly ignored that quantitative easing has become an ineffective stimulant to domestic economic growth.
Second-quarter 2013 real GDP now looks to be under +1%, well below expectations when the quarter started. This follows only +0.4% in fourth quarter 2012 and +1.8% in first quarter 2013 -- both of which were well under forecasts as well. In nominal terms, the GDP growth rate will likely drop from +3% in first quarter 2013 to +2% in second quarter 2013.
As a result of weak nominal GDP, sales growth in both the first and second quarter of this year has been nonexistent.
Second-half growth expectations for the domestic economy (as well as the forecast by the
Fed
) remain in the area of +2%. Recent economic data suggest that these projections may also fall short.
Optimistic second-half forecasts incorporate the view that fiscal drag is receding, job growth is improving, the wealth effect should take hold (and trickle down) and that the U.S. housing market will continue to strengthen. As a friend reminded me, putting aside the fact that the consensus and the Fed always seem to be forecasting an acceleration that never seems to materialize, I am less certain that fiscal drag will moderate and that the
recovery will continue to be strong.
Moreover, a favorable analysis of the jobs market fails to take into account the rising percentage of part-time (and low-paying) jobs and a generally anemic wage growth outlook. As well, the trickle-down theory fails to recognize that this effect is far less important than the income effect on overall spending. With the personal savings rate at a five-year low, it is unlikely that personal consumption expenditures will be strong enough to generate inventory rebuilding at the corporate level and, thus, a virtuous or self-sustaining economic cycle.
Of course, second-half projections also have to incorporate the non-U.S. picture. Unfortunately, the global economy still lacks an engine for meaningful recovery. China may no longer be the engine of growth that it has been in the past, and the eurozone's economy remains strained.
Finally, there is the issue of interest rates and our addiction to their low levels. Tapering appears around the corner, and we shall see if the equity market will be tolerant or if rising interest rates act as a headwind to growth and the expected rebound in second-half growth fails to materialize.
While second-half 2013
S&P 500
earnings have exceeded expectations (with year-over-year growth of close to +5%), much of that improvement has been confined to the financial sector, where share buybacks and reserve reversals have buoyed results.
Importantly, if we exclude financials (which benefited from buybacks and lower loan-loss provisions or reserve releases) from overall results, both first- and second-quarter earnings growth are barely expanding and are likely to be flat to down.
In other words, the quality of earnings growth and the absolute rate of growth in profits (excluding financials) thus far in 2013 have been poor.
Rather than take down valuations reflecting this poor earnings quality, the weak absolute level of nonfinancial earnings and tepid sales growth, to my surprise, market participants have elevated valuations.
In fact, the year-over-year change in the S&P 500's P/E multiple has been roughly 4.2x the average year-over-year increase in the last 35 years.
I now believe that 2013 S&P profits will total about $107 a share and 2014 S&P profits will fall in the range of $109-$110 a share. These estimates, though slightly higher than I expected when the year began, are about $1-$2 below 2013 consensus projections and $5-$6 below 2014 consensus projections.
The previously mentioned domestic economic growth dynamic calls into question whether the U.S. is in a self-sustaining recovery or whether our economy is still, four years after the end of the recession, dependent upon continued and unprecedented easing in monetary policy and the maintenance of zero interest rates.
Based on the dialogue over the last two months, it is clear that both the Fed and other central banks are fearful of spooking the markets. Nevertheless, it is also clear that global bond rates have likely completed a three-decade decline.
Given these conditions mentioned in the body of today's opening missive, it is increasingly clear that the benefits of quantitative easing have been diminished with each round.
I continue to believe that the recent evidence of slowing economic growth (and the uncertainty of a second-half acceleration), flat sales and nonfinancial earnings combined with the reduced effect of quantitative easing are the ingredients for lower valuations and share prices.
At the time of publication, Kass and/or his funds were short SPY, although holdings can change at any time.
Doug Kass is the president of Seabreeze Partners Management Inc. Under no circumstances does this information represent a recommendation to buy, sell or hold any security.