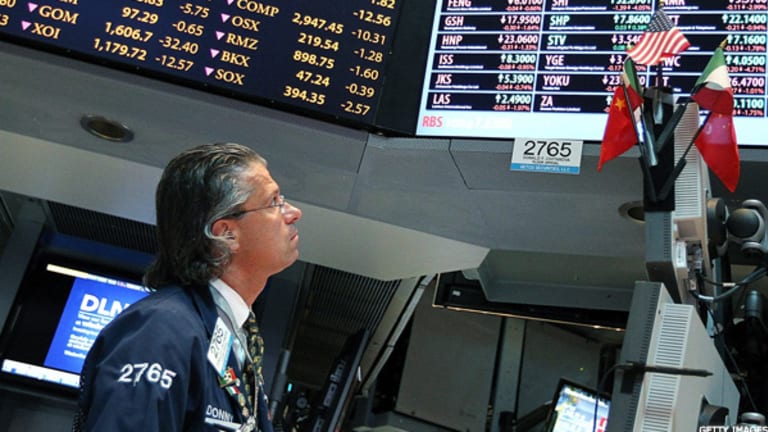 Kass: Pressing Pause
My intermediate-term 2012 outlook for the U.S. stock market remains bright.
This commentary originally appeared at 9:41 a.m. EST on Jan. 23 on Real Money Pro -- for access to all of legendary hedge fund manager Doug Kass's strategies and commentaries, click here.
At week's end, the rise in share prices lost some of its zest, which prompted the notion that the usual new year's investment exuberance is starting to wither. Not the least of the things that gave traders pause were negative earnings surprises by the likes of Google (GOOG) - Get Free Report and other big names. On that score, our old buddy Doug Kass, who confesses to a bearish slant even while the sun's shining, wonders if the recent weakness in such highfliers as Google, Apple (AAPL) - Get Free Report, Amazon (AMZN) - Get Free Report, Pricelineundefined, Netflix (NFLX) - Get Free Report, Citrix (CTXS) - Get Free Report and MasterCard (MA) - Get Free Report isn't a precursor of investment tidings to come. We can't help but wonder, too.-- Alan Abelson, " The Big Yawn," Barron's
Over the past two months, I have been steadfast in my upbeat market outlook. I viewed nearly every market pullback as an opportunity to
and to increase long exposure.
Though I remain more optimistic than most regarding the
for equities, it is now time to moderate my short-term market enthusiasm, reflecting:
my calculation of a new fair market value for the S&P 500 of 1345 (up 20 points from my previous value);
the recent rise in the S&P 500 to 1315 (Friday's close); and
other factors to be discussed in today's opening missive.
"He who lives by the crystal ball soon learns to eat ground glass." -- Edgar R. Fiedler, "The Three R's of Economic Forecasting -- Irrational, Irrelevant and Irreverent"
I fully recognize that modeling an S&P 500 price target implies a degree of precision in an imprecise world. My exercise is not intended to be an exact science, but this sort of methodology does have value as an investment discipline.
With 2011 now over, I am revising and fine-tuning some of the previous probabilities and outcomes for the economy and stock market, producing a new fair market value for the S&P at 1345, 20 S&P points above my previous value of 1325.
Scenario No. 1
(probability stays at 25%): The pace of U.S. economic recovery reaccelerates to slightly above-consensus forecasts (3%-plus real GDP) based on pro-growth fiscal policies geared toward generating job growth; corporate profit margins being preserved (with low inflation and contained wage growth); interest rates remaining low; and housing recovering sharply, owing to the adoption of aggressive plans by the government to enact a massive home refinancing effort and deplete the excess inventory of unsold homes. Europe stabilizes (and experiences only a shallow recession), and China has a soft landing. S&P 500 profit estimates for 2012 are raised modestly to $106 to $110 per share. Stocks, valued at 14.5x under this outcome, have 21% upside over the next 12 months. S&P target is 1,565.
Scenario No. 2
(probability moves from 0% to 5%): The U.S. enters a recession precipitated by a loss of business and consumer confidence, producing a fall in manufacturing output and personal consumption expenditures. A series of bank failures and sovereign debt defaults in the eurozone contribute to a deep European recession and a hard landing in China and India. S&P 500 earnings estimates for 2012 are materially slashed to $75 to $80 per share. Stocks, valued at 10.0x under this outcome, have 41% downside risk over the next 12 months. S&P target is 775.
Scenario No. 3
(probability moves from 20% to 25%): The U.S. experiences a disappointing sub-1% real GDP growth rate, and Europe experiences a medium-scale recession. S&P 500 profit forecasts for 2012 are cut back to $98 to $100 a share (only slightly above 2011's levels). Stocks, valued at 12x under this outcome, have 10% downside risk over the next 12 months. S&P target is 1185.
Scenario No. 4
(probability goes from 55% to 45%): The U.S. muddles through with 1.5%-2.0% real GDP growth, and the European economies suffer a modest (but contained) business downturn. S&P 500 profits for 2012 trend toward a range of $103-$105 a share as some margin slippage occurs. Stocks, valued at 13.25x under this outcome, have 5% upside over the next 12 months. S&P 500 target is 1,375.
Yellow Flags
As Alan Abelson
in this weekend's
Barron's
(see quote at the beginning of today's opening missive), I would note that there are some signs that the recent rally is starting to fray around the edges -- particularly in the recent weakness of shares of the highfliers. Moreover, rising investor complacency (as well as a near-universal enthusiasm on the parts of the market following talking heads paraded on the business media's stage) and a relatively ambiguous and uneven fourth-quarter earnings reporting period, leading to a slashing of sales and profits for many industry sectors in 2012-2013, might be sources of concerns and some profit-taking.
The technical foundation of the advance also suggests correction. Volume has remained tepid; there has been only a limited breadth thrust (20% of the stocks accounted for 40% of the S&P 500's increase in value); the rise has been without any forceful 90% up days; put/call ratios have dropped; investor sentiment has grown more bullish; markets are overbought; and new highs have not expanded with the rise in the market's averages. Similar conditions existed a year ago from January through mid-February (prior to a 6% to 8% giveback).
In my view, a market correction would be healthy and likely contained in share price weakness. More skepticism would probably insure a more solid foundation for a move to higher ground.
Deteriorating Presidential Prospects for Republicans
We have entered a new phase, the Republican primary as John Grisham novel. Secret offshore bank accounts, broken love, the testimony of anguished ex-wives: "He wanted an open marriage." A battered old veteran emerges from the background and, in his electoral death throes, provides secret information--"I'm for Newt"--that he hopes will upend a dirty, rotten establishment. A vest-wearing choir boy turns out to have been the unknown winner of that case back in Iowa. And all this against the backdrop of a mysterious firm that moves in and destroys communities--"When Mitt Romney came to town . . ."--while its CEO pays nothing in taxes.If you are a Republican who hates a mess, or if you are a member of that real but elusive and hydra-headed thing, the GOP establishment, you are beside yourself with anxiety and unhappiness. You think: "They're losing this thing! They're going to limp out of South Carolina, they'll limp through Florida, they're killing each other and killing the party's chances. How will they look by the fall? What are independents going to think of the guy we finally put up? We all know politics ain't beanbag, but it's not supposed to be a clown-car Indy 500 with cars hitting the wall and guys in wigs littering the track!"There's been a lot of damage. We lose sense of it in the day to day, but in the aggregate it's going to prove considerable....The bleak thought: Mr. Obama this week blocked Keystone pipeline, a decision that means tens of thousands of jobs lost, new energy possibilities rejected. It is a decision so bad, so political, that it amounts to a scandal. But it just sort of eased through the news, blurrily. All the cameras were focused on the Republicans, who were distracted by their own dramas. They did not, together, in one voice, protest, as they should have. Keystone happened while they were busy looking like the Keystone Kops.What's happening out there on the trail is a great story. But it's not a good story. And the past few days it didn't feel like a story that was going to end well.-- Peggy Noonan, " The No-Obama Drama," The Wall Street Journal
Then there are the unpredictable twist and turns (and the investment implications) of political change -- think
.
A week ago, Mitt Romney was wrapping up his likely nomination as the Republican presidential candidate.
.
The clear winner in South Carolina on Saturday night may not have been Newt Gingrich; it might have been President Obama.
Endorsements from
established Republican leaders
(Portman, DeMint, Graham, Pawlenty, Haley etc.) are no longer enough after Romney has only succeeded in winning one of the Party's first three state caucuses/primaries. Romney must now retool given the ascendancy of Gingrich's candidacy.
The prospects for regime change (and a new and market-friendly administration in 2013), which was one of my key market catalysts, has taken a turn for the worse, for now, with the newfound popularity of Republican presidential aspirant Newt Gingrich and the growing, heated and divisive conflicts between him and Mitt Romney. This emerging development has likely reduced the assurance of a Romney candidacy and what I had assumed to be a Republican November win. (The Republican Party is generally viewed as the more business- and market-friendly party.)
And Then There Is Europe
Europe's leaders are committed to keeping both the euro and the eurozone as it is. But for it to do so, everything must change, as the wonderful quote from the 1958 Italian novel suggests. This is no easy task, as no one wants a change that will impact them negatively; and there is no change that will allow things to stay the same that does not impact all severely, as we will see. In the third part of a continuing series, we look at the actual options that are available on the menu of choices, or as one group called it, the menu of pain.-- John Mauldin, " Staring Into the Abyss," Investors' Insight (Jan. 21, 2012)
Over 2,150 years ago, the Roman poet Virgil once said, "I fear the Greeks, even when they bring gifts.
!
The sovereign debt crisis saga continues
.
While a potentially fatal affliction (and systemic risk) in Europe's ongoing saga has seemingly been taken off the table, morphing instead to a difficult condition that must be monitored closely, the heavy lifting of promised austerity and fiscal responsibility lies ahead, and with it, uneven progress, additional crises and uncertainty.
Some Positives but Future Economic Uncertainty
On the other hand, the market's price momentum is excellent, volatility is on the descent, as the major indices have not had a more-than-1% move on any day during the last 13 trading sessions (an important ingredient to improving investor confidence), and the high-frequency domestic economic statistics are showing continued improvement (albeit there was some deceleration in the rate of growth toward year-end). Regarding the latter point, we have to watch and be mindful that some of the recent improvement in economic growth reflects the consumer eating into his/her savings and 100% capital spending tax credits/benefits were in place -- they halved on Jan. 1, 2012 -- so it would not be surprising if some of the recent strength in fourth-quarter 2011 had been borrowed and pushed forward from early 2012. More squishy economic data in the first half will not likely be greeted well by investors, especially in the context of the recent market rise.
A Perspective for 2012
It is important to emphasize that my upbeat 2012 market outlook remains intact and incorporates a sharp move (
) in the second and third quarter of 2012 time frame, as, by then, we will be looking toward (and starting to discount) an improving 2013 economic and profit outlook (and changing our probabilities and S&P 500 target prices), moving on from focusing on this year's possible results. But even a stairway to heaven can be uneven, as much can occur in the interim interval and in the climb to higher stock prices -- particularly given the economies' dependency on sound and effective policy (both here and abroad) in order to achieve a positive outcome.
Markets rarely move in a straight line as economic trends, sentiment and political expectations ebb and flow. I do not expect the recent rise to be different as it will likely be challenged at some point in time -- perhaps sooner than later.
I previously compared my assumptions with Morgan Stanley, which did a
a week after we introduced ours.
(For a full explanation of Morgan Stanley's comparative methodology and assumptions, which produce an S&P 500 target of 1135, 180 S&P points below the index's current value, please go to Morgan Stanley's Sept. 25, 2011, Investment Strategy piece.
Below is the current compare:
Source: Morgan Stanley Research
At the time of publication, Kass and/or his funds had no positions in any stocks mentioned, although holdings can change at any time.
Doug Kass is the president of Seabreeze Partners Management Inc. Under no circumstances does this information represent a recommendation to buy, sell or hold any security.