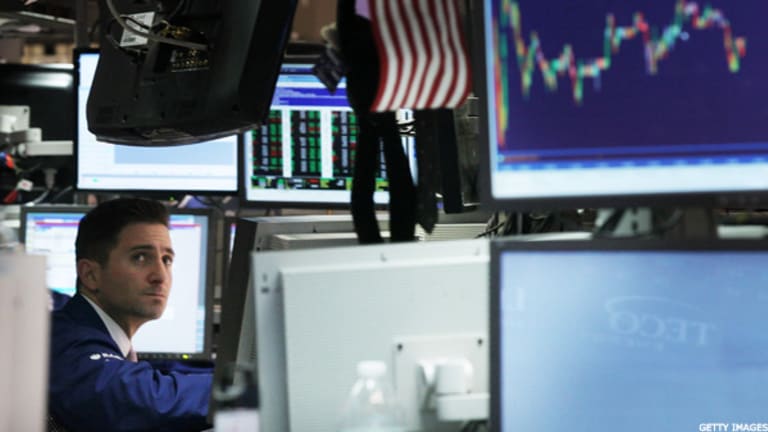 Kass: Prepare for a Minsky Moment
An extreme lack of fear begets instability.
There are times when the market gives the impression it is fading into nothingness. Volume becomes very low, trading ranges become very small, volatility becomes very low. Also, there is very little change in market levels, and day-to-day fluctuations are minimal. Looking back at history, when that happens, it is almost always a sign of a market high point.-- Dick Arms
For over five years the
Fed
and other central bankers around the world have backstopped markets with nearly free money and through quantitative easing.
The U.S. stock market has benefited from accommodative monetary policy, and the
S&P 500
has tripled since the
of March 2009.
To some degree, central bankers' efforts have prevented natural price discovery in many asset classes, and their actions have caused investors to lower their guard, adopting something of a false sense of security that the market downside is limited.
Optimism and Complacency Rises
Fueled by new highs and easy money, market observers are now growing more optimistic. Sentiment measures are at or are approaching five-year highs.
But
are often notoriously wrong-footed. As an example, find me the forecaster who called for a 2.50% yield on the 10-year U.S. note and 1905 on the S&P 500 this year, and you would have found a liar.
Over history, a
-- that is, market turmoil following an extended period of speculation and/or unsustainable growth -- sometimes occurs when complacency sets in, as stability is often the prelude to instability.
Particularly worrisome is that we might have entered one of the great bull markets in complacency, with enthusiasm rapidly building (as it typically does in a maturing and eventually vulnerable stock market cycle).
As the Past Is Forgotten
Regardless of the direction of the news flow of fundamental economic or corporate profit data, the markets have moved ever higher over the past few weeks.
Furthermore:
The VIX (and other fear gauges) have dropped consistently.
The Investors Intelligence bull/bear spread has rapidly expanded.
IPO activity is back.
M&A activity is soaring -- the number of deals worth $10 billion or more are higher than both 2000 and 2007.
Share repurchases have accelerated -- again, thanks to easy money and the funding of equity buybacks by bond borrowings).
All of the above conditions are back to 2007 high levels.
Memories of the last down cycle (and lax lending standards) have grown faint, as evidenced by the quality (and coverage) of the leveraged buyout deals in 2014 having deteriorated, with 40% of private equity leveraged buyouts being done above 6x earnings before interest, taxes, depreciation and amortization and, again, at the highest since 2007. Investment-grade and junk spreads have plummeted, and bond yields have declined to fresh 2014 lows.
Meanwhile, in the land of technical analysis, we are experiencing divergent internal group action, relative and absolute weakness in small-caps, strength in defensive sectors, shrinking new highs, (again) anemic volume and large reactions in the growth leaders -- all of which have been historically associated with overall market weakness.
Growing Complacency Could Lead to a Minsky Moment
Throughout the last 12 months the market has risen against a backdrop of very low volume, leading the way for high-frequency traders and others whom have adopted price-momentum and trend-following portfolio strategies to have an exaggerated impact on stock prices.
As mentioned previously, stock prices have risen, investors have grown increasingly complacent, and many strategists and commentators have said that market participants should be ignoring the rotten volumes.
Maybe it is different this time, but maybe it is not.
Combining the fundamentals and technicals together, a Minksy moment (hat tip to
Pimco's
Paul McCulley, who invented the term in reaction to the Russian financial crisis in 1998) appears to be ever closer at hand.
Renowned economist Dr. Hyman Minsky wrote that "stability begets instability ... the more stable things appear, the more dangerous the ultimate outcome will be, because people start to assume everything will be all right and end up doing stupid things."
The drop in the VIX, in particular, warrants attention and a deeper dive, as it is, to this observer, one of the better measures of complacency.
Below is what the lynx-eyed Peter Boockvar deftly wrote yesterday about the VIX's histrionics:
As we witnessed another leg lower in the VIX last week, it has now basically gone full circle with it back near the lows seen in late 2006-early 2007, which was the calm before the you-know-what. To be exact, the VIX is a few pennies from the level last seen Feb. 26, 2007, and I believe it's instructive to look at the past cycle to see what the circumstances were the last time it was this low but also to look at other episodes of noteworthy moves in the VIX, which came close to mimicking the previous QE on/off phases.After falling below 11 in October 2006 and staying there for a few months (it saw below 11 a few times in 2005), on Feb. 27, 2007, the VIX went from 11.2 the day prior to 18.3, as the DJIA fell 3.3% after the Shanghai Composite fell 9.2% overnight on fears that officials were going to take steps to take some of the froth out of their stock market, which had doubled over the preceding two years (and went on to double again over the next eight months). It then fell back to around 13 by April 2007, but very soon after, the Bear Stearns mortgage hedge funds blew up. And the rest is history.On Nov. 20, 2008, the VIX peaked at a close of 81, and five days later the Fed embarked on QE1, which was further expanded in March 2009. QE1 ended on March 31, 2010 with the VIX back down to around 17. It was back to 45 two months later, as Greece became headline news, and by Aug. 27, the day Bernanke spoke in Jackson Hole telegraphing QE2, it was at 24.QE2 began in November 2010 and ended in June 2011 with the VIX at 17. Within two months it was back to 48. Operation Twist came one month later, and the VIX steadily declined with the help of QE3 and 4 to where we stand now.
Mr. Market's Guard Is Down
To be sure, low volume, complacency and even technical divergences are not reliable timing tools.
Nevertheless, the rise to new all-time highs is potentially troubling when these issues are factored in with some continuing fundamental concerns -- for instance, disappointing global economic and corporate profit (and margin) growth, corporate and consumer dependency on low interest rates, the failure of QE to generate a self-sustaining expansion and so forth -- the result of which is a detachment and a blurring in the demarcation line between markets' progress and economic and profit fantasy.
We should be vigilant and aware that the U.S. stock market's risk/reward ratio is eroding with each passing rise in the S&P 500. (How much so we will only know in hindsight.)
Most investors and traders who share my concerns might begin to consider taking down portfolios to below-average exposure to the U.S. stock market now and to continue to do so into any further ramp in stock prices. More aggressive investors might ponder shorting opportunities in the days and weeks ahead. And everyone should
.
In summary, while it is impossible to predict when, Minsky might soon have his moment, as one of the only things we need to fear today is the lack of
.
This column originally appeared on
Real Money Pro
at 7:58 a.m. EDT on May 28.
At the time of publication, Kass and/or his funds were short SPY, although holdings can change at any time.
Doug Kass is the president of Seabreeze Partners Management Inc. Under no circumstances does this information represent a recommendation to buy, sell or hold any security.