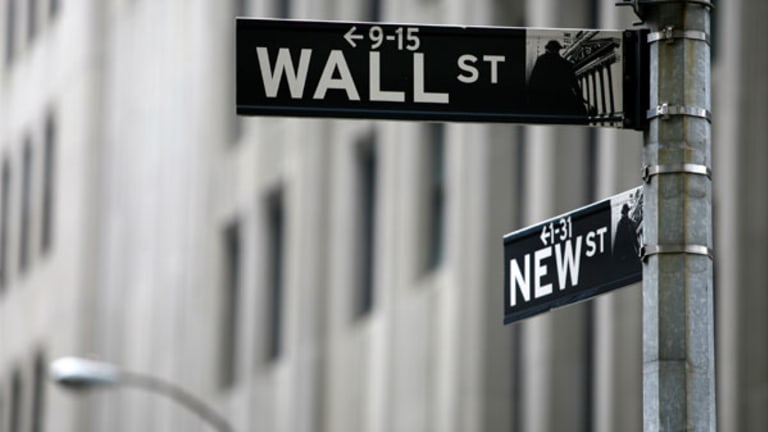 Kass: One Shining Moment
Apply some of Coach Jim Valvano's life principles to your investing.
Apply some of Coach Jim Valvano's life principles to your investing.
This column originally appeared on Real Money Pro at 8:36 a.m. EDT on April 8.
NEW YORK (
) --
"If you laugh, you think and you cry, that's a full day. That's a heck of a day. You do that seven days a week, you're going to have something special." -- Jim Valvano, coach of the 1983 North Carolina State basketball team
Tonight the Michigan Wolverines face the Louisville Cardinals in the NCAA men's basketball tournament final in Atlanta.
March Madness is my favorite sporting event of the year. I have the most precious memories traveling with my youngest son to semifinal weekends and to Monday's finals. Our trips to the NCAA tournament have, in part, defined my relationship with him.
But this morning, my thoughts are on another game and that speech. Both can provide us with important life and investing lessons.
"We were such underdogs that even my mother took the Houston Cougars and gave the points." -- Jim Valvano
That game
took place
. In that game (the NCAA finals), a seemingly outmanned N.C. State Wolfpack (Sir Denny Gartman's team and alma mater!) faced the Houston Cougars who were led by two future NBA Hall of Famers in Hakeem "the Dream" Olajuwon and Clyde "the Glide" Drexler. Houston finished the regular season as the top team in the country and were collectively known as "
," so named for the fast-paced showmanship of their game. Going into the championship game, Olajuwon boldly predicted "the team with the most dunks will win."
Though only a No. 6 seed in their regional bracket, N.C. State Wolfpack was hardly a team of nobodies at No. 16 in the nation. It took an impressive late-season streak just to get them to that ranking, however, and nobody thought they had a chance against Houston (which had won 26 games going into the game against N.C. State). So it was quite a shock to see Lorenzo Charles dunk the winning two points in the last second of the game, and I will never forget Wolfpack coach Jim Valvano running around like a chicken with its head cut off.
And, oh,
(at the 1993 ESPY Awards) that Jim Valvano gave just eight weeks before he died of cancer. I still cry every time it is repeated on
ESPN
, as it is being broadcast now, on Sunday morning, as I write this missive.
James Thomas Anthony Valvano was the mischievous middle son born to Rocco and Angela. When he was 17 years old he wrote down on an index card his professional aspirations. He would play basketball in high school (he did at Seaford High School in Long Island) and college (he did at Rutgers), become an assistant basketball coach (he did at Connecticut) then a head coach (his first head coach position was at Johns Hopkins, then at Bucknell and Iona), achieve victory in Madison Square Garden (he did while at Rutgers) and finally cut down the nets after winning a National Championship (he did with N.C. State).
Some elements of Valvano's life lessons can be adopted into our investing strategy.
"No matter what business you're in, you can't run in place, or someone will pass you by. It doesn't matter how many games you've won.... How do you go from where you are to where you want to be? I think you have to have an enthusiasm for life. You have to have a dream, a goal, and you have to be willing to work for it." -- Jim Valvano
The investment mosaic is a complicated one, and no one rule always works. How-to books may sell copies and make money for the authors, but they don't usually make the readers much money. There is no substitute for hard work in delivering superior investment returns. There are 86,400 seconds in a day, it's up to you to decide what to do with them. As I have repeatedly written,
, magical elixir or
that provides clarity to our investment decisions -- rather it is a byproduct of hard-hitting research.
"Be a dreamer. If you don't know how to dream, you're dead." -- Jim Valvano
A variant view and second-level thinking are necessary reagents to good investment returns. In
The Most Important Thing: Uncommon Sense for the Thoughtful Investor
, author Howard Marks addresses these two subjects.
In investing you must find an edge (or, as Michael Steinhardt calls it, a variant or differentiated view) by often thinking of factors/ideas that others haven't thought. Importantly, you must also avoid being too early -- especially if your investor base has a different time frame than yours.
Second-level thinking trumps first-level thinking in delivering returns. As Howard puts it, First-level thinking says, "It's a good company: let's buy the stock." Second-level thinking says, "It's a good company, but everyone thinks it's a great company and it's not. So the stock's overrated and overpriced: let's sell." First-level thinking says, "The outlook calls for low growth and rising inflation. Let's dump our stocks." Second-level thinking says, "The outlook stinks, but everyone else is selling in panic. Buy!"
"I asked a ref if he could give me a technical foul for thinking bad things about him. He said, 'Of course not.' I said, 'Well, I think you stink.' And he gave me a technical. You can't trust 'em." -- Jim Valvano
I am often asked by investors (and others) why I don't usually listen to company executives or the guidance of their investors relations departments. To me, it is preferable to speak to people in the supply chain or to company competitors, for (to paraphrase Warren Buffett) managements often lie like Ministers of Finance on the eve of devaluation.
"My father gave me the greatest gift anyone could give another person, he believed in me. " -- Jim Valvano
You gotta believe in yourself.
Lehigh's basketball team believed it could beat Duke
last year, and, in this year's tournament,
No. 14 seeded Harvard upset No. 3 seeded New Mexico
.
You gotta know yourself, too. Wall Street is not a great place to "find yourself." (There is a reason why there is a cemetery on one side and a church on the other side of the
New York Stock Exchange
building.) Psychology can be important; it often trumps cause-and-effect relationships that have been in place historically. Above all, have confidence in your own analysis (as long as it is thorough), even if your view is at variance with the consensus.
And of course, Coach Valvano's most recognized quote: "Don't give up, don't ever give up."
Learn to survive under adverse market conditions by avoiding large losses, and learn how to prosper during good times. Generally speaking, by maintaining discipline and stopping out your losses, you can live another day in your investing life. It is not batting averages or on-base percentages that count in this game; it is how you
in your portfolio. As an example, short positions can be hedged by owning cheap out-of-the-money calls, and long positions can be hedged by owning cheap out-of-the-money puts -- especially in a low-volatility setting.
Laugh, think and cry -- I always do this time of the year, as I will tonight watching the NCAA tournament finals. (I like Michigan in the upset; they are 4-point underdogs.) But it's especially true this year after overcoming my own confrontation with cancer -- it's been a shining moment for me.
You, too, can have many shining investment moments --
here is the one from last year
-- by applying some of Coach Valvano's life principles to your investing.
The V Foundation for Cancer Research (created in 1993 by Jim Valvano) has contributed over $100 million to cancer research. If you would like to contribute,
.
At the time of publication, Kass and/or his funds had no positions in any stocks mentioned, although holdings can change at any time.
Doug Kass is the president of Seabreeze Partners Management Inc. Under no circumstances does this information represent a recommendation to buy, sell or hold any security.