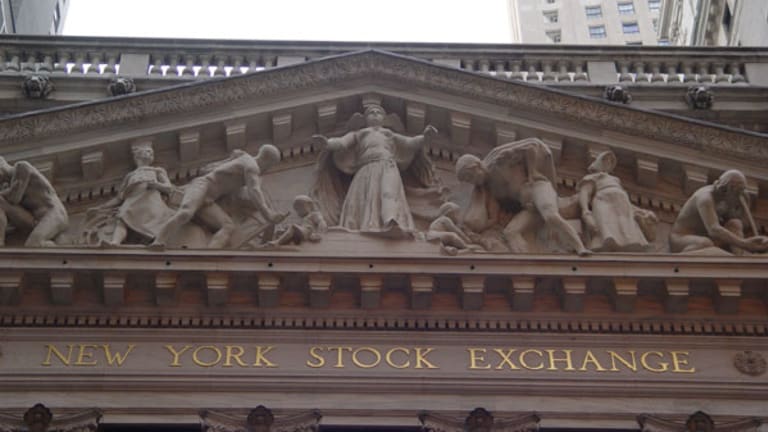 This column originally appeared on Real Money Pro at 9:06 a.m. EDT on April 23.
NEW YORK (
) --
"Never have so few led so many." -- Anonymous
In the 1960s and 1970s, the stock market was inhabited by the "
," a small subset of one-decision stocks that had strong balance sheets, solid franchises (typically leaders in their field), superior profit prospects and were generally credited with the bull market of that era. Some examples of the nifty fifty included
Wal-Mart
(WMT) - Get Walmart Inc. Report
,
Avon Products
(AVP) - Get Avon Products, Inc. Report
,
Disney
(DIS) - Get Walt Disney Company Report
,
McDonald's
(MCD) - Get McDonald's Corporation (MCD) Report
,
Polaroid
and
Xerox
(XRX) - Get Xerox Holdings Corporation (XRX) Report
. The stocks flourished for a while but ultimately became overvalued, reached speculative status and were weighed down by the bear market that continued until 1982.
It seems that in every market cycle there is a nifty fifty or a body of stocks that are embraced by investors. In time, the market predictably grows more and more bifurcated, with the worshipped (few) stocks standing alone at the top of relative performance.
When this happens and further extends itself into speculative excess, a correction often follows the diverging performance when the leadership group falters.
In recent months, the market has become increasingly bifurcated, perhaps as much as at any time since the Internet stock boom ended in 2000, as defensive equities (consumer nondurables, health care REITs, insurance, MLPs and utilities) are leading while cyclical, energy and technology have lagged.
Source: The Wall Street Journal
Since late February, the heterogeneity of the market has been conspicuous, with the strong sectors rising by 6% to 8% and the economically sensitive sectors dropping by a similar amount. This diverse performance, seen in the chart below, has disguised an internal market correction even though the overall stock market has maintained an uptrend.
At the same time, the dissimilarity of market sector performance has been seen in weakening small-caps and a flat-lining of
NYSE
breadth over the past six weeks. In non-U.S. markets (particularly of an emerging market kind), weakness and has been broad.
The Fab Five
Let's return to the issue of leadership and its potential impact on the broader market.
Historically, in a correcting market, the strongest stocks react last while the underperforming sectors begin to stabilize and bottom.
Recently the "fab five" of
Procter & Gamble
(PG) - Get Procter & Gamble Company Report
,
Coca-Cola
(KO) - Get Coca-Cola Company Report
,
Colgate-Palmolive
(CL) - Get Colgate-Palmolive Company Report
,
Clorox
(CLX) - Get Clorox Company Report
and
General Mills
(GIS) - Get General Mills, Inc. (GIS) Report
have grown extended and have improved their relative strength -- there is, however, no evidence as of yet that a leadership change is apparent nor that a major market correction is in force.
It is increasingly clear that in the current market cycle the defensive consumer nondurable sector (led by the fab five) is the new nifty fifty and will likely move toward speculative excess sometime in the future.
Slowing global growth, lower commodities prices, continued deleveraging and possibly even Warren Buffett's imprimatur on the
Heinz
(HNZ)
takeover are all possible contributing factors to the changing character of the 2013 U.S. stock market and the strength in defensive issues.
As in the early 1970s, when the big brand-name, moderately growing and dependable stocks were worth almost any price, the new fab five are approaching a similar legendary status.
It should be noted that the current cycle is unique in history (with the exception of the aforementioned 1971-1972 period), as strength in defensive stocks have typically coincided with general market declines.
We don't know how long the anointed fab five's strong relative performance will last. As I wrote earlier, much will depend on global growth trends and/or monetary policy changes.
What I am certain of is that it will be important to watch the fab five's relative share price performance in the period ahead, as these stocks are the new market tell.
Until their leadership begins to falter, the U.S. stock market is not likely to correct meaningfully -- at least based on the role of market leadership in the past.
At the time of publication, Kass and/or his funds were long PG an CL, although holdings can change at any time.
Doug Kass is the president of Seabreeze Partners Management Inc. Under no circumstances does this information represent a recommendation to buy, sell or hold any security.