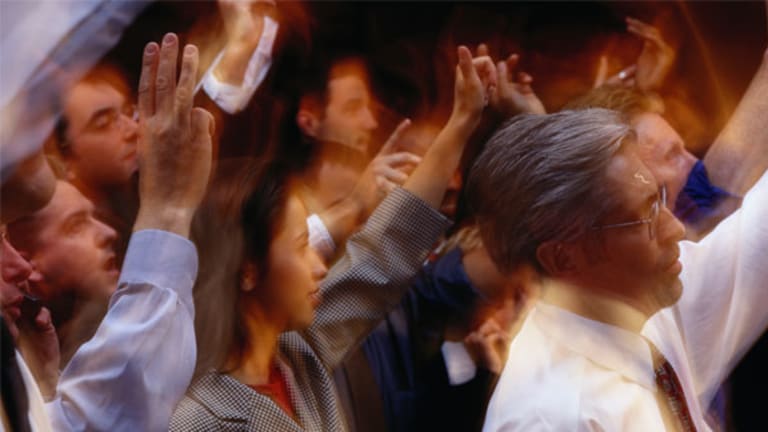 Kass: Olympic Sabre Rattling
It's hard to figure out the equity market's near-term thrusts and parries.
This column originally appeared on Real Money Pro at 8:15 a.m. EDT on July 30.
NEW YORK (
) --
A lot of people don't like fencing because they don't understand the rules and terminology, but it's quite simple. Basically, there are four thrusts -- the cartilage, the chaise longue, the aubergine and the fromage anglaise -- and these in turn can be parried by four defensive feints -- the pastiche, the penchant, the demitasse, and the salmon en croute. Scoring is on the basis of one point for a petite pois and two for a baguette. Points equally can be deducted for a foot fault, or pied a terre, and for a type of illegal lunge known as a zut alors. Actually, I don't have the faintest notion what goes on in fencing, but that's OK because this is the Olympics.-- Bill Bryson in The Times (2000)
Similar to fencing, it's sometimes hard to figure out the equity market, particularly with regard to its near-term price action.
What we do know is that from Wednesday to Friday the U.S. stock market put in an Olympic effort.
The proximate cause was the sabre rattling and jawboning of the ECB's Mario Draghi.
Moral suasion is a well-known ritual, but as I contended late Friday (while Draghi's rhetoric had more volume than usual last week), a lot of heavy lifting remains ahead, especially within the context of the numerous challenges facing Italy and Spain in their quest for economic growth and in their much-needed debt financings.
Clean Sweep
Niles (David Hyde Pierce, commenting on his brother's new housekeeper Daphne) : Why did you have to hire Venus herself? Couldn't you have found some beefy, East European scrub woman who reeked of ammonia?
Frasier (Kelsey Grammer) : Well, I asked, but it was an Olympic year. The agency was fresh out.-- "Frasier," My Coffee With Niles (1994)
Draghi must now convince the ECB council members, especially the Bundesbank. Will Germany cooperate with the poor periphery nations, or, as the lynx-eyed Mark Grant suggests (hat tip
), will "Snow White dump Prince Charming?"
Time will tell.
What we do know is that it is unclear how quickly the EFSF can actually buy the sovereign debt of Italy and Spain, as both countries still have to apply for support.
As to Thursday's ECB meeting I expect little news -- just a reemphasis of the set of policy tools available.
The real issue that could adversely impact the markets is how quickly Draghi can and will respond if sovereign debt yields resume their ascent. If markets deteriorate, and the ECB doesn't move swiftly, Draghi (et al.) will lose their credibility and ability to persuade the markets solely through words (and not by deeds of a sustained policy approach).
Recycling Base Metal
"The 2012 Olympics is going to cost 8 billion pounds, which is a lot of money. It'll probably bankrupt London. But you can't put a price on two bronze medals in cycling." -- Jimmy Carr
It is my view that the swift rise in the indices since Wednesday has now more than discounted Draghi's comments and that a lot of the rise was short covering and performance chasing.
We shouldn't lose sight of the fact that the fundamental problems facing Europe cannot be resolved by bond purchases alone.
But let's suppose Draghi does the right thing -- that is, lowers rates and utilizes nontraditional tools to stabilize Europe.
Ultimately, we know that this has to happen.
So what if the ECB buys time? Is last week's outsized response to Draghi's comments justified?
Europe is already years behind the U.S. in addressing secular and cyclical headwinds -- debt has accumulated dramatically in the interim interval, and the continent's economies have deepened into recession, unemployment has skyrocketed and the EU banking system is capital starved (and not likely to commit materially to lending in the immediate future).
In the U.S. we embraced unprecedented easing and nontraditional tools three-plus years ago, and all we have gotten in the face of our structural challenges is around 1.5% real GDP growth. In the U.S., three-plus years after the Great Decession, it is still necessary for policymakers to resort to nontraditional tools (QE3) in order to sustain growth.
So, let's accept that the ECB's Draghi is going to do everything he can to avoid a deeper recession and possibly depression. Let's accept the inevitability of more effective firewalls through FDIC-like bank deposit insurance, more forceful EU fiscal integration, lowering of interest rates, restarting SMP/LTRO and aggressive purchases of sovereign debt.
But where is the policy/action that will spur sustainable, long-term economic growth and allow for meaningful deficit reduction?
Given the more serious problems that Europe faces and the depth of its economic woes, why should Europe produce better economic growth in the next three to four years than we have achieved in the U.S.?
It won't, even with these stabilizers, little more than 1% real GDP growth can be expected for the EU. And even if the eurozone succeeds to the degree we have in the U.S., the European economies will be mired in weakness and subject to external shocks for years to come.
Time Travel Waits for No Man
"It only seems like yesterday ... a few Greek blokes were tossing a discus about, wrestling with each other in the sand and the crowd stood around.... No, wait a minute that was Club Med." -- "Doctor Who," Fear Her (2005)
Then, there is Greece (
) and the slowing in U.S., China and India economic growth rates, as well as the frightening steepness that the fiscal cliff represents.
As expressed by the investment strategy team at Goldman Sachs, more than ever,
.
The Original Statman
Aristotle compiled the first known comprehensive list of all winners of the Olympic Games. Which means that quite probably he was sat in a bar with Plato, muttering, "Go on then, give me any year you like and I'll tell you who won the four-man bobsleigh."-- Mark Steel in The Independent (2006)
From my perch, the U.S. stock market is essentially fairly valued now.
At Friday's close, the
stood at 1386, within 2% of
my fair market value calculation
. Unless the domestic economy begins to reaccelerate, my market valuation will have downside risk.
All In? No! All Out!!
On poker not making the Athens Olympics:
After all, the ribbon-waving rhythmic gymnasts are in. The shuttlecock-chasing badminton players are in. Even the ice-sweeping curlers are in. And poker's out? That's like throwing a party for mankind's greatest inventions and forgetting to invite indoor plumbing.-- Poker.net (2004)
During the middle of last week, I added to some of my favorite longs, including
Lincoln National
(LNC) - Get Free Report
,
Prudential
(PRU) - Get Free Report
and
MetLife
(MET) - Get Free Report
, which should benefit from the rising interest rate environment that
.
Late last week, as Mr. Market gapped higher, I added to some of my favorite shorts, including
American Express
(AXP) - Get Free Report
and
Goldman Sachs
(GS) - Get Free Report
, and hedged my long portfolio by shorting the
SPDR S&P 500 ETF Trust
(SPY) - Get Free Report
.
I start the day approximately 15% net short.
Lady In Waiting?
Monica (Courtney Cox) : Well, Wendy's more of a ... professional waitress.
Rachel (Jennifer Aniston) : Oh, I see. And I'm sort of maintaining my amateur status so that I can waitress in the Olympics.-- "Friends," The One With the Stoned Guy (1995)
No one would ever say that trading and investing would be fun or easy, and the action over the past two weeks (a market without memory) only served to reemphasize that point.
Ifs, Ands & Butts
Question: If the monarchy suddenly disbanded, which song would you want played at your gold medal ceremony instead of the National Anthem?
Answer: "Baby Got Back" by Sir Mix-A-Lot.
-- Holly Lam-Moores, Team GB handball player on
TimeOut.com
(2012)
Reward vs. risk has deteriorated within the context of last week's ramp.
Err on the side of conservatism.
And go U.S.A.!
At the time of publication, Kass and/or his funds were long LNC, PRU and MET common/short AXP, GS and SPY common, and short SPY calls, although holdings can change at any time.
Doug Kass is the president of Seabreeze Partners Management Inc. Under no circumstances does this information represent a recommendation to buy, sell or hold any security.