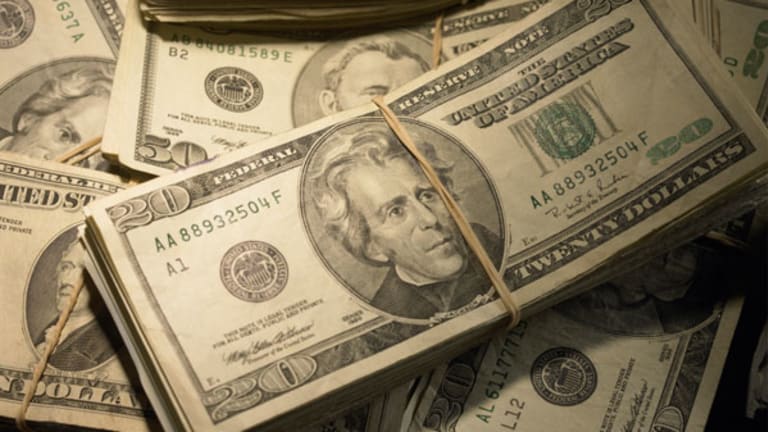 Kass: My 'Fast Money' Recap
The market is only focusing on the phantom benefits of liquidity -- this too shall pass.
This column originally appeared on Real Money Pro at 9:10 a.m. EDT on Aug 23.
NEW YORK (
) -- Last night I
in a "Fast Money" segment with Melissa Lee and the gang to talk about my
.
Let's go straight to last night's tape.
Melissa started by asking me if I was sticking with my market top call and whether I maintained my belief that the bullish days of summer were about over.
I said that I stood by my position. I remain concerned about the potential for a disappointing downturn in corporate profits, the likely further erosion in China's economy and a more rapid decline in the EU's economy than is generally anticipated. And then there is the fiscal cliff and the growing likelihood that President Obama will be elected (seen as a negative for businesses and capital markets).
We spent some time on China, the world's economic driver of growth. Several panelists felt that China would stimulate itself out of the doldrums.
I am less convinced and pointed out the profound weakness in the Chinese stock market, which has dramatically diverged from other world stock markets. It is important to remember that China's stock market was the first to drop in late 2007 and accurately presaged the stock market, financial and economic crisis of 2008.
Air China, I opined, may be in for a crash landing. I cited weak exports and imports reported 10 days ago and this week's drop in Japan's exports for July (down 8% year over year vs. expectations of less than a 3% decline as well as a near 12% percent drop into the Chinese market, which is Japan's largest trading partner).
My view continues to be that China's current growth and future growth path will be far worse than the consensus view.
I would note that last night the August HSBC flash manufacturing index for China was
, at 47.8 compared to July's 49.3, and represented the lowest reading nine months. The official government index will be released on Aug. 31 and will likely fall below 50.0 (expansion) for the first time in 10 months.
Tim Seymour was more bullish as were the other members of the "Fast Money" gang, citing positive leadership changes in China, expected interest rate cuts and reduced reserve requirements.
In response, I said that I was less confident that easing measures would be as effective as the consensus believes.
Moreover, numerous companies on the ground are warning that China has become a drag relative to expectations, including
Nike
(NKE)
,
Hewlett-Packard
(HPQ)
,
McDonald's
(MCD)
and
Caterpillar
(CAT)
.
And then there is the poor price action of commodities (coal, metals, etc.), which seem to be signaling more profound weakness in the Chinese economy. (This morning
China Steel
, Taiwan's largest producer, cut steel product prices by another 5.1% for October-November.) This helps to explain why
BHP Billiton
(BHP)
its large expansion of the Olympia Dam project yesterday.
Melissa asked me what my tactical portfolio responses are to my concerns. I said that I was slowly shorting into the continuing strength and that my gross long exposure is at the lowest level and my gross short exposure at my highest level in many moons.
I concluded the segment by saying that what I thought the
Fed
said yesterday was that, at the present time, the domestic economic recovery was not self-sustaining. That has been my view for a while, and I continue to fear that the Great Recession of 2008-2009 is turning out to be a lifetime sentence of subpar global economic growth. The level of interest rates and monetary policy are not what ail our economy; the problems are structural, political and fiscal. Quantitative easing is progressively losing its influence, and its benefits historically are suspect.
For now, the market is only focused on the phantom benefits of liquidity. My bet is that this changes quickly as Europe deteriorates further -- I would note that the Fed's Bullard was bearish on the EU on "Squawk Box" this morning -- and as Air China crashes.
So,
on the stock market top. Still.
At the time of publication, Kass and/or his funds were short SPY, although holdings can change at any time.
Doug Kass is the president of Seabreeze Partners Management Inc. Under no circumstances does this information represent a recommendation to buy, sell or hold any security.