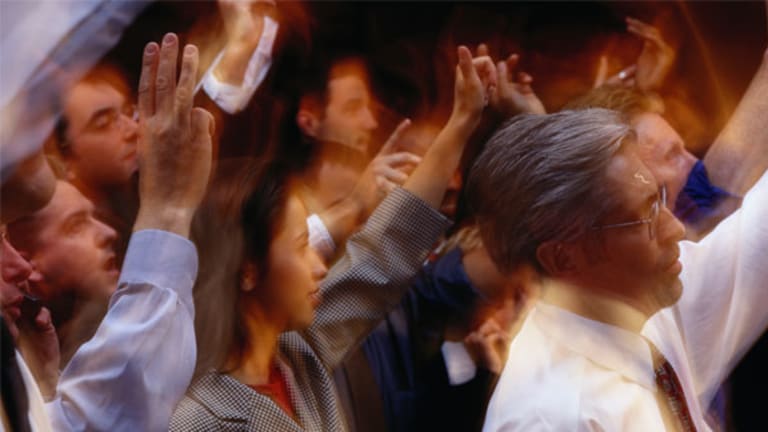 Publish date:
Kass: My 'Fast Money' Recap
So, how does an investor benefit from a correction?
So, how does an investor benefit from a correction?
On Wednesday night's segment, along with Melissa Lee was Joe Terranova, Karen Finerman, Pete Najarian and Ron Insana, and I further explained why the technical and fundamental signs continue to warrant a defensive position.
I offered several reasons why I am now net short and some strategies to benefit from a potential market drop.
During last night's segment, I made the point that tops are processes and that I continue to believe that the risk-on trade is coming to a close.
Some of the easy money (figuratively and literally) might have ended yesterday.
The questions investors will now be asking themselves are:
What role has liquidity played in the market rally, and what will be the impact if some of that liquidity is taken out of the markets?
What role has zero-interest-rate policy played on domestic economic growth, and without interest rates at zero, will the domestic economic recovery be self-sustaining?
Has zero-rate policy begun to lose its impact on the economy? Are zero interest rates doing more harm than good as the policy penalizes the savings class and has inflationary consequences?
We have experienced a persistent market advance that has virtually expunged pessimism from Wall Street. I recognize that the cause for the optimism has been the improvement in high-frequency economic statistics, but market tops and corrections almost always occur when there is a plethora of good news - similar to what we see today.
The question is always whether the better macro has been discounted in the advance in stocks.
Based on my work, the
S&P 500
is fairly valued at levels below where we stand, and the market has overshot to the upside.
To many, the S&P appears reasonably priced at only 13.5x, but I would emphasize that for the small-cap index, the midcap index, S&P excluding financials and the Value Line Index, median P/E ratios are all over 16x. And those multiples are calculated at a time when corporate profit margins are at 57-year highs. These margins are vulnerable to rising costs, more limited corporate pricing power and obvious pockets of geographic economic weakness (such as Europe).
As I expressed last week on "Fast Money" and again yesterday, there are other issues (technical and fundamental) that concern me as well. I think the bulls are overstating their welcome.
In a narrow NBA (nothing-but-
Apple
(AAPL) - Get Report
) market:
Breadth is lagging.
Eighty-five percent of S&P holdings trade above their moving averages.
Only 3% of S&P holdings are oversold.
Volume is dropping (and is unconvincing).
New highs are making lower lows.
The transports are signaling problems and slowdown ahead.
The Russell 2000 has begun to noticeably underperform iShares Russell 2000 Index Fund (IWM) - Get Report, down almost 2% even though S&P cash was down only 6.5 points.
These are not typically the ingredients for a durable leg higher.
Getting back to Wednesday's action, it wasn't what Chairman Bernanke said; it was what he didn't say. And he didn't say that we are getting more more quantitative easing (QE3).
When investors process what was not said by Bernanke today -- that is, when it becomes clearer that there will be less liquidity because there won't be QE3 -- they will probably sober up in the period ahead, because without more quantitative easing, the economic recovery could be in some jeopardy.
Expansive monetary policy is not the sole solution and savior to equities. Unfortunately, no one (in the U.S. or in Europe) wants to do the heavy and tough fiscal lifting. Our fiscal problems and those of Europe can only be covered up for so long. For stocks to advance to normalized and historic valuations (15x), we now must address our budget imbalances with responsible fiscal policy, but with an almost insurmountable impasse between our divided Republican and Democratic Parties (certainly through the election), responsible policy does not likely lie ahead.
In the fullness of time, the lack of progress is valuation-deflating and remains one of principal reasons why I don't believe we have started a new bull-market leg.
My other fundamental concerns include higher oil prices, reelection of Obama in November (perceived by most investors as not market- and business-friendly), a defeat of Sarkozy by Francois Holland and the Socialists (who have a radical political agenda in France that could serve to derail the eurozone bailout initiative). All could serve as a blow to worldwide stock prices.
Finally, I also remained concerned that the growth rates in India and China are slowing down below market expectations. I didn't have a chance to mention this on "Fast Money," but I wanted to highlight a research piece from Credit Suisse, in which the firm's Asia team conducted channel checks of 20 large home appliance machinery producers, copper fabricators and other manufacturers in China, all of which indicated that demand has eroded worse than perceived, particularly in sectors relevant to materials demand. As a result, Credit Suisse concludes that there is a clear contraction of manufacturer activities along the industrial value chain with too high inventories and too low demand as order lead times have materially shortened up of late.
So, how does an investor benefit from a correction?
First, take some profits and build up cash. And then, if you have the flexibility and the stomach for it, short.
In terms of specific stock and group strategy in shorting, as I said, I am focused on the potential for higher oil prices ahead (which serves as a tax on the consumer) as well as a likely slowdown in emerging markets relative to consensus.
First I would short discretionary, consumer-based companies -- as an example I shorted
American Express
(AXP) - Get Report
today. The company had a so-so fourth quarter, and it's exposed to higher gas prices and lower real incomes. Another idea is
Regal Entertainment
(RGC)
, which faces not only the threat of higher gas prices and absurdly high concession and admission costs but also a shortening in the release time of home video from a movie's premiere. Of course, the chicken way to short an exposed consumer is the
Market Vectors Retail ETF
(RTH) - Get Report
.
Since higher oil prices are a tax on the consumer, I would also look at dental stocks, as a large amount of dental procedures are discretionary and can be postponed. My favorite short in the dental sector is
Henry Schein
(HSIC) - Get Report
, which is not only one of the largest domestic distributors of dental products in the U.S. but (through an aggressive acquisition strategy) has over 25% of its overall sales in depressed and depressing Europe.
Reflecting my concern about China I would consider shorting
iShares FTSE/Xinhua China 25 Index Fund
(FXI) - Get Report
. (The China PMI data released last night were mixed.)
The flight to safety dissipates somewhat in the days ahead, as gold seems to be implying in its sharp drop, and the best trade extant over the next few months is to short bonds. Remember, the 10-year note yield (which is now 2%) has historically traded at close to the nominal GDP rate in the U.S. The nominal GDP rate is the sum total of real GDP (about 2.5% today) and inflation (about 2.4%). Add the two together and you get nearly 5% vs. the 2% current yield. The difference, to me, is flight to safety concerns.
My largest short is long-dated U.S. bonds. As Buffett said in his letter to
Berkshire Hathaway
(BRK.A) - Get Report
/
(BRK.B) - Get Report
shareholders, bonds should carry a warning label when sold considering the yields.
I would consider shorting
Goldman Sachs
(GS) - Get Report
and
Morgan Stanley
(MS) - Get Report
, two companies levered to the capital markets.
Other recommended ETFs to short include
iShares MSCI EAFE Index Fund
(EFA) - Get Report
, IWM,
PowerShares QQQ
(QQQ) - Get Report
and, of course,
SPDR S&P 500 ETF Trust
(SPY) - Get Report
.
At the time of publication, Kass and/or his funds were long FXI common; long TBT common and calls; short AAPL, AXP, RGC, HSIC, IWM, EFA, QQQ and SPY common; and short FXI and SPY calls. Of course, holdings can change at any time.
Doug Kass is the president of Seabreeze Partners Management Inc. Under no circumstances does this information represent a recommendation to buy, sell or hold any security.