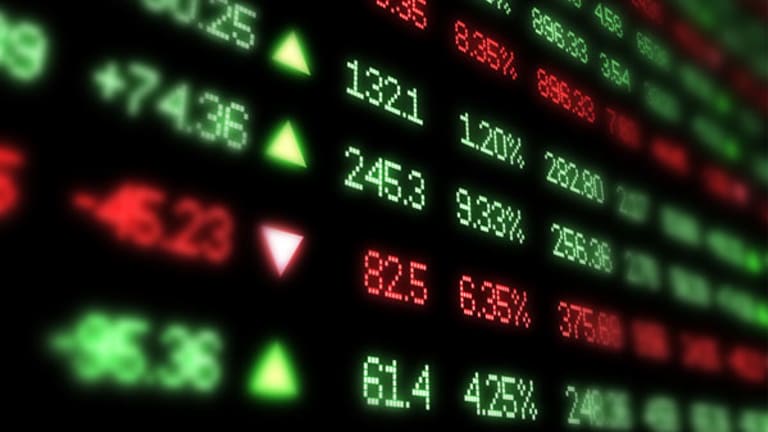 Kass: My Berkshire Q&A Recap
Here are the six questions that I asked (and the answers given) and six that went unasked.
This column originally appeared on Real Money Pro at 11:26 a.m. EDT on May 7.
NEW YORK (
) -- This morning's opening missive reviews the six questions that I presented to Charlie Munger and Warren Buffett at
Berkshire Hathaway's
(BRK.A) - Get Berkshire Hathaway Inc. Class A Report
/
(BRK.B) - Get Berkshire Hathaway Inc. Class B Report
annual shareholders meeting. I also have included their responses to my questions as well as six alternate questions that I was prepared to ask in the event that someone asked one of my primary questions ahead of me.
Going into the meeting, there were a number of subjects that I thought warranted discussion. (I have a bunch of additional questions not mentioned today, so I hope Warren invites me back next year!)
It was important for me to balance my hard-hitting and pointed questions with a courteous and respectful delivery, considering the extraordinary accomplishments of the men that I was addressing and the unique invitation to a short seller who was negative on their company. Initially, each of my original six questions was far too lengthy (500-1,000 words). Given the setting and Warren's crafty ways of answering questions, my mission was to condense each into a tightly worded question.
That process took a surprisingly long time.
Let's start with the six questions I asked on Saturday. (I have marked with an asterisk the six primary questions that I had planned to ask. Three of my top six questions were previously asked so I used three of the alternate questions.)
1. Size matters: Berkshire's growth strategy -- chasing elephants instead of gazelles?*
2. The Buffett factor: What happens when Warren has left us?
3. Does a Berkshire breakup make sense?*
4. Has Warren's investment process become less intense over time?
5. A short-selling challenge*
6. Is Howard Buffett qualified to be nonexecutive chairman?
I started by thanking Charlie and Warren for the invitation and told them that I was honored. Then I said that I looked forward to playing the role of "
Daniel in the lion's den
" in front of over 30,000 of his closest friends and greatest admirers. (That got a cheer!
Question No. 1 -- Size Matters
Q: As it is said, Warren, "Size matters!"
In the past, Berkshire bought cheap or wholesale -- for instance,
Geico
,
MidAmerican Energy
, the initial
Coca-Cola
(KO) - Get Coca-Cola Company Report
purchase and
Benjamin Moore
. Arguably, your company has shifted to becoming a buyer of pricier and more mature businesses -- for instance,
IBM
(IBM) - Get International Business Machines Corporation Report
,
Burlington Northern Santa Fe
,
Heinz
(HNZ)
and
Lubrizol
, which were done at prices to sales, earnings and book value multiples well above the prior acquisitions and after the stock prices rose.
Many of the recent buys might be great additions to Berkshire's portfolio of companies, however, the relatively high prices paid for these investments could potentially result in a lower return on invested capital. In the past you hunted gazelles, but now you are hunting elephants.
To me, the recent buys look like preparation for your legacy, creating a more mature, slower-growing enterprise. Is Berkshire morphing into a stock that has begun to resemble an index fund that is more appropriate for widows and orphans rather than past investors who sought out differentiated and superior compounded growth?
In the past, you have quoted Benjamin Graham, saying "price is what you pay -- value is what you get." Are your recent deals and large investments bringing Berkshire less value than the deals done previously?
A: Warren admitted that Berkshire won't grow as rapidly in the future as it has in the past but it will still generate a lot of incremental value. "We think we will do better than the giants of the past," he said. Charlie chimed in and said much of the same. Warren then exclaimed, "Doug, you haven't convinced me to sell the stock, but keep trying!"
Question No. 2 -- The Buffett Factor
"Warren," I said.
"Doug," he responded.
"Warren," I remarked again.
"Doug," he repeated.
And I felt that this exchange set the stage for a more relaxing repartee between us over the balance of the day.
Q: Much of Berkshire's returns over the past decade have been based on your reputation and your ability to extract remarkable deals from companies in duress as compared to the past when you conducted yourself more as a value investor, digging and conducting extensive analysis.
What gives you confidence that your successors' imprimatur will be as valuable to Berkshire as yours has been?
A: Warren responded by saying that when he is gone, Berkshire will remain the investor of last resort -- the company will remain the refuge for distressed companies, as Berkshire will possess large amounts of capital and will be positioned to react quickly. "They will call Berkshire. And Berkshire's reputation will become only more solidified for providing capital in sound deals, when other people are frozen. When it happens when I'm not around, it will become more tied to the Berkshire brand." Charlie agreed.
Question No. 3 -- Does a Berkshire Breakup Make Sense?
I started by saying, "When you are gone, and we hope that's not for a long time."
To which Warren quipped, "No one more than I!"
I then prefaced the question by saying that in response to a previous question, Buffett suggested that, in time, Berkshire might be more centralized in terms of management strategy.
Q: Warren, in the past, you have demonstrated a great respect for Dr. Henry Singleton, the founder and long-time CEO of the diversified conglomerate
Teledyne
(TDY) - Get Teledyne Technologies Incorporated Report
.
You have written about Singleton:
"Henry is a manager that all investors, CEOs, would-be CEOs and MBA students should study. In the end, he was 100% rational, and there are very few CEOs about whom I can make that statement."
You have publicly stated that Singleton had the best operating and capital deployment record in American business.
Prior to his death, he broke up Teledyne into three companies. Dr. Singleton told our mutual friend Lee Cooperman that he did it for a couple of reasons.
There is one reason in particular I want to ask you about. According to Singleton, Teledyne was hard to manage for one CEO. What would you say about the Berkshire situation, given your company's greater complexity and the recent management issues over the past several years? And what is the advisability of restructuring Berkshire into separately traded companies organized along business lines?
A: Both Charlie and Warren spent some time responding to both the history of Teledyne, Singleton's role and Berkshire's structure. Buffett underscored his confidence in his current management team at the divisional levels. "Breaking Berkshire into several companies," he said, "I am convinced would produce poorer results."
Question No. 4 -- Has Your Investment Process Become Less Intense?
Q: Mae West once said, "The score never interested me, only the game."
Are you at that point now where the game interests you more than the score?
But before you answer, let me explain why I asked.
In the past, your research has been all-encompassing, whether measured in time devoted to selecting investments and acquisitions or in the intensity of analysis.
You were interested, in the old days, of knowing the slightest minutia about a company.
You once said in characterizing Ben Rosner, "Intensity is the price of excellence."
Your research style seems to have morphed over time from a sleuth-like analysis --
American Express
(AXP) - Get American Express Company Report
comes to mind, when you hired Henry Brandt (father of
Ruane, Cunniff & Goldfarb's
Jonathan on today's panel!); you and he conducted weeks of analysis, in site visits and channel checks.
Now, not so much in later investments. As an example, you famously thought of making the
Bank of America
(BAC) - Get Bank of America Corp Report
investment in your bathtub.
There is an investment message of this transformation from being intense to less intense. Would you please explain the degree it has to do with the market, Berkshire's size or other factors?
A: Warren responded by saying that he finds running Berkshire to be the most interesting thing to do. "I have every bit of the intensity, though it's not manifested in the same way," he said. "I love thinking about Berkshire, about its investments, about its business. It's a part of me."
Charlie said, "It
research is all cumulative."
In response to my Bank of America/bathtub reference, Warren quipped, "The bathtub wasn't the most important part!"
Question No. 5 -- A Short-Selling Challenge
Q: Warren, I am asking this next question because in the past you have been open to inviting your audience to apply for jobs. In 2002, you suggested that shareholders (who thought they were eligible) send in their qualifications if they were interested in seeking a seat on your Board, and, again, in your 2006 letter, you advertised for a successor to Lou Simpson (former portfolio manager for Geico who retired in 2010). "Send me your resume," you said at the time.
In the past, you have discussed your views of short selling. You have cited that stocks tend to rise over time, and you have expressed concerns regarding the asymmetry of reward vs. risk.
By contrast, the last 15 years has demonstrated that short selling can be value-additive when done by professionals -- for example, I believe Todd Combs had success as a short-seller before you hired him.
(Charlie then interrupted and said that Todd Combs "had so much success
in short selling that he stopped doing it," which drew laughter from the crowd.)
My question and challenge is would you ever reconsider committing capital to a short-selling strategy?
Would you or Berkshire consider being my "Homer Dodge," who invested in your partnership shortly after the original seven investors did?
Specifically, would either you or Berkshire Hathaway be willing to give my firm,
Seabreeze Partners
(specialists in short selling), at least $100 million in a managed account (for no less than two years) that would be committed solely to a short-selling strategy?
If the Seabreeze account failed to outperform the change in Berkshire Hathaway's book value, all the earned fees (over the period) will be contributed to six charities in equal amounts: The Sherwood Foundation (the charity your daughter founded) and two other charities of your choice plus three charities of my choice, including Jewish Federation of Palm Beach County.
And even if Seabreeze did outperform Berkshire, 25% of the earned fees would be contributed to the charities.
I added that in a previous answer to a question, Buffett emphasized that he was technophobic and reluctant to invest in the technology sector. I emphasized that technology has been a disruptive force in a number of industries by virtue (or lack thereof) of its adverse impact on company business models. This provides a fertile ground for short-selling candidates.
A: Denied.
Charlie was emphatic. "No," he said.
Asked why, Warren uttered what I thought was the best line of the day, "We don't like trading agony for money."
Buffett then added, "But we wish you well."
Question No. 6 -- Is Howard Buffett Qualified to be Berkshire's Nonexecutive Chairman
Q: Warren, like you, I have two sons that I love.
Like you, I have a son in the audience.
This question is not meant to be disrespectful, but it is a question that I believe should be asked.
Someday your son will be Berkshire's nonexecutive chairman.
Berkshire is a complex business, growing more complex as the years pass.
Howard has never run a diversified business nor is he an expert in enterprise risk management.
Best as we know, he hasn't made material stock investments nor has he ever been engaged in taking over a large company.
Other than the accident of birth, how is he the most qualified person to take this role? Why should someone who has spent so little time with the company's managers suddenly become eligible for the position?
A: The response to this question, I felt, was the weakest of the six responses. Warren said that Howard would be the guardian of Berkshire's culture. "If a chief executive doesn't work out, having a chairman who cares deeply about the company's culture will make fixing the problem much easier."
Below is a list of the six unasked questions. (Again, I have marked with an asterisk the six primary questions that I had planned to ask. Three of my top six questions were previously asked, so I used three of the alternate questions.)
1. Is Berkshire too big to outperform?*
2. Are some of Berkshire's bank moats damaged or disappearing?*
3. Is the stock market overvalued by your metrics?*
4. Missed deals?
5. Regrets?
6. Is your optimism justified?
Unasked Question No. 1-- Is Berkshire Too Big to Outperform?
Historically, Berkshire's outperformance over the past 40-plus years has been spectacular. However, sustaining that growth is becoming more difficult to achieve.
You noted in your 2007 annual letter that, "Berkshire's past record can't be duplicated or even approached." And in almost every letter since that, you have uttered the same theme.
In the sole year of the last four (in 2011) that Berkshire succeeded in outperforming the share price of the
S&P 500
, it did so by a mere 2.5%. Even five years ago (in 2008), when performance was strong on a relative basis, Berkshire still recorded a negative return of -9.6% (while the S&P dropped by a staggering -37%).
Explain how Berkshire can persist in outperforming the markets while you continue to expand the size of your company.
Note: This question (one of my top six initially) was somewhat close to Carol Loomis's first question, so I canned it.
Unasked Question No. 2 -- Are Some of Berkshire's Bank Moats Damaged or Disappearing?
A changing bank regulatory climate has put constraints on leverage and has produced less robust return on assets and capital. As well, banking has become more homogenous and less differentiated, what Charlie and you describe as, "standing on tiptoe at a parade" -- when one bank offers a new product, every bank has to offer or match it.
Given the fact that the banking industry has a lower profit growth rate potential going forward (think of it as damaged and shrinking moats of profitability), why is Berkshire continuing to acquire shares and becoming more exposed to banks, specifically
Wells Fargo
(WFC) - Get Wells Fargo & Company Report
?
Note: This question, too, was one of my six original questions. But, Charlie and Warren had already discussed the impact of Dodd-Frank legislation on reducing bank industry returns.
Unasked Question No. 3 -- Is The Stock Market Overvalued by Your Metrics?
Warren, generally, you abide by Casey Stengel's old adage, "Never make predictions, especially about the future," and rarely make public comments about the market.
In 1999, however, you said, "One has to be wildly optimistic to believe that corporate profits as a percent of GDP can, for any sustained period, hold much above 6%." Today, that ratio has been stretched to over 10%, or 70% above 1999's level.
In the same year, you stated that interest rates "act to stock prices like gravity acts on matter." Today, interest rates are at generational lows and have little to go but up due to the "invisible pull of gravity."
Despite these concerns, you said recently on
CNBC
that you're buying stocks.
If interest rates are unlikely to fall much further and corporate profitability in relation to GDP must drop, then stocks, by your two key measures, are meaningfully overpriced today.
It's got to be one of two alternatives. Which is it, Warren? Are investors seriously overestimating future profit growth? Or is it different this time so that neither interest rates nor profit margins will mean-revert -- that these factors have lost their relevance and investors are right?
Note: This question was among my first six, but it was asked by another questioner, though I forgot which one.
Unasked Question No. 4 -- Missed Deals?
Over the past five years, you have mentioned that a number of deals that you worked on have never come to pass. I assume you signed confidentiality agreements in which you can't disclose the names of the companies. What industries did you pursue and why? What is it about the deals that attracted you and what business qualities/profiles were you looking for? If they don't have something in common, can you pick one, even the most important one that you missed and didn't get?
Unasked Question No. 5 -- Regrets?
Q: Mae West also said, "You only live once, but if you do it right, once is enough."
But everyone has regrets. What business regrets do you have?
Unasked Question No. 6 -- Is Your Optimism Justified?
Mark Twain said, "The man who is a pessimist before the age of 40 knows too much -- if he is an optimist after it, he knows too little."
You seem to be growing more optimistic with age. In a new normal world, what do you see that makes you so optimistic?
Summary
Based on my previous company analysis,
the recent quarterly results
and after listening to the response to my questions from Charlie and Warren on Saturday, I remain resolute in my view, and I plan to remain short on Berkshire's shares.
At the time of publication, Kass and/or his funds were short BRK.B, although holdings can change at any time.
Doug Kass is the president of Seabreeze Partners Management Inc. Under no circumstances does this information represent a recommendation to buy, sell or hold any security.