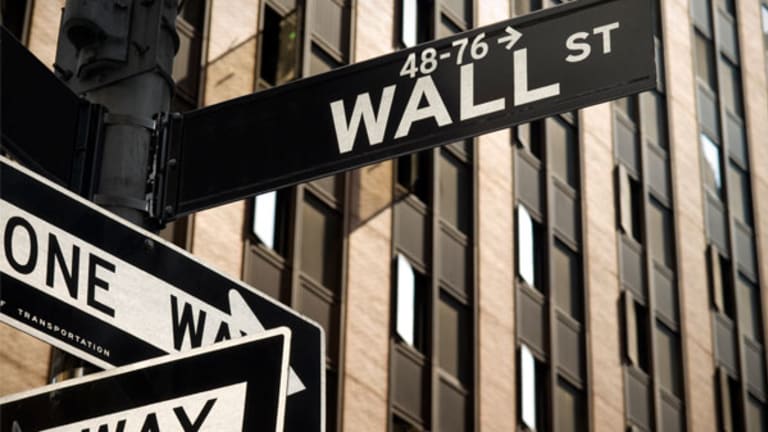 Kass: More Bruises on Apple
I have some additional concerns about the tech juggernaut.
I have some additional concerns about the tech juggernaut.
This column originally appeared on Real Money Pro at 9:37 a.m. EDT on Oct. 3.
NEW YORK (
) --
Pride goeth before a fall - also publicity, handshakes and celebrity. The biblical injunction about the first and the last trading places often has literal truth. Thus, stocks and bonds, which fared poorly in the inflationary 1970s, excelled in the disinflationary 1980s. The country's most admired companies (as listed annually in the glossy business magazines) are frequently on their way to becoming among the country's least admired investments. When a cynical investor hears that there are too many optimists in the market, he will begin to worry. By the same token, an over-abundance of pessimists will give him courage. After all, he may ask, if everyone is already bearish, who is left to sell?-- James Grant, Minding Mister Market: Ten Years on Wall Street With Grant's Interest Rate Observer
Apple
(AAPL) - Get Report
has truly become the investment tail that wags Mr. Markets' dog -- its shares literally have a hold on the market, and the company's large index weighting seems to be responsible for almost every market wiggle.
Ten days ago, I wrote "
," in which I cited the following 10 concerns:
Quality vs. price: Apple is now selling less or equal for more money. The company used to sell a better product for more money, which is a great strategy. Its products were simply market-defining, and competitors were not close. Recently, however, things have changed, and competitors have caught up. Now Apple is selling an equal to worse product than the competition for more money (both phones and tablets). That strategy cannot work forever. This is the biggest issue.
Delivering a more complicated product: Products are also getting more complex and Microsoft-like. Apple's challenge is to deliver ever more complicated products (with a lot of new components) in sufficient quantities. See most recent Foxconn issue. Previously, we would never have seen such a story because there were never issues and nobody would dare voice them, especially not an avowed Apple zealot like the author of this interesting article.
The Oracle of Cupertino: Steve Jobs is no longer around to convince consumers that his products are magical. There is no longer a single visionary voice, especially with the vision of Steve Jobs. There are stories floating around about internal disagreements and power struggles given the unique void created by the loss of a single dominant figure in an unusual corporate structure that he controlled.
Increasing product homogeneity: Apple no longer has a huge ecosystem advantage. Most if not all the apps that consumers care about are available on Android and Microsoft , which can also run Office apps such as Excel that Apple doesn't. The first-mover advantage might be lessened or lost if Apple continues to try to do everything on a proprietary basis -- for instance, maps (and who wants a smartphone with bad maps?).
Economic headwinds: Some of the markets served by Apple are saturated, and in a worldwide economy facing strong headwinds, consumers may balk at a product that can be purchased at much lower prices from competitors. Until last quarter, Apple never missed consensus expectations during a product transition. There is more to last quarter's miss than transition.
Poor economic proposition for Apple's partners: Apple's carrier partners do not like the economics they give to Apple. Apple's partners have shown that they can and will shift to the good alternatives that consumers seem to like (e.g., Samsung Galaxy).
Roadblocks to new initiatives: Potential business partners in general do not like or trust Apple relative to other initiatives. The music industry and AT&T have not had great experiences with Apple, and the company might find it hard to sign deals for new initiatives.
Product cannibalization: The iPad mini may cannibalize the higher-margin iPad -- or just be a neutral at best.
Growing size mandates delivery of more product blockbusters: An investor better believe in a huge new blockbuster product next year. TV is complex due to relationships with cable companies, set-top box manufacturers and channel guide programmers. Google may one up Apple in the space, as it owns Motorola's set-top box division and has Google Voice already. If it comes to integrating more complex solution for TVs with content, cable companies and other media partners have learned not to trust Apple given the poor outcomes other Apple partners have had (e.g., music industry, AT&T, etc.).
Valuation: Apple's stock is cheap on a P/E basis but arguably very expensive on price/sales (4.4x) and total absolute market capitalization basis ($625 billion).
Back on Sept. 24, Apple's shares traded above $700 a share and have since dropped by about 6%, a far larger decline than the broader market indices.
With the same caveat that I fully recognize that Apple's revenue and margins in the December quarter will be very good due to the fastest ever global rollout of the iPhone 5, this morning I wanted to raise some additional concerns.
Apple is losing some mojo and mindshare. The Samsung Galaxy ad
for all its deficiencies and customer-unfriendly practices is a leading viral video. Samsung's campaign for the Galaxy S III, a phone released in June,
Apple on
Ad Age's
Viral Video Chart last week. The Galaxy S III campaign snagged 13.2 million views. And although the campaign had been on the chart for three weeks prior to this one, the iPhone launch helped it increase its views more than seven times and jump from No. 5 to No. 1.
Last week I went into one of Apple's New York City stores. It was not as nearly busy as my last visit in August. The key going forward is new customer ratio in stores. I asked around, and it seemed that old customers dominated the store's population. Are we seeing some fatigue in the installed base? Are buyers taken aback by the new adaptors that lack compatibility with the old phone adapters? I don't know. I do know that I played with the iPhone 5 for about a minute and got quickly bored. Bottom line: This is the first product launch by Apple with no wow factor and much less cool than other products on the market such as Samsung Galaxy S III and
HTC
.
Can Apple keep the well-above-smartphone-industry-average customer upgrade cycle going? With Steve Jobs gone, Apple is at risk of losing that magical Walt Disney feeling. This is what Apple had going for it. The dogs just wanted to eat the dog food -- no matter what. It was
at times. Apple could beat them and customers would come back and beg for more. But the company will lose this cachet. As I mentioned last week, almost all of a sudden, Apple's suite of products is becoming more expensive and no better to worse than other products on the market. Eventually, this will hurt Apple.
Importantly, Apple had really leveraged its unique customer position in a way that benefited revenue and gross margins. The company has been able to get away with some unfriendly customer practices. Examples include:
proprietary connectors that lock people into Apple peripherals or third-party ones on which Apple gets a royalty (we would not have had this latest connector fiasco if the iPhone 5 was on industry standard micro-USB that is much more convenient for customers who can share chargers, same points of connectivity, etc.);
leaving basic features out of phone launches to capture annual upgrades to the next phone (only 2 megpixel camera, no video recording, late with 4G/LTE by a year, etc.), generating excess revenue and margin from a much higher-than-average turnover rate; and
other customer inconveniences that give Apple more margin -- no Nand card slot, can't change battery.
Samsung picks on a lot of this stuff in the advertisement previously mentioned. All this proprietary stuff is done to capture more margin -- it does not make life easier for the consumer -- just like what
Sony
(SNE) - Get Report
tried to do all the time, and we all know how that company ended up (as well as most other proprietary tech ecosystems, with
Research In Motion
(RIMM)
being the latest one). See
on the Apple "tax."
Also, Apple has started to experience Microsoft-like
, and Apple's
customer service response has been
.
How much longer can Apple treat customers this way and extract extraordinary excess gross margins by doing so? And will as many people buy a new iPhone annually as have in the past given that the innovation curve has slowed? What would happen to Apple's revenue and margins if its customer upgrade rate regressed to industry average?
Say what you will about whether or not Steve Jobs would have let iOS 6 go out in that condition with those maps, but go play with the iPhone 5 yourself. It
feels
terrible. It's very light and to me feels like a toy. It needs a lead weight. I cannot believe Steve Jobs would have let it go out the door like that. He would have understood that it just doesn't feel right. That was the value of Steve Jobs -- he understood the whole picture, technical and non-technical alike.
Last week Tim Cook apologized for the botched-up Maps app. Some folks in the store that I visited were saying he should also apologize for the new connector and the generally less cool look vis-à-vis other products on the market.
Back to Maps as the canary in the coal mine. Analyst Jamie Townsend of Town Hall Research has recently been critical of Apple on several fronts:
The embarrassment of Apple's failed new maps effort is unlikely to derail the mobile juggernaut that has been trampling competitors for the last five years. At the same time, we believe that the momentum for Apple is increasingly at risk over the next 12 months. Smartphone penetration is growing, Samsung is still firing strong smartphone and tablet salvos, and other lesser vendors are narrowing the perception gap. Perhaps, most importantly, Apple's ability to stay ahead of the competition seems to be increasingly at risk of becoming more of a catch-up game (4G as one example). For now, we will focus on the importance of the maps mishap and location in general, but we are also keeping a close eye on the ability of Apple to sustain its momentum through 2013.
To those who say that the problems with Apple Maps are less serious than the controversy over the antenna design on the iPhone 4 in 2010 (under Jobs' leadership), Townsend argues the opposite, postulating that "accurate geolocation data is a bad place for Apple to fumble."
Townsend continues:
Analyzing the competitive environments of location markets recently, ABI Research had to triple-check rankings. Apple consistently scores much lower than Google or Nokia and Microsoft. On alternative location technologies, Apple was the first to take a chance on Skyhook Wireless, yet it stopped there. There is little sign that Apple plans to support newer, more accurate technologies concerning the likes of the indoor space, where again Apple belligerently shows neither signs of innovation nor a willingness to support Wi-Fi- based start-ups. Granted, GPS IC vendors will fill many of the raw, ubiquitous location gaps here, but there is so much more to location today than just identifying the location of a device. More worrying is how Apple is failing to develop an ecosystem in which location-based advertising can thrive. Fundamentally, it does not have its own search engine (Safari uses Google); its map/PoI offering is now weaker than when ABI Research completed its location analysis earlier this year. Apple's advertising business has yet to take off. It has no real social presence, no mobile payment solution (although Passbook is a step in the right direction). Apple has already badly burned itself on privacy and location data aggregation. When combined, these services will drive the analytics engines that will facilitate the next big battleground -- hyper-local mobile search and advertising.
In addition to concern no. 4 in my original post, I forgot to mention that Apple is no longer the dominant ecosystem. As of second quarter, Android had 68% of global smartphone share vs. Apple at 17% and was growing faster as well, more than doubling year over year compared to Apple at 28% growth. So, Apple is losing relative
.
Also in the second quarter, in the U.S. the Samsung Galaxy alone sold more units than the iPhone 4S. Recent reports by independent research firms also suggest that Android and Windows 8 are gaining enterprise mindshare for phones and tablets due to being cheaper, more secure and more enterprise-ready.
It all comes down to valuation. Bulls feel that the company's prospects and profit stream are not baked into today's share price, but given my concerns, which could emerge after the December quarter, and given Apple's market cap, price-to-sales and meteoric rise this year, is there anyone that doesn't own Apple's shares at this point in time? And how many money managers (in part because of the weighting in the indices) are now overweight in the stock, particularly after the aforementioned period of outperformance?
At the time of publication, Kass and/or his funds had no positions in the stocks mentioned, although holdings can change at any time.
Doug Kass is the president of Seabreeze Partners Management Inc. Under no circumstances does this information represent a recommendation to buy, sell or hold any security.