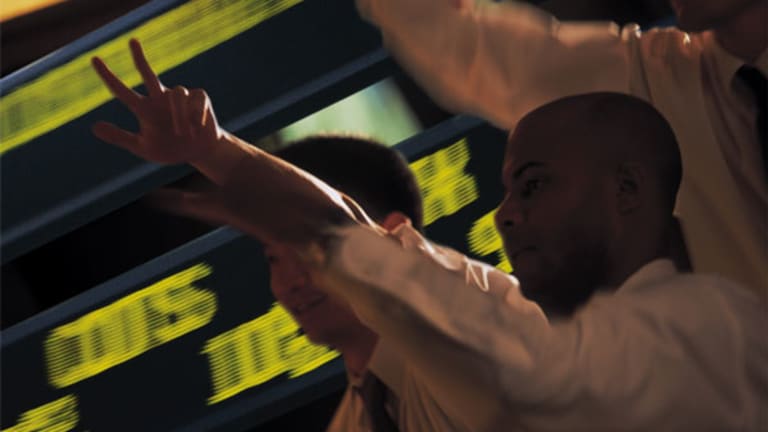 This column originally appeared on Real Money Pro at 8:13 a.m. EST on Dec. 26.
NEW YORK (
) -- Despite some profit-taking over the past two trading days, from my perch, Mr. Market continues look better than he has in a while.
Most healthy is the recent upside in absolute and relative strength in financials (banks and brokers) and the recent downside to bond prices -- the 10-year yield has recently risen by 18 basis points, to 1.78%. These two conditions are almost always a favorable combination.
In terms of U.S. stock market leadership, impressive also is the strength in a key risk-on sector: economically sensitive industrials. And even the laggard
Dow Jones Transportation Average
index (another economically sensitive group) is starting to revive.
Meanwhile, non-U.S. markets -- namely, Germany, Japan and China -- are performing in an impressive fashion. Coupled with a weakening yen and a discouraging 20-year bear market, the strength of the Japanese stock market, in particular, looks like it might have legs.
On the sentiment front, after many years of liquidation, net inflows into domestic equity are building over the past month -- just as, for the first week in 30, bond fund inflows have morphed into an outflow. On the other hand (and still not terribly threatening), we have the highest number of
AAII
bulls since early 2012 and the 10-day CBOE put/call ratio has fallen to a two-month low. More menacing is that the two 80% up days last week had no follow-through and could not sustain the previous market strength, but that could have been caused by the newsy backdrop. We will see.
It is interesting to note that even during the weakness of the past two days, most of the futures declines occurred in the illiquid nighttime sessions, and during the day's session, markets have rallied (especially in the hour of trading). I like this development as well.
The market has advanced modestly in December despite:
the media's incessant preoccupation and shrill, hyperbolic commentary regarding the fiscal cliff -- I continue to see, as I have consistently, the possibility of a fiscal cliff compromise by year-end and a 50/50 chance of a grand bargain sometime in 2013; and
the continued poor relative and absolute performance of Apple (AAPL), as the market morphs from the NBA (nothing but Apple) market to the ABA (anything but Apple) market.
As I have previously written, how a market reacts to the news often trumps the news itself. And for now, the market's message is growing more positive.
Rather than sell off now, the more interesting and contrarian view is that the recent strength in economically sensitive industrials and financials and weakness in previously embraced risk-off sectors such as high-dividend payers are sending a message that there will be a fiscal cliff compromise and that the pace of domestic economic growth will surprise to the upside in the first half of 2013, as the corporate sector reverses its deferral of hirings, inventories and business fixed investment.
This scenario, if accurate, could produce a final leg up for stocks as previously reluctant investors commit.
In summary, after being a market-agnostic, color me more impressed. I have put my money where my pen is -- and in the weakness over the past three days, I have moved back up to a 50% net long exposure.
And that level of exposure might be too low in the time ahead.
At the time of publication, Kass and/or his funds had no positions in the stocks mentioned, although holdings can change at any time.
Doug Kass is the president of Seabreeze Partners Management Inc. Under no circumstances does this information represent a recommendation to buy, sell or hold any security.