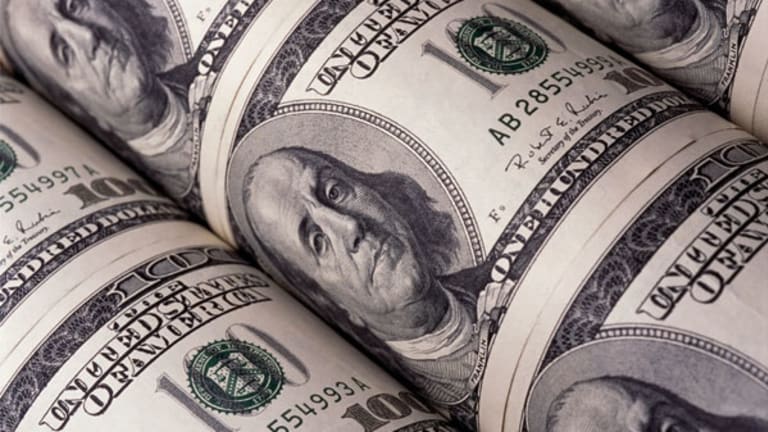 Kass Katch: Buy Ocwen Financial
It could be the next Ocwen Financial.
I have been a longtime follower and admirer and sometime owner of Ocwen Financial (OCN) - Get Ocwen Financial Corporation Report.
In 2009-2010 I purchased Ocwen around $10 a share and its spinoff,
Altisource Portfolio Solutions
(ASPS) - Get Altisource Portfolio Solutions S.A. Report
, at approximately $17 a share. Subsequently, I bought
Altisource Residential
(RESI) - Get Front Yard Residential Corp. Class B Report
at $16 a share and
Altisource Asset Management
(AAMC) - Get Altisource Asset Management Corp. Report
at about $60 a share.
In late October 2013 Ocwen's shares rose to over $60 a share and currently stand at $37 a share.
Altisource Portfolio Solutions, adjusted for the spinoffs of Altisource Residential (one third of a share for every Altisource Portfolio Solutions) and Altisource Asset Management (one tenth of a share for every Altisource Portfolio Solutions), now trades for almost $230 a share (up from my original purchase price of $17a share). Altisource Residential traded as high as $34 a share (a gain of over 100% from my first purchase at $16 a share), and Altisource Asset Management, my
stock of the decade
, traded as high as $1,200 a share (from my initial purchase of $60 a share).
Suffice to say I know of no other group of related companies that have performed as well as these in the last few years.
I have for some time been searching for the next Ocwen Financial.
Perhaps, Ocwen Financial
is
the next Ocwen Financial.
My initial thesis on Ocwen was that the banking industry, forced to shed costly, noncore and capital-/labor-intensive assets (which carry regulatory risks), would likely dispose of their mortgage-servicing platforms.
That certainly proved accurate.
Also accelerating the disposition of mortgage-servicing businesses was the inherent and continued conflict between mortgage servicers and the mortgagees. Stated simply, the conflict was something that the banks, after the Great Decession, didn't need or want. These conflicts demonized the banks even further, and the banking industry's experience (read: billions of dollars of fines relating to mortgages) served to accelerate the desire to disaggregate the mortgage-servicing operations.
JPMorgan Chase's
(JPM) - Get JPMorgan Chase & Co. Report
Jamie Dimon put it best when he said, "If I never see a loan 60 days delinquent, I would be very happy."
Ocwen filled the gap provided by these acquisition opportunities, which included, over the last few years, the acquisition of the mortgage servicing businesses of
Bank of America
(BAC) - Get Bank of America Corp Report
,
ResCap
,
Barclays
(BCS) - Get Barclays Plc Report
,
Goldman Sachs
(GS) - Get Goldman Sachs Group, Inc. Report
,
Lehman Brothers
and the like.
At year-end 2010, Ocwen serviced $74 billion of mortgages, at year-end 2011 Ocwen serviced $204 billion of assets, and at the end of 2013 the company's service portfolio stood at $465 billion. Unpaid principal balances have grown at over a 33% compounded annual growth rate since 2000.
The Return of Non-prime Lending, Origination and Servicing
Besides the factors listed below, one important reason why I am returning to Ocwen is that the non-prime business is likely to undergo a renaissance in the years ahead, and as the largest player in the subprime and non-prime field, no company is better positioned than Ocwen Financial.
Pre-financial crisis, approximately 60% of households could qualify for a prime mortgage and approximately 10% of households could qualify for a subprime mortgage. The remaining 30% were renters.
Post-financial crisis, approximately 30% of households qualify for a prime mortgage, and subprime is almost nonexistent. So, unless we are destined to become a nation of renters, something has to change.
At the same time, the recent rise in home prices has not been met by income gains of the average homebuyer, which represents an opportunity for non-prime mortgage companies such as Ocwen.
Gone are the days of low- and no-documentation in non-prime lending. Today those loans are more secure. The non-prime industry space has been abandoned, and a void for Ocwen and other players has surfaced.
Ocwen has stated that it will not originate nonqualified mortgages but will focus on prime- and qualified-mortgage-exempt, which can help fill the above lending gap.
A significant breakthrough in Ocwen's origination efforts was the
development
of Ocwen asset servicing income series (Oasis).
Ocwen has always been extremely cautious in assuming prime mortgage risk. The company's model is to assume operating risk, not interest rate risk.
Oasis makes Ocwen extremely competitive in the prime space by enabling the company to transfer prepayment exposure at an attractive price to investors seeking interest rate exposure.
Ocwen's growth will be measured over the next year as the company continues to enhance its origination capabilities, but over time, Ocwen expects to become a major non-prime originator.
The Investment Case for Ocwen
Ocwen has a 25-year-plus operating history as the leading full-service provider of mortgage servicing.
Strong management: Led by Chairman Bill Erbey, Ocwen's management has been a successful generator of wealth to its shareholders and has been a beacon for operating and consolidating a wide range of businesses and acquisitions all related to its core mortgage-servicing activities. Indeed, I know no other management group that has created such wealth over the past five years.
Management has incentive: Insiders own 17% of the shares outstanding.
Conservative accounting practices: Last August I compared Ocwen's conservative accounting to the aggressive gain-on-sale accounting of competitor Nationstar (NSM).
Ocwen has a strong capital position and is regulation-compliant: To the best of my knowledge, Ocwen is the only non-bank mortgage servicer that conforms to the guidelines of the National Mortgage Settlement. It has never failed a test under the guidelines.
The company is ranked No. 1 in servicing quality, superior loss mitigation and curing in numerous third-party studies of servicers: Ocwen has been consistently better than its competition at helping homeowners with sensible non-foreclosure loss-mitigation resolutions. In October 2013, Moody's ranked Ocwen's performance No. 1 among servicers that were 60 days delinquent and at the height of the mortgage crisis back in 2009. Last year Moody's also ranked Ocwen ahead of JPMorgan Chase, Bank of America and Wells Fargo (WFC) in curing nonperforming loans and with the shortest timeline of foreclosure referral to foreclosure sale. JPMorgan has ranked Ocwen first in "quality rank," a measure that considers the re-default rate of modified loans. Deutsche Bank has ranked Ocwen first in "recovery score," which evaluates return-on-equity sales and short sales based on the timeline to liquidate and loss severity. The company's total modification rate (modifications as a percentage of portfolio) is 48.9%, and the re-default rate (modification re-defaults as a percentage of modified portfolio) is a solid 36.8%. Ocwen is also a leader in home affordable modification program payment plans and alternative modifications/payment plans.
Ocwen's balance sheet is high-quality with a low amount of recourse debt: Advances are overcollateralized and almost half of the assets are investment grade. Mortgage-servicing ratios have never experienced a greater than 2% net impairment. Fair market value and low cost to service creates incremental value embedded in Ocwen's mortgage-servicing ratios.
Ocwen has an active repurchase program in place: The company launched a $500 million buyback in November 2013; $60 million worth of shares were repurchased in fourth quarter 2013.
Still large pipeline of acquisition opportunities: At the current time there is approximately $1 trillion of projected mortgage servicing that is anticipated to be for sale, providing Ocwen with a potentially long runway of growth.
Ocwen is the industry's low cost provider: Ocwen has superior operating efficiency and scalability. The company has the lowest nonperforming mortgage-servicing industry operating cost structure through its proprietary technology and global platform. Ocwen's historic ability to lower delinquencies provides cost advantages. The company estimates it has a 68% cost advantage vis-a-vis its competitors. Its cost per nonperforming loan is under $300 compared to over $900 for its competitors.
Present value of assets on a run-off basis: If Ocwen never acquired another mortgage-servicing loan, the present value of Ocwen Financial approximates $34 a share, including the future value of the company's origination business and adjusted for its long-term debt of $1.3 billion. In other words, with the shares trading at $37 a share the company could be liquidated for almost the current price.
Potential resolution of conflict with New York bank regulator: In earIy February 2014, the New York Department of Financial Services, led by Superintendent Benjamin Lawsky, halted the company's planned acquisition of some of Wells Fargo's mortgage-servicing business, citing concerns that Ocwen lacks the ability to handle the additional servicing load. I am hopeful that Ocwen will come up with a settlement with the New York banking regulators, as it is in the interest of both parties.
More regulation is a positive for Ocwen: Regulation provides a clearer path for industry participants that are well positioned (capital and operationally speaking) such as Ocwen. Ocwen's critical mass, portfolio size and efficiency ratios position the company well to produce steady and superior industry returns. (Note: The company possesses more capital than all its non-bank competition combined.)
The non-prime renaissance has attracted some smart investors: Lee Cooperman's Omega Advisors and Kyle Bass's Hayman Capital Management have meaningful stakes in the non-prime sector. Legg Mason's Bill Miller had upbeat comments on the subprime business and Ocwen last week.
Attractive valuation: In part because of the conflict between Ocwen and the New York Department of Financial Services, Ocwen's shares are down by nearly $23 a share from its high. At about 6x 2015 consensus estimates of $5.75 a share, the shares are inexpensive by almost any standard or metric.
I am adding Ocwen's shares to my Best Ideas list at $38.
This column originally appeared on
Real Money Pro
at 11:15 a.m. EDT on April 14.
At the time of publication, Kass and/or his funds were long OCN, although holdings can change at any time.
Doug Kass is the president of Seabreeze Partners Management Inc. Under no circumstances does this information represent a recommendation to buy, sell or hold any security.