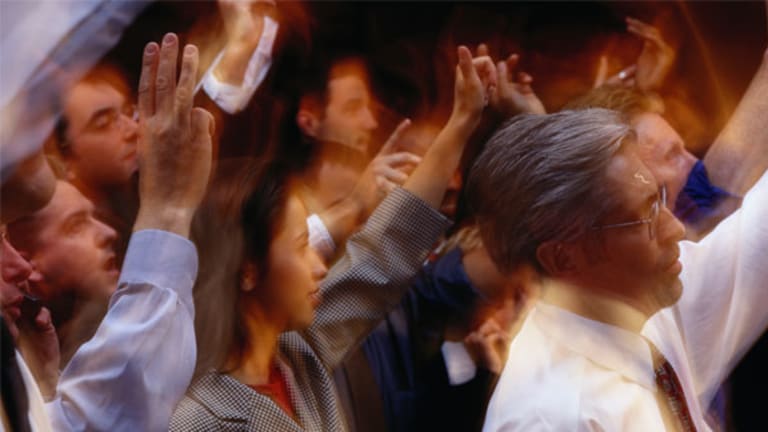 Kass: Jackson Hole Expectations
A short-lived selloff could follow the event on Friday and extend into early next week.
This column originally appeared on Real Money Pro at 7:49 a.m. EDT on Aug 30.
NEW YORK (
) --
Participants discussed a number of policy tools that the Committee might employ if it decided to provide additional monetary accommodation to support a stronger economic recovery in a context of price stability. One of the policy options discussed was an extension of the period over which the Committee expected to maintain its target range for the federal funds rate at 0 to 1/4 percent. It was noted that such an extension might be particularly effective if done in conjunction with a statement indicating that a highly accommodative stance of monetary policy was likely to be maintained even as the recovery progressed. Given the uncertainty attending the economic outlook, a few participants questioned whether the conditionality of the forward guidance was sufficiently clear, and they suggested that the Committee should consider replacing the calendar date with guidance that was linked more directly to the economic factors that the Committee would consider in deciding to raise its target for the federal funds rate, or omit the forward guidance language entirely.Participants also exchanged views on the likely benefits and costs of a new large-scale asset purchase program. Many participants expected that such a program could provide additional support for the economic recovery both by putting downward pressure on longer-term interest rates and by contributing to easier financial conditions more broadly. In addition, some participants noted that a new program might boost business and consumer confidence and reinforce the Committee's commitment to making sustained progress toward its mandated objectives. Participants also discussed the merits of purchases of Treasury securities relative to agency MBS. However, others questioned the possible efficacy of such a program under present circumstances, and a couple suggested that the effects on economic activity might be transitory. In reviewing the costs that such a program might entail, some participants expressed concerns about the effects of additional asset purchases on trading conditions in markets related to Treasury securities and agency MBS, but others agreed with the staff's analysis showing substantial capacity for additional purchases without disrupting market functioning. Several worried that additional purchases might alter the process of normalizing the Federal Reserve's balance sheet when the time came to begin removing accommodation. A few participants were concerned that an extended period of accommodation or an additional large-scale asset purchase program could increase the risks to financial stability or lead to a rise in longer-term inflation expectations. Many participants indicated that any new purchase program should be sufficiently flexible to allow adjustments, as needed, in response to economic developments or to changes in the Committee's assessment of the efficacy and costs of the program.-- Minutes of the Federal Open Market Committee (July 31-Aug. 1, 2012)
The FOMC minutes released this week embody what is likely going to be Ben Bernanke's message on Friday at Jackson Hole.
And that is very little.
The
Fed
should not be expected to (and will not likely) announce a new quantitative-easing program tomorrow.
Jackson Hole's Four D's
What the Fed chairman should be expected to do:
Deliver and reiterate the conclusions discussed in the aforementioned FOMC minutes (see above).
Detail available options left with regard to easing monetary conditions further.
Defend the success of QE1 , QE2, Operation Twist and the extension of Operation Twist.
Discuss the deficit and fiscal issues (and the importance for politicians to quickly address these headwinds).
This outcome is generally in line with consensus expectations.
The Markets
The more interesting question is -- that is, if I am correct in my assessment of what Bernanke will deliver -- what will be Mr. Market's reaction?
My guess -- and, frankly, it is just a guess -- is a quick, but short-lived selloff on Friday that could extend into early next week.
Looking beyond our noses, I remain of the view that the market could be
and that investors should
in prices in the months ahead.
Equities are trading at about 14x consensus 2012
S&P 500
earnings expectations, seemingly attractive when compared to a five-decade average of slightly more than 15x and against historically low interest rates (risk premiums remain high). But given current (inflated and vulnerable) 65-year highs in corporate profit margins, downside risk to U.S. corporate profits in 2012-2013, the threat of a steepening fiscal cliff, a still-tepid muddle-through domestic recovery susceptible to external shocks, a destabilized eurozone destined for years of subpar economic growth, the likelihood (
according to
) that the Democrats will regain the presidency and maintain control of the Senate, the increasing possibility of a harder landing in China, escalating hostilities in the Middle East (and its implications for rising oil prices), continued weak fund flows by individual investors into domestic equity funds and an increase in bullish sentiment, I see little chance of P/E expansion and a rising possibility of P/E contraction.
If asked to articulate my market concerns in one sentence, I would say, While there is a lot of global easing, neither Europe nor the U.S. is addressing the formidable and persistent structural challenges (fiscal, employment, education, etc.).
My
calculation remains (as it has for several months) at 1415 compared to the S&P close of 1410 last night. But given the risks above, there is revision risk to my model to the downside.
I continue to see the S&P 500 trading between 1300 and 1420 over the balance of 2012 (the same view I have consistently had over the past few months).
For these reasons and others, I started the day in a net short position. In fact, I stand today at the lowest gross long position and highest gross short position of the year.
Doug Kass is the president of Seabreeze Partners Management Inc. Under no circumstances does this information represent a recommendation to buy, sell or hold any security.