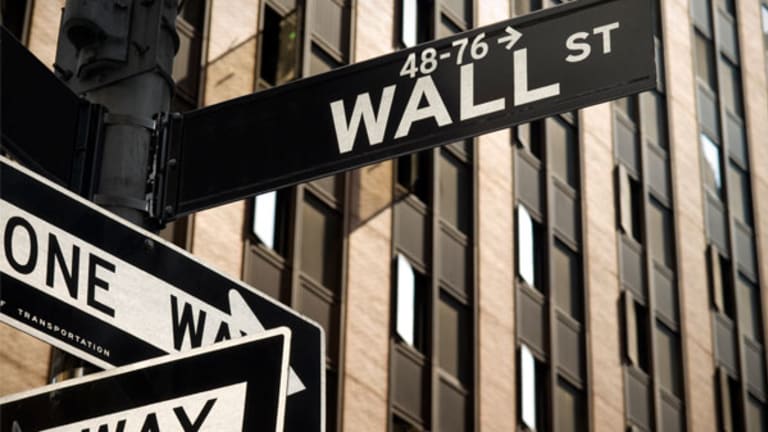 Kass: It's the Earnings, Stupid
Earnings drive stock prices, not central bankers or the notion of performance chasing.
This column originally appeared on Real Money Pro at 8:16 a.m. EDT on Oct. 23.
NEW YORK (
) --
receives an exclamation point of concern as third-quarter 2012 reports flow. Goldman Sachs reported this morning that of the companies that have provided guidance, nearly 90% have been negative. This represents an "unprecedentedly negative level."
We remain in an investment backdrop in which the only thing certain is the lack of certainty, which does not warrant large commitment to stocks.
It does, however, provide a great backdrop to opportunistic trading -- something I am committed to over the balance of the year.
This morning I wanted to revisit the notion of "the performance chase" that so permeated conversation in the media recently and has been an argument used by many as a reason why the
S&P 500
would rise to 1500 or more by year-end.
From my perch, it is a straw-man argument. It is bunk and represents a nonsensical reason to own stocks, as evidenced, in part, by the recent descent in stock prices.
Earnings drive stocks, not central bankers' money printing or a chase for performance.
Let me once again explain why the performance chase makes little sense as a reason for owning stocks.
Today there are four dominant investors:
the individual investor;
the mutual fund manager;
the large pension plans; and
the hedge fund manager.
Retail investors have shown no interest in buying domestic equity funds. They will not chase performance, as their disposable incomes are squeezed and they face employment insecurity. They are not likely to reenter the markets in the foreseeable future.
Mutual fund managers are as heavily invested as in any period of history. Their available cash reserves are miniscule.
The large corporate pension plans move slowly, so the issue of chasing performance is academic to them.
This leaves us with the hedge fund industry.
My view is that this idea (well represented in "Fast Money" and elsewhere over the last few weeks) is not true as it relates to hedge funds chasing in actuality for several reasons:
The hedge fund community is dominated by large players -- they have been the recipients of the majority of the fund flows in the last five years.
The general partners in these hedge funds (Omega/Cooperman, Greenlight/Einhorn, Pershing/Ackman et al.) have huge personal stakes in their hedge funds.
Their market views are established -- they will not change this because stocks are moving higher. That is not the way they think. They are disciplined investors who develop an investment opinion based on company and economic fundamentals, combined with the interest rate and economic outlooks.
Finally, and perhaps most importantly, these large hedge fund managers have too much respect for their personal wealth and for the money invested by their limited partners to chase the market up or down.
Late last month, I went back and forth with my friend/buddy/pal JPMorgan's Thomas Lee, who has been one of the more conspicuous endorsers of the notion of the performance chase as a source for propping up stocks in this year's final quarter.
Thomas, who is always very responsive (and very smart), responded to my column with the following:
Douglas,The S&P 500 has risen 11%-15% from mid-September to year-end in 2009, 2010 and 2011, and a big piece of this is a combination of hedge funds adding to longs and mutual funds shifting from defensive positions to higher-beta stocks.The underperformance of funds is worse this year than any other year since 1995, and mutual fund beta is the lowest in four years.So the beta chase should be more pronounced this year as a result.
I responded to Thomas with the following:
My response to you, Thomas, is that in the years 2009, 2010 and 2011, the markets were relatively weak leading up to September -- unlike 2012!!!Here is the three-year chart.
In summary, I dismiss the whole argument of a performance chase that has so permeated the investment discussion over the past month and that has been an important reason (to many) for being heavily committed to stocks into year-end.
Instead of relying on this concept of chasing performance, consider that the role of earnings will weigh on the U.S. stock market far more as we move into year-end.
At the time of publication, Kass and/or his funds had no positions in the stocks mentioned, although holdings can change at any time.
Doug Kass is the president of Seabreeze Partners Management Inc. Under no circumstances does this information represent a recommendation to buy, sell or hold any security.