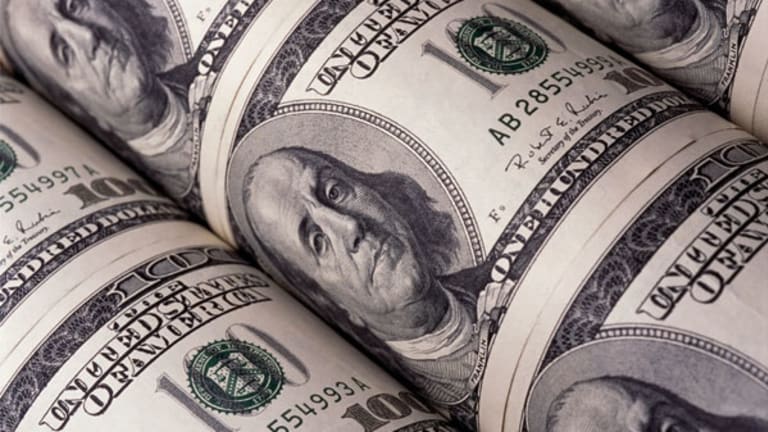 Publish date:
Kass: Housing Faces a Credit Event
I would now avoid most housing-related stocks.
I would now avoid most housing-related stocks.
This column originally appeared on Real Money Pro at 8:44 a.m. EDT on July 8.
NEW YORK (
) -- The sharp two-month climb in interest rates represents a significant credit event.
The rate rise will have reverberations for housing, on the general economy and for the U.S. stock market.
I remain of the view that many areas in both public and private sectors are far more
vulnerable to the recent rise in interest rates
than most market participants recognize.
Among the areas most impacted by a ratcheting in interest rates is housing -- the "straw that stirs the drink" of the domestic economy.
Back in early 2012, I adopted a variant view and
that housing's recovery would surprise most to the upside. And while housing's momentum has been impressive over the last year and the sector appears to have entered a long-lived recovery, I now suspect that a surprising pause (of consequence) could occur over the next six to 12 months.
I would now avoid most housing-related stocks.
A possible slowdown in the U.S. housing market will have broad economic implications - and some of the more optimistic second-half domestic economic forecasts might prove to be too optimistic. I expect no better than 3% nominal GDP growth (1.5% real) over the last two quarters of this year. Importantly, this well-below-consensus projection is a big departure from the
Fed's
official forecast of over 4% nominal GDP, which provides a guideline to monetary policy.
My more sobering economic view incorporates the recent improvement in the jobs market but recognizes the continued weakness in business capital spending and the drag from lower government expenditures combined with the anticipation of moderating retail sales and personal consumption (given a five-year low in the savings rate and the anticipated loss of refinancing-aided household cash flow).
Let's consider the ramifications of the sharp climb in interest rates since early May on the U.S. housing market. A slowdown in the residential real estate markets will pose a threat to existing- and new-home sales, home prices, builders and bank earnings and the home improvement market.
1.
Existing-home sales will suffer
. A surge in new-age purchases made by institutional investors (hedge funds, private equity, etc.) has buoyed the U.S housing market. These purchases have pushed up prices to above-consensus low-double-digit increases, sowing the seeds for a housing slowdown.
It is important to recognize that only a handful of inflated sales prices can buoy a community of homes. We can already see the pressure in a marked reduction in the participation in first-time buyers (to under 30% of national sales from 40% a year ago). Real estate maven Mark Hanson has estimated that first-time buyers' volume is down 60% to 70% in the last two and a half years.
Almost as significant as higher home prices is
the accelerated rise in conventional mortgage rates
-- almost unprecedented in terms of percentage off the lows but still low by historical standards.
But it is important to recognize that the absence of exotic loans available in this cycle compared to the previous cycle means that purchasing power has been markedly lowered. (The traditional housing affordability indices don't properly take this into account.)
As demonstrated in the chart below, it takes nearly $100,000 of income in 2013 to purchase a $523,000 home compared to only $66,000 needed in the 2000s.
Year-to-date, these two factors have reduced the purchasing power (and affordability) of buyers by more than 20%. Organic buyers' ability to move up has also been diminished, as it will grow more difficult to sell the first house and/or buy the new home.
2.
New-home sales will falter, putting pressure on home builder profits
. Some portion of the previously contracted homes that have failed to lock in a mortgage rate at the time of sale will be canceled. And, given the changing complexion of the mortgage market, it will be difficult for builders to make up the lost sales in the second half of 2013. The market has already looked through better-than-expected homebuilding earnings and pummeled merchant builder shares. More weakness may lie ahead.
3.
The rate of appreciation in home prices will be down-trending by year-end 2013
. It is important to remember that Case-Shiller's pricing index lags real prices by at least four months. It is my view that all other measurements of prices will indicate weakness/deceleration in the rate of growth in home price appreciation by the end of the year -- maybe sooner.
4.
The home improvement market will be weakened over the balance of 2013
. Shares in the well-regarded remodeling sector -- including
Home Depot
(HD) - Get Report
,
Lowe's
(LOW) - Get Report
and the like -- remain particularly vulnerable. Refinancings have historically been an important increment to household cash flows and, in turn, remodeling activity. Refinancings have collapsed, and, as a result, the outlook for durable spending is diminishing. With wage growth still moribund and the savings rate at a five- to six-year low, forward-looking personal consumption expenditure growth will likely be lethargic.
5.
Mortgage-centric banks face headwinds
. Many mortgage-dependent banks (which have been operating as little more than government mortgage brokers and refinancing machines) will be put to the test. Refinancings will likely be down by over 70% in third quarter 2013. Second-half new mortgage loans will disappoint. Despite optimism surrounding bank stock net interest margin improvement, mortgage banking will produce a hole in bank profits.
Summary
The speedy rise in interest rates will likely interrupt the strong momentum in the U.S. housing market.
A deceleration in the rate of growth in residential real estate activity/turnover and in home prices lies ahead.
U.S. economic growth will be adversely impacted by a slowdown in the recovery in the real estate market.
Sell housing-related stocks.
Similar to housing, the U.S. stock market may sour.
The sharp climb in interest rates since early May points to some prospective weakness in the U.S. housing market (measured both by sales activity and prices) and is conspiring to reduce overall domestic economic growth to levels likely unforeseen by policymakers and by most forecasters.
The drag of fiscal austerity, tax and regulatory policy will also weigh on U.S. growth.
Non-U.S. growth remains subpar
. Inflation will continue to be more of a threat than deflation.
Though the global financial condition is greatly improved from four years ago and the ECB, Bank of England and Bank of Japan are on the same ZIRP page, in this slow-growth backdrop, policy risk (of premature tapering) is heightened and represents an ever-present threat to the U.S. stock market.
Housing, in particular, seems exposed to the quick climb in rates. It remains my view that prospective homebuyers -- still shaken from an unprecedented 34% drop in home prices from the peak and in the face of stagnating wages and salaries -- are far more sensitized to costs (home prices and mortgage rates) than many believe. The fence-sitter argument (i.e., that buyers will appear as rates rise) seems to have been debunked by the recent decline in purchase applications. And given the lack of opportunities available today in the creative, no-/low-documentation mortgages of yesteryear, affordability trends in 2013, though still attractive measured by history, are becoming a stronger headwind to housing.
I would avoid housing-related equities and mortgage-centric banks in the months ahead, and I would be skeptical of the consensus forecast of a meaningful acceleration in domestic economic growth (from second-quarter 2013 estimates for real GDP of less than +2% to nearly +3% in the second half of 2013).
As to tying this all into the overall stock market's outlook, an abrupt rise in interest rates as we have just witnessed -- Friday's rate rise was the largest one-day increase in nearly five years -- need not necessarily spell doom if profits are on a strong trajectory.
Unfortunately, this is not the case, as an unsettled and volatile fixed-income market is being accompanied by a less-than-stellar profit backdrop. Second-quarter 2013 earnings (excluding financials) are forecast to drop by about 1% while top-line sales increase by only 1.5%.
Second-half earnings are being projected at nearly 10% growth.
Similar to the ambitious housing projections for 2013-2014, the U.S. corporate profit outlook seems too optimistic as well.
At the time of publication, Kass and/or his funds had no positions in the stocks mentioned, although holdings can change at any time.
Doug Kass is the president of Seabreeze Partners Management Inc. Under no circumstances does this information represent a recommendation to buy, sell or hold any security.