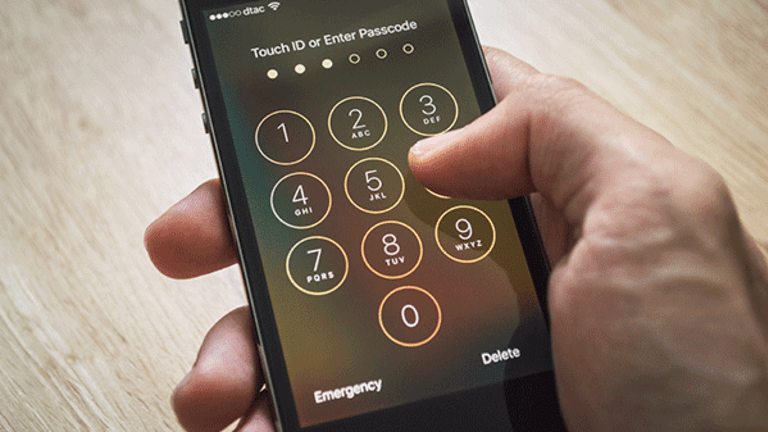 Kass: Here's Another Reason to Sell Apple: The iPhone 7
This phone is 'crapple,' says Doug Kass.
The terms that I would use to Wednesday's iPhone 7 introduction from Apple (AAPL) - Get Apple Inc. Report are "boring," "uninteresting" and "humdrum." Or as The Wall Street Journal put it, the iPhone 7 is Practical, but Not Jaw-Dropping.
Indeed, I'm reminded of an old saying: "Risk-taking is inherently failure-prone. Otherwise it would be called 'sure-thing taking.'" But as Peter Drucker also once famously said: "If you want something new, you have to stop doing old."
Frankly, it was little surprise to me when Apple revealed, for example, that it had eliminated the headphone jack with the iPhone 7. The company described that move as an act of "courage," but that's a phrase usually reserved for more meaningful and serious events. You know Apple has a potential problem when even sports bloggers are making fun of this.
From my perch, Apple is running a big risk that consumers who are already a part of the company's ecosystem will figure out at some point that they're getting ripped off by all of AAPL's expensive, proprietary peripherals. Many want the freedom to use any wireless headphones that they want -- including expensive ones they might already own -- and could easily switch away from Apple products.
And to reiterate a point that I've made previously, other companies have already long offered many of the "additions" that Apple unveiled for the iPhone 7. For example, Apple proudly stated yesterday that the phone is water and dust resistant "for the first time in the iPhone's history." But some rival phones are already water resistant, and I'd note that the iPhone 7 isn't actually waterproof.
What about the iPhone 7's much-touted vibrating home button? Apple proudly noted that this new button is "force-sensitive" -- meaning that rather than knowing you pressed the button because it clicked, it will vibrate instead. The company's marketing chief said this creates "new feelings and experiences that could not have been created before."
Nonsense! Competing products have had vibrating keys for years. Apple finally does it with one button and the company has the gall to try to spin that as some sort of innovation?
Frankly, Apple is no longer the innovator that it was under the late Steve Jobs. To me, the company seems like little more than a copycat laggard these days, selling a smart phone that has a high price relative to the competition's.
I first presented such concerns all the way back in 2012 in The Bear Case for Apple, and the short- and intermediate-term data that we've gotten since then (especially over the past three months) only supports my thesis.
For example:
Apple reported in its latest quarter that iPhone sales fell 23%, the first quarterly decline in the device's nine-year history.
The iPhone's replacement cycle was less than 24 months back in 2011, but has lengthened to nearly 30 months now.
It's true that the iPhone's upgradable installed base is large and getting larger. But the iPhone 7's new features don't seem to represent enough of a compelling proposition to prompt consumers who own the iPhone 6, 6s, 5s or other older units to upgrade. This is especially true in light of the new phone's high cost -- a $649 starting price for the iPhone 7 and $769 for the iPhone 7 Plus.
So, I expect a surprisingly large number of consumers to hold off on buying the iPhone 7, waiting instead for the the next product upgrade and the line's 10th anniversary in 2017. This further elongation of the iPhone's upgrade cycle will raise the risk of continued earnings disappointments for Apple in the quarters ahead.
The Bottom Line
To me, Apple is a mature cash cow that will not likely match its 2015 record earnings per share for many years -- if ever.
I see little product innovation that will prompt the company's large installed customer base to upgrade its smart phones, computers or Apple Watches. Nor do I see any new-product categories on the horizon that will move the company's earnings "needle" over the foreseeable future. As a result, I believe that Apple's valuation level remains significantly exposed as the company faces a period of disappointing sales, earnings and cash flow.
Here's my 12-month risk-vs.-reward forecast for Apple, which was trading at around $106 a share at last check:
Editor's Note: This article was originally published at 9:37 a.m. on Real Money Pro and republished at 11 a.m. EDT on Real Money on Sept. 8.
At the time of publication, Kass was short AAPL.