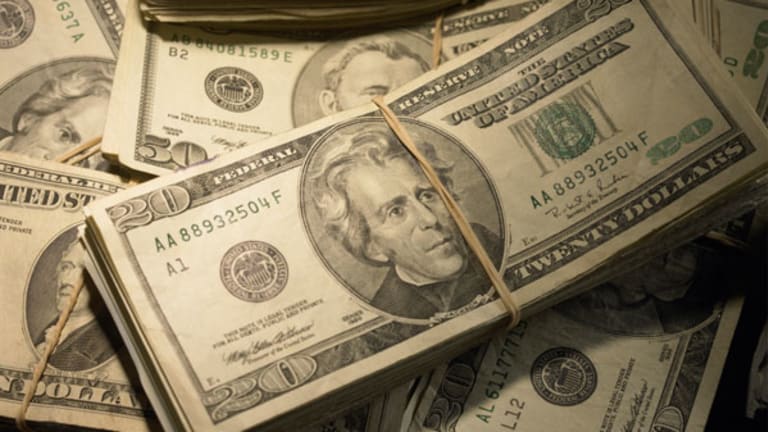 Kass: Get Ready for the Fall
It's time to say goodbye to the bullish days of summer.
This column originally appeared in two parts on Real Money Pro at 8:38 a.m. EDT and 9:30 a.m. EDT on Aug 21.
NEW YORK (
) -- It is my view that we might now be approaching a crucial inflection point in the world's equity markets.
As a result, today's column will be committed to delivering a more lengthy examination of the markets. Some of my content this morning will be transmitted from points I have previously made, and much will be new.
As most are aware, I have been growing increasingly more cautious about the U.S. stock market.
With the
S&P 500
closing yesterday's session at about 1418, the benchmark index is near the upper end of my long-held expected trading range of 1300-1420 for the remainder of the year.
It may now be time to take a variant and more negative market view. From my perch, the S&P 500 now has an asymmetric risk profile, offering more risk to the downside compared to upside reward and opportunity.
My concerns are broad-based and utilize the entire pyramid of technical/sentiment, valuation and fundamental considerations.
Most importantly, the Great Recession of 2008-2009 is turning out to be a life sentence of subpar economic growth.
Growing Complacency Could Lead to a Minsky Moment
There are times when the market gives the impression it is fading into nothingness. Volume becomes very low, trading ranges become very small, volatility becomes very low. Also, there is very little change in market levels, and day-to-day fluctuations are minimal. Looking back at history, when that happens, it is almost always a sign of a market high point.-- Dick Arms
The market has risen against a backdrop of very low volume, leading the way for high-frequency trading strategies (tied to price momentum) having an exaggerated impact on stock prices.
As stock prices have risen, investors have grown increasingly complacent, and many strategists and commentators have said that market participants should be ignoring the rotten volumes.
Renowned economist Dr. Hyman Minsky wrote that "stability begets instability ... the more stable things appear, the more dangerous the ultimate outcome will be because people start to assume everything will be all right and end up doing stupid things."
We may be at a mini-Minsky moment right now.
My friend/buddy/pal Tom Lee,
JPMorgan's
(JPM) - Get JPMorgan Chase & Co. Report
head strategist, was on
CNBC
yesterday, citing an improving market outlook based on negative investor sentiment, though he didn't expand upon his definition of negative sentiment.
There are many ways to measure investment sentiment -- for instance, the
AAII
or the
Investors Intelligence
surveys and the level of retail inflows into domestic equity funds are some of the most popular measurements.
One of my favorite ways of measuring investor sentiment is by looking at the ratio of bulls/bears who appear on
CNBC
, the degree to which the bulls are emboldened and even glib after a relentless market advance (like the current one of six to seven weeks) or when the bears preach the end of the world after every 5% to 7% correction.
But my favorite way of measuring investor complacency is by observing the
VIX
.
The VIX was originally introduced by the
CBOE
in 1993. At that time, it represented the weighted measure of the implied volatility of eight
S&P 100
at-the-money put and call options. In 2003, it was expanded to use options based on a broader index, the S&P 500, which allows for a more accurate view of investors' expectations of future market volatility.
VIX values greater than 30 are generally associated with a large amount of volatility as a result of investor fear or uncertainty, while values below 20 generally correspond to less stressful, even complacent, times in the markets.
The VIX closed last week at a multiyear low of 13.45. (It edged up to around 14 in Monday's trading.)
As can be seen in the two charts below (which compare the VIX to the S&P 500), the VIX is an uncanny forecaster of market tops and bottoms. A high and peaking VIX typically indicates a market bottom and a low and bottoming VIX often spells out a market top. (Hat tip to Barry Ritholtz's
Big Picture
blog for the charts.)
This month is the fifth time in over two years that the VIX has hit 15.0 or below (The blue circles in the first chart below indicate points of time in which the VIX closed the week at under 15.0.)
As seen in the next chart, each time the VIX made a low of around 15 or less, the S&P 500 made a decisive short-term peak (again indicated by the blue circles).
Typically, the decline in the markets, off of a low VIX is quick and relatively severe. On average the S&P dropped by about 10% (and took about two months to correct), with the smallest decline of 6% in February 2011 and the largest drop of 19% in July 2011. (If we go further back in history, the same relationships hold; complacent markets are almost always associated with market peaks and vice versa.)
The Near-Term Global Economic Outlook Is Growing Cloudy
The fundamental global economic outlook is growing murky.
Far more important to me than technicals and sentiment is that the recent market advance has taken place despite continued ambiguity regarding the trajectory of global economic growth.
Since the June 1 low in the U.S., 52% of domestic economic data has been below expectations, 11% has been in line, and 37% has been above expectations.
On Friday, the ISI Group's company survey came in at the lowest level since December 2011, and importantly, its company survey diffusion index deteriorated to levels lower than the trough levels that were hit in the summers of 2010 and 2011.
The just-completed second quarter U.S. corporate profit picture represented a clear trend of decelerating growth in both earnings and sales.
While there have been some recent signs of economic stabilization (e.g., July retail sales, leading economic indicators, production), the initial August readings of manufacturing activity in New York and Philadelphia are not encouraging. Considering the seven-week rise in gasoline prices and the continued squeeze on corn prices and on other food prices perhaps a reversal from the better July readings is a reasonable expectation. As well, with inventory growth running well ahead of end market sales, a last half of the year de-stocking also seems plausible and represents another challenge to domestic growth.
Meanwhile, as I will discuss later in this series, the outlook for growth in China and the eurozone is weakening.
This leads me to believe that the recent market rally has been anything but fundamentally based and mostly everything to do with hopes for further global easing. (More on the myths of quantitative easing shortly in the next section.)
Jeremy Grantham's (co-founder of Grantham, Mayo, Van Otterloo & Co.) recent comments below closely embody and are aligned with my own fundamental views:
Most of the more optimistic calculations and estimates that I see are based on the assumption that we will do just that, that we are homo economicus (just as in investing): rational, smart, well informed, well-intentioned, and incorruptible. Well, it just ain't so. We are badly informed, passionately prefer good news, and easily evade unpleasant facts; our views are easily manipulated by vested interests; we are sometimes desperately inefficient; and we are apparently corruptible as heck....The economic environment seems to be stuck in a rather unpleasant perpetual loop. Greece is always about to default; the latest bailout is always about to save the day and yet never seems to; China is always about to collapse but instead teases us by inching down; and I swear the Financial Times is beginning to recycle its reports! In the U.S., the fiscal cliff looms along with debt limits and the usual election uncertainties. The dysfunctional U.S. Congress continues for the time being in its intractable ways. The stock market rises and falls and rises and falls again. It is getting difficult to find anything new to say at client meetings. I, for one, wish that the world would get on with whatever is coming next.One slight change, though, is that fantastic (almost unbelievable) profit margin and earnings gains have finally weakened a little. They, together with Bernanke's super low rates, have been the twin pillars of the market and not bad ones at all: here we are up 8% (make that 11% now) for the year in a thoroughly unsettling financial and economic world. With margins weakening, one of the twin pillars is looking shaky and price declines look more likely than before.
The Myths of Quantitative Easing
There seems to be an almost universal view in the business media and on the part of many investors that quantitative easing boosts all asset prices and has a positive wealth effect, improves the housing market and buoys economic growth, lowers interest rates, improves employment, and simultaneously fails to cause inflationary fears and pressures.
In fact, recent jawboning by the
Fed
and by European leaders and central bankers is seen as almost singularly responsible for the recent rally in stock prices.
I not only view the impact of easing as waning in influence but also believe that the problem with this parsing is that history shows (QE1 and QE2) that the aforementioned positive impact is not guaranteed and not founded in fact.
In support of this view, I wanted to briefly examine five quantitative easing myths.
Myth No. 1: Quantitative easing boosts asset prices and has a positive wealth effect.
While we agree that QE has, at times, pushed up some asset prices, the problem is that sometimes the wrong assets are being pushed up in price. Our analysis shows that the previous QE programs pushed up all sorts of commodities but actually pushed down the market's valuations (P/E ratios). While there has been a close relationship between QE1 and QE2 to higher stock prices, with more easing now perceived as having less of an impact, we are less certain that QE3 could result in a positive net influence. What we do know is that prior quantitative easings produced declines in real personal income (as gasoline prices and the price of other commodities rose). If QE3 is implemented, we are concerned that the outcome will be even worse than the previous one.
Myth No. 2: Quantitative easing helps housing and buoys economic growth.
Since the Great Recession of 2008-2009, there is little evidence of a link between Fed easing and improving economic conditions. Fed easing (and a generational low in mortgage rates) during 2009-2012 failed to arrest the drop in U.S. home prices. Housing's problem was (and is) structural as the shadow inventory of foreclosed, heavily delinquent and unsold homes created an imbalance between supply and demand. In actuality, home prices and mortgage activity plummeted to new lows during QE2. It was only after QE2 ended that home prices and sales activity began to recover as the inventory began to be absorbed. The unclear link between quantitative easing and economic growth is captured by Boenning & Scattergood's Rich Farr, who recently wrote the following:
During QE1, the economy did indeed improve; however, it is impossible to prove whether or not QE had any positive impact. When the economy bottomed in first quarter 2009, stocks were near all-time lows in valuation, oil prices and interest rates had collapsed, and TARP and other fiscal stimuli were in effect. As for QE2, the economy actually slowed. During the September 2010 quarter, real GDP expanded at a 2.8% year-over-year rate. Just one quarter later (and only one month into QE2), the economy slowed to just a 2.4% year-over-year rate. In the first full quarter of QE2 (first quarter 2011), GDP grew at just a 0.1% annualized rate (or just 0.01973% quarter over quarter). The U.S. economy continued to slow on a year-over-year basis until fourth quarter 2011, well after QE2 had ended.
Myth No. 3: Quantitative easing lowers interest rates.
Most analysis we have seen of QE suggest that both QE1 and QE2 failed to lower interest rates. Indeed, interest rates rose persistently during quantitative easing.
Myth No. 4: Quantitative easing lowers the unemployment rate.
Jobless claims rose during QE2. The problem with the U.S. jobs market is not a function of lack of liquidity or that interest rates are too high. Rather, housing's problem in the past was one of an imbalance between demand and supply and now stems principally from structural unemployment. The factors contributing to continued elevated joblessness -- namely, technological innovation, globalization, reduced mobility (after a 35% drop in home prices), a mismatch between available talent and employer needs and the fact that corporations (facing the costly burden of regulation, health care and taxes) have opted to make temporary employment a more permanent feature of the workplace -- are not going away and are not easily solved.
Myth No. 5: Quantitative easing fails to cause inflationary fears and pressures.
The recent drop in inflation occurred only after QE2. Again back to Rich Farr:
When QE was enacted in November 2010, headline CPI was just 1.1%. In the months during and shortly after QE2, headline CPI surged to nearly a 4% annual rate! Although inflation has slowed since then, prices have not declined. Rather, prices are merely going up at a slower pace. Thus CPI is still 1.5% higher than it was a year ago, when QE ended. All told, the CPI index currently stands at 4.2% above where it was when QE2 was enacted just 20 months ago (a 2.5% annual rate). These lingering effects can still be witnessed in "core" CPI, which is still up 2.2% year over year. The Fed must recognize that there is actual inflation as well as expected inflation. The market reacts to expectations, and many times may overreact to inflationary monetary policy from the Fed. If the market believes that future inflation will be higher than any benefit from the Fed's attempt at lowering interest rates, then rates will rise, not fall, from Fed actions.
Summing Up My Concerns
"We still need the development of some events that are going to scare the hell out of people. That's what gives rise to that great environment where everybody wants to sell and nobody wants to buy. That's the raw material for our greatest returns." -- Howard Marks, Chairman of Oaktree Capital Management (OAK) - Get Oaktree Capital Group, LLC Class A Report
Howard Marks' quote above rings true to me. There will likely be better times than now to be buying stocks at the margin.
I am very concerned about the potential for a disappointing downturn in corporate profits, the likely deterioration in China's economy and a more rapid decline in the eurozone's economy than is generally expected in the months ahead.
I will move back into a long position when conditions dictate, but, for now, with extreme levels of complacency, I am more bearish than I have been in a while. Time and time again, what I have learned throughout my investment career is that market participants prefer the comfort of crowds rather than the company of the remnants.
Investors and traders, as demonstrated in recent years, seemingly prefer to buy strength and sell weakness than to address, anticipate and prepare for an inflection point or change in market direction.
That helps to explain why the recent low-volume market rise has been greeted with growing optimism by relatively complacent investors.
That said, the chart below on the S&P 500 (when combined with the low VIX reading previously discussed) suggests that a possible and classic triple-top in the market might be in formation. (If this turns out to be a triple top, a yearly market high might be close at hand).
Valuations Are Reasonable, but...
On valuation, stocks now seem fairly priced relative to projected 2012 S&P profits -- the index is almost exactly at my fair market valuation of 1415. At slightly over 14x earnings, today's P/E ratio compares favorably to a five-decade average of about 15.2x and seems fairly priced against private market values and other metrics.
Nevertheless, I view the elevated profit margins that support trailing earnings as vulnerable to downside surprises. And though stock prices are inexpensive to interest rates (the risk premium), we must recognize the artificiality of interest rates that form the basis of any interest-rate-dependent discounted share price value calculation. Finally, unlike the last 50 years, the domestic economy (and that of the world's economies) is laden with historically high debt loads and structural economic challenges.
Bullish Strategists vs. Bearish Executives
As mentioned earlier, valuation, technical discovery and analysis and sentiment are not my primary market weather vanes; it is the fundamentals that principally dictate our investment process.
And, on the fundamental score, the outlook is stormy, with slowing global economic growth being ignored by the hope of more Band-Aid policy initiatives (a global easing put) and the prospects that our leaders in Washington, D.C., will begin to behave like adults as we approach the fiscal cliff.
Should we listen to the strategists with 1500 S&P price targets or play closer heed to executives such as
Caterpillar
(CAT) - Get Caterpillar Inc. Report
CEO Doug Oberhelman, who in a
Financial Times
interview over the weekend said "the global economic outlook is more uncertain than at the start of the crisis in late 2008?" He went on to repeat what he previously said in his second-quarter 2012 earnings statement -- namely, that it is harder to predict what would happen to the global economy over the coming year that at any other point of his near 40-year career?
I prefer the reality of the latter to the theory of the former.
Five Near-Term Market Headwinds
Speaking of reality, I see five near-term fundamental market headwinds:
The selection of Paul Ryan may be viewed as a negative market influence based on the reduced likelihood of more monetary easing and on the growing enmity between our political parties that could steepen the fiscal cliff. The good news is that Ryan's candidacy will likely produce a more serious policy dialogue between the Republicans and Democrats. I admire Ryan's rigor and commitment to policy, but there reasons why we see market downside to Romney's decision to pick Ryan, all presenting serious but different short-term market challenges. Ryan's extremely conservative views and his opinion on the Fed's mandate (and the waning influence of its easing policy) will likely steepen the fiscal cliff given the increasing ideological schism and division between the two parties. Moreover, Ryan's presence could weigh on and reduce the probability that the Fed will ease further in the weeks ahead. Ryan has previously stated that he would replace Fed Chairman Bernanke at the end of his term in 2014. Finally, besides the stark differences in policy, Paul Ryan's austere budget views could raise concerns about the trajectory of domestic economic growth in 2013.
Governor Romney remains well behind in the polls. Generally speaking, the Republican candidate is seen, by most investors, as a business and market positive relative to the Democratic candidate. While it is still early in the election process, the initial polls suggest the Ryan decision has not positively impacted Governor Romney's election prospects as voters appear to have shown little enthusiasm for his pick. On Intrade, Obama stands at 57.4% compared to 58% last week, before the Ryan disclosure was made. A USA Today poll found "42% saying Ryan, a Wisconsin Republican and chairman of the House Budget Committee, was either a fair or poor choice as Romney's running mate, while 39% called him an excellent or pretty good pick." This negative rating was the highest since a Harris Poll in 1988 followed the announcement of Dan Quayle's candidacy. An ABC/Washington Post poll found 38% had a favorable opinion of Congressman Ryan, 33% held an unfavorable view, and 30% expressed no opinion.
Europe continues to contract despite Draghi's jawboning. Not only is Europe slipping more rapidly into a deeper recession but the implementation of serious and effective longer-term policy responses remain unlikely. Band-Aid policy measures of providing liquidity remain the operative palliative, and it will likely continue for some time to come. Easing and the temporary purchase by the ECB of sovereign debt from peripheral countries will not durably counter insolvency. Ultimately, the solvency problem will be addressed by a painful debt restructuring. While Europe is geographically united, it is culturally and politically diverse, and a surrender of national sovereignty to the required extent necessary is unlikely. In time, the euro will probably be pulled apart as tensions increase across geographic and socioeconomic fault lines.
China's landing might be harder than previously thought. This important regional economic growth driver continues to suffer from disappointing growth. The report 10 days ago of punk Chinese exports and imports was particularly worrisome.
Geopolitical risks are rising (and so are energy prices). The specter of increased hostilities in the Middle East has served to raise crude oil prices recently. (The price of gasoline has risen by almost $0.25 in the last three weeks alone.)
Conclusion
In conclusion, rather than grow more constructive with higher stock prices (fueled by low volume and a contracting number of new highs), I have grown more cautious over the near term, based principally on what I see as a blurring in the demarcation between global economic progress and fantasy as well as the political and geopolitical issues raised above.
Accordingly, at current levels, most investors and traders who share my views might consider below-average exposure to the U.S. stock market. More aggressive investors might ponder shorting opportunities in the days and weeks ahead.
At the time of publication, Kass and/or his funds were long OAK/short SPY, although holdings can change at any time.
Doug Kass is the president of Seabreeze Partners Management Inc. Under no circumstances does this information represent a recommendation to buy, sell or hold any security.