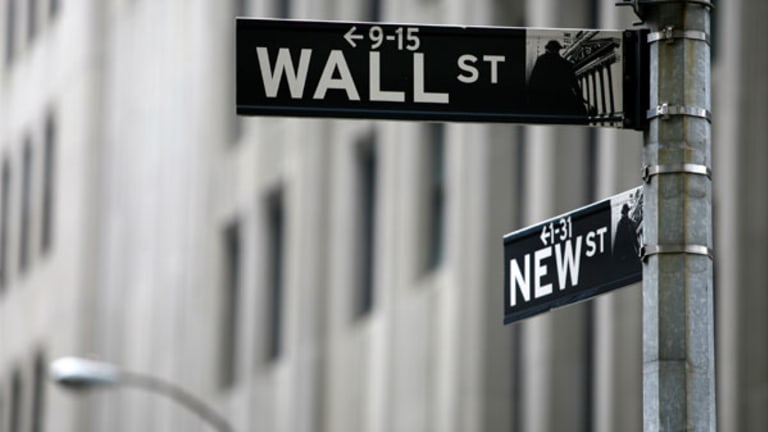 Publish date:
Kass: Flawed Case for a Bull Market
Utilizing raw earnings to justify current valuations is misplaced logic that rationalizes the irrational.
Utilizing raw earnings to justify current valuations is misplaced logic that rationalizes the irrational.
Joe Kernen: So tell me, Jim, what are your thoughts on the U.S. stock market?
Strategist: Stocks are cheap, trading at only 15x my 2014 estimate of $120 a share for the S&P 500. That's in line with the historic averages. But stocks are cheap with the 10-year U.S. note yielding under 3% compared to around 6% over the last five or six decades.-- An imaginaryCNBC "Squawk Box" interview between Joe Kernen and a strategist
The above conversation, though not real, has grown more popular and repetitive, embodying the market narrative these days with any of a number of market strategists. The simple market logic template is being trumpeted ad nauseam throughout the day in the business media not only on
CNBC
but also on
Fox Business
,
Bloomberg
, financial blogs and other media venues.
This morning's opening missive attempts to address and possibly refute the logic of this accepted (and simple) valuation argument that embraces the essence of current bull market thinking.
Misconstrued Valuation Calculation
The cornerstone of the bull market case is that valuations are reasonable and not excessive by historical standards. It is further argued by the bulls that given the low rate of inflation (and inflationary expectations) and very low interest rates, the current level of valuation is justified and even inexpensive.
The conventional method of calculating P/E multiples based on stated or raw earnings is, arguably, a fundamentally flawed approach that assumes currently elevated profit margins and profits are sustainable. Indeed, measures that normalize margins have almost always correlated better to U.S. stock market performance over history.
It is only the cyclical (and elevated) position of profit margins that prevents recognition that equities are richly valued.
I would argue that to utilize earnings that reflect profit margin that are more than 70% above the norm (over a documented span of over 65 years) is an aggressive assumption and fails to adjust for the unique and changing conditions that contributed to the sharp improvement in margins since 2009 -- all of which are deteriorating and likely putting renewed pressure on margins.
Investors should consider evaluating current valuations from the context of normalized earnings not based on today's elevated (raw) profits and profit margins.
How Will the Variables That Produced High Profit Margins Trend Going Forward?
There are three important factors that have contributed to unusually high corporate profit margins -- all of which have begun to reverse.
Corporate interest expenses have experienced a marked reduction. Generational low interest rates have boosted margins dramatically. Over the weekend, Barron's' Randy Forsythe quotes MacroMavens' Stephanie Pomboy, who submits that lower rates have contributed more than $300 billion to aggregate corporate profits since 1997. In all likelihood, interest rates will rise over the next several years, perhaps materially, driving corporate interest expenses higher.
Effective corporate tax rates have undergone a steady decline. Through offshore tax havens and other methods, corporations have consistently lowered their taxes. (Note: I fully discussed this trend earlier this year in "Addressing the Fiscal Cliff."). The reduction in corporate interest expenses (above) combined with lower effective tax rates have contributed to more than one third of the improvement in corporate profit margins. In all likelihood, tax rates will climb over the next several years, as our leaders in Washington, D.C., address the ballooning deficit.
Corporations have reduced their fixed costs by cutting overhead, shedding jobs and making temporary workers a more permanent part of the workforce. Year-over-year productivity growth in third quarter 2013 was zero compared to +0.2% in second quarter 2013 and as contrasted to significant gains over the past five years. Productivity growth has slowed steadily over the past year, as year-over-year unit labor costs are now +1.9%. Corporations have cut to the bone, and productivity gains are in the process of reversing now.
Let's take a look at the chart below, which depicts how elevated after-tax corporate profit margins are relative to GDP and how rapid the improvement has been in the last four to five years.
Indeed, the series today stands at the highest level in almost 70 years.
The chart represents the greatest risk to the valuation case for U.S. stocks, as, over history, profit margins are among the most mean-reverting economic series extant.
Raw P/E and raw price-to-forward-operating-earnings look reasonable only because profit margins are about 70% above their long-term norms.
Other Valuation Metrics Yield Extreme Readings
Every ounce of my cynicism and analysis is supported by historical precedent.
With the assistance of Dr. John Hussman, the elements of my overvaluation case are underscored by the following seven items that look beyond raw earnings:
1. The median price-to-revenue ratio of the S&P 500 is now at an historic high, eclipsing even the 2000 level.
2. The Shiller P/E is above 25, exceeding all observations prior to the late-1990s' bubble except for three weeks in 1929.
3. Market cap-to-GDP is already past its 2007 peak and is approaching the 2000 extreme.
4. The implied profit margin in the Shiller P/E (denominator of Shiller P/E divided by S&P 500 revenue) is 18% above the historical norm. On normal profit margins, the Shiller P/E would already be 30.
5. If one examines the data, these raw valuation measures typically have a fraction of the relationship to subsequent S&P 500 total returns as measures that adjust for the cyclicality of profit margins (or are unaffected by those variations), such as Shiller P/E, price-to-revenue, market cap-to-GDP and even price-to-cyclically-adjusted-forward-operating-earnings.
6. Because the deficit of one sector must emerge as the surplus of another, one can show that corporate profits (as a share of GDP) move inversely to the sum of government and private savings, particularly with a four- to six-quarter lag. The record profit margins of recent years are the mirror-image of record deficits in combined government and household savings, which began to normalize about a few quarters ago. The impact on profit margins is almost entirely ahead of us.
7. The impact of 10-year Treasury yields (duration 8.8 years) on an equity market with a 50-year duration (duration in equities mathematically works out to be close to the price-to-dividend ratio) is far smaller than one would assume. Ten-year bonds are too short to impact the discount rate applied to the long tail of cash flows that equities represent. In fact, prior to 1970, and since the late-1990s, bond yields and stock yields have had a negative correlation. The positive correlation between bond yields and equity yields is entirely a reflection of the strong inflation-disinflation cycle from 1970 to about 1998.
Slow Growth and a Challenging Profit Landscape Lie Ahead
My argument today might be rendered moot if global economic growth would begin to accelerate meaningfully -- in that case, corporations would achieve operating leverage -- or if interest rates would stay abnormally low.
These are not my core expectations.
The profit landscape remains challenged, and interest rates, in the fullness of time, will be rising.
For 2013, I expect a below-consensus forecast of between $107 and $109 a share for S&P profits (the consensus is for full-year profits of $109 a share). For 2014, the consensus estimates that the S&P 500 will achieve profits of about $116 to $120; my base case estimate is for $112 to $114, a gain of under 5% (year over year), which, is, again below consensus.
Slowing sales, a contraction in margins, the reduced influence/benefit from aggressive monetary policy and political uncertainties are some of the reasons why my baseline earnings expectations are for below-consensus 2014 S&P profits.
Optimism Swells With Higher Stock Prices
"Show me somebody who is always smiling, always cheerful, always optimistic, and I will show you somebody who hasn't the faintest idea what the heck is really going on." -- Mike Royko
The strength in stocks throughout most of 2013 has been consistent and spectacular, and arguments such as what I have expressed in today's opening missive have fallen on deaf ears.
The reality is that shorts have been a hedge against profits.
That said, most people get interested in stocks when everyone else is, but the time to get interested is when no one else is.
This is certainly not the case today, as investor sentiment and higher stock prices have turned almost universally optimistic these days.
But a public opinion poll is no substitute for thought.
Near the end of enormous upside moves such as we have experienced since the generational bottom in March 2009, analysis often goes unquestioned as new-era thinking is embraced, something I
in last week's "10 Laws of Stock Market Bubbles."
We are beginning to hear new-era thinking -- a view of a long boom of self-sustaining economic and profit growth (and, importantly, profit margin stability) similar to what was offered in mid-1997 in what became a
in
Wired
.
We all know how badly the dotcom/technology era ended a few years after the aforementioned misguided view of a long boom.
My argument today is that using raw earnings to justify current valuations might be misplaced logic, as, from my perch, the irrational is being rationalized.
At the least, the reward vs. risk remains unattractive in the U.S. stock market.
At the worst, a
may lie ahead in the not too distant future in which asset values drop following a lengthy period of prosperity and increasing value of investments.
This column originally appeared on
Real Money Pro
at 8:06 a.m. EST on Nov. 18.
At the time of publication, Kass and/or his funds were short SPY, although holdings can change at any time.
Doug Kass is the president of Seabreeze Partners Management Inc. Under no circumstances does this information represent a recommendation to buy, sell or hold any security.