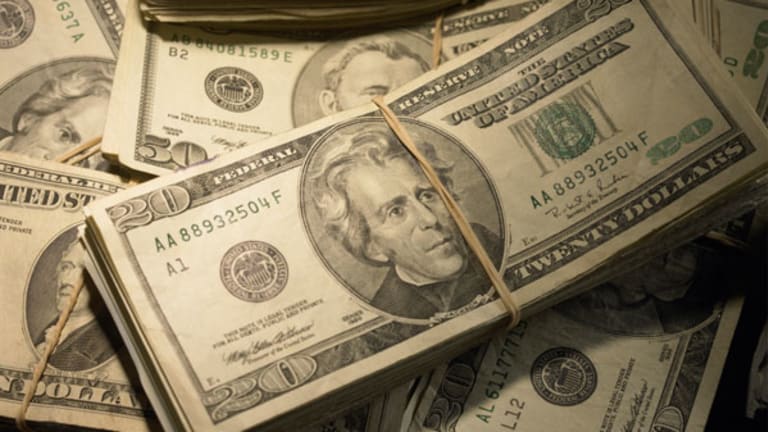 Kass: Fair Market Value Update
My fair market value for the S&P 500 is now 1415, up from 1390, so the market is now fairly valued.
This column originally appeared on Real Money Pro at 7:00 a.m. EDT on Oct. 29.
NEW YORK (
) --
I am concerned that, come the fourth quarter of 2012, the emerging freeze in capital spending orders will reverberate through the production channel and become a freeze on job creation, creating a rippling and negative impact on domestic economic growth. And, while the Fed chairman "has our back," I am less optimistic that most that the Fed's actions will result in the intended benefits.Indeed, I believe that more easing could have a negative aggregate impact on the trajectory of the domestic economy. Some of the potential unintended consequences of another bout of quantitative easing include higher commodities prices, especially of an energy kind, as well as putting more pressure on the savings class.With the likely projected course of domestic growth still subpar over the next two quarters, the recovery remains vulnerable to any of a number of external shocks, which could include Draghi not being able to deliver a recipe to reduce sovereign debt yields(and/or a coordinated growth plan for the eurozone), an Iran-Israel confrontation (and its unfavorable impact on gasoline prices), a Democratic presidential and Senate victory (seen as business- and market-unfriendly) and a harder-than-expected deceleration in China's economy (that would likely result in a sharp drop in commodities and a curtailment in China's participation in buying U.S. debt).As mentioned in my last fair market calculation, the growth risks continue to be on the downside.To summarize, in large measure, the worsening macroeconomic situation in Europe, China and the U.S. is leading me to modestly reduce my calculation of the S&P 500's fair market value from 1415 to 1390, which is about 1% below the cash level at Friday's close of trading (1407).-- Doug Kass, " Fair Market Value Update" (Sept. 4, 2012)
As seen above, the last time I did this exercise in early September, I projected the fair market value of the S&P 500 at 1390, and I anticipated that the range of the S&P for the last four months of the year would be between 1300 and 1420.
The S&P breached the top of my projected range by about 55 points and currently resides at 1411, or within 20 points of my previous fair market value. (So far, so good!)
Today I am slightly raising my fair market value calculation from 1390 to 1415. (S&P cash closed on Friday at 1411, basically on top of my fair market value.)
As
in my "The Business of Politics" column last week, I expect, depending on the closeness of the November election, for the S&P to be in the range of 1375 to 1460. We are stuck in the middle today.
As I look toward the balance of the year, I am certain that uncertainty will be the operative word.
It remains my view that the challenging earnings landscape represents the principal enemy to the U.S. stock market.
The slowdown in global economic growth has reduced top-line sales to an anemic rate of growth during a time when cost increases are eclipsing modest revenue growth. The result is that profit margins, already near 60-year highs and more than 300 basis points above the long-term trend line, are vulnerable. A mean reversion in corporate profit margins has been a constant theme of mine over the past 12 months. The most vulnerable sectors include materials, industrials, energy and technology -- namely, those areas that are tied to global growth.
Slowing sales and a contraction in margins is why my baseline expectation is for well-below consensus 2013 S&P 500 profits of about $100 a share or less (again, depending on the closeness of the election). This compares to the top-down consensus of $108 a share and bottom-up consensus of $113 a share.
What has been the recent trend in sales and profits?
As of a week ago, 115 S&P 500 companies have reported third-quarter 2012 results. If we take out financials, the year-over-year earnings change has been down 2.5%, slightly ahead of consensus but representing the first decline since third quarter 2009. According to Street sources, 59% of the companies have beaten expectations. A year ago, 69% beat expectations. This (59%) is the lowest percentage beat since the recovery began three years ago, well below the 72% average since the profit recovery began and in line with the long-term average of beats to consensus forecasts. By contrast, 27% of the 115 reporting companies have missed relative to expectations compared to only 21% in the year-ago third quarter. This compares to the long-term average of 19% of the companies missing relative to expectations.
On the revenue side, the results have been particularly weak, with the average company reporting only 0.4% year-over-year growth and up 2%, taking out financials. Sales growth is missing consensus by 1.3 points, and just 28% of the reporting S&P 500 companies are beating sales consensus while 51% are missing.
I expect weak nominal GDP growth in the U.S in 2013. This, coupled with a recession in EU and further deceleration in emerging markets, suggest that the sales and profit weakness in third quarter 2012 will be with us for some time to come. It is for this reason that the market's upside appears limited, even though central bankers around the world are injecting an avalanche of liquidity.
U.S. real GDP expanded at about a 2% rate in the just-concluded quarter, a slight reacceleration from the previous three-month period. But, with rising gasoline and food prices, a weakening in refinancing activity, political uncertainty and fears of a fiscal cliff, aggregate growth will be hard-pressed to improve from the 2% growth rate in fourth-quarter 2012.
Today's new fair market value calculation of 1415 incorporates the following:
There is no change in the probabilities in my scenario analysis.
Reflecting the continued and surprisingly low-interest-rate environment, I have modestly increased the P/E ratios applied to each of the four outcomes.
Profit forecasts for 2013 are being revised slightly lower in light of actual third-quarter results, weakness in sales and generally punk guidance.
"Investing is an art form that requires probabalistic decision-making using imperfect information about an inherently unknowable future." -- Barry Ritholtz, The Big Picture
Since I began this exercise I have tried to be consistent with methodology, reasonable in my profit forecasts, and I have applied sensible valuations. Again, I want to emphasize that my methodology, though appearing precise, recognizes the difficulty of attaining investment precision given the numerous moving parts (economic, interest rates, sentiment/psychology, political outcomes and other exogenous factors) in its calculation. It is intended more as a thoughtful guideline (of reasonable expectations/outcomes) than an exercise that should be taken literally. (I strongly recommend that subscribers input their own probabilities and outcomes in order to produce their own market expectations.)
Scenarios Analysis
Below are the criteria and methodology I use to evaluate the S&P 500 and upon which I conclude that fair market value is approximately 1415, up from my prior forecast of 1390 and almost exactly at Friday's close of 1411.
Scenario No. 1 -- Economic Reacceleration Above Consensus
(probability stays at 2.5%): The pace of U.S. economic recovery reaccelerates to above-consensus forecasts (3%-plus 2013 real GDP growth) based on pro-growth fiscal policies (following a grand political compromise) geared toward generating job growth, corporate profit margins being preserved (with low inflation and contained wage growth), interest rates remaining low and durable spending (housing and autos) recovering sharply as pent-up demand is unleashed. The $550 billion fiscal cliff is whittled down to only about $150 billion, subtracting less than 0.5% from 2013 real GDP. Europe stabilizes (and experiences only a shallow recession), and China has a soft landing (with 2013 GDP growth tracking in excess of 8%). S&P 500 profit estimates for 2013 are raised to a range of between $110 and $113 per share. Stocks, valued at 16x (compared to previous 15.5x) under this outcome, have 26% upside over the next eight months. S&P target is 1785.
Scenario No. 2 -- Recession
(probability stays at 2.5%): The U.S. enters a recession precipitated by a loss of business and consumer confidence, which produces a fall in manufacturing output and personal consumption expenditures. The Democratic and Republican parties grow more contentious, partisan and unequivocal in position following a very close election won by either President Obama or Governor Romney. The schism between the two parties persists, leading to rancor similar to the summer debt-ceiling deliberations and acrimony of August 2011. Confidence deteriorates further, and the housing market seizes up as bank lending becomes more restrictive when the fiscal cliff is not remedied/addressed -- the fiscal drag to GDP is -2% to -3%. The Fed announces a plan to expand its buyback of U.S. Treasury bonds in addition to mortgage-backed securities in the first half of the year, but more easing fails to contain the economic weakness caused by a developing negative feedback loop. A series of European bank failures and EU sovereign debt defaults contribute to a deepening European recession and a hard landing in China and India. S&P 500 earnings estimates for 2013 are materially reduced to a range of between $70 and $80 per share. Stocks, valued at 12.5x (up from previous 11.5x) under this outcome, have 33% downside risk over the next eight months. S&P target is 940.
Scenario No. 3 -- Below-Consensus Economic Growth
(probability stays at 55%): The U.S. experiences a disappointing sub-1.5% real GDP growth rate, Europe experiences a medium-scale recession, and China's economic growth modestly disappoints relative to expectations. The Fed announces a plan to expand its buyback of U.S. Treasury bonds in addition to mortgage-backed securities -- the policy has a modestly favorable impact on aggregate growth. Either party wins in something less than a close election. The fiscal cliff is reduced by less than half (to $275 billion to $350 billion). The S&P 500 profit forecast for 2013 is reduced to levels slightly below 2012's results and to a below-consensus range of between $95.00 and $97.50 per share, as corporations' pricing power is limited and profit margins are pressured. Stocks, valued at 14x (up from previous 13x multiplier) under this outcome, have 5% downside risk over the next eight months. S&P target is 1345.
Scenario No. 4 -- Muddle Through
(probability stays at 40%): The U.S. muddles through, with 1.5% to 2.5% real GDP growth, and the European economies suffer a modest (but contained) business downturn. China's and India's economies grow in line relative to consensus forecasts. The Fed announces a plan to expand its buyback of U.S. Treasury bonds in addition to mortgage-backed securities -- the policy has a modestly favorable impact on aggregate growth. My baseline case of a comfortable Obama presidential victory, Democrats keeping control of the Senate and the Republicans retaining control of the House comes to pass. The fiscal cliff is reduced by half (to $275 billion). S&P 500 profits for 2013 trend toward a range of between $100 and $103 per share as some modest margin slippage occurs (coincident with escalating inflationary pressures). Stocks, valued at 15x (up from previous of 14.25x multiplier and near 50-year historic average) under this outcome, have 8% upside over the next eight months. S&P target is 1520.
How Do I Use My Fair Market Value Exercise in Actual Practice?
I use this exercise as a guide to portfolio management.
The natural question to ask is, If I believe (as I currently do) that the market is fairly valued at 1411, why be 50% invested in equities in a long-only portfolio?
The answer is obvious.
At any given time, individual stocks are overvalued and undervalued. This is particularly true today since there is so much uncertainty in fiscal (and monetary) policy, in political outcomes and with regard to business and consumer reaction to these events.
As I have said recently, the only certainty is that there now exists a large degree of uncertainty.
This allows investors and traders to pick sides on the issues and make their bets on the market, on industry sectors and on individual equities.
Doug Kass is the president of Seabreeze Partners Management Inc. Under no circumstances does this information represent a recommendation to buy, sell or hold any security.