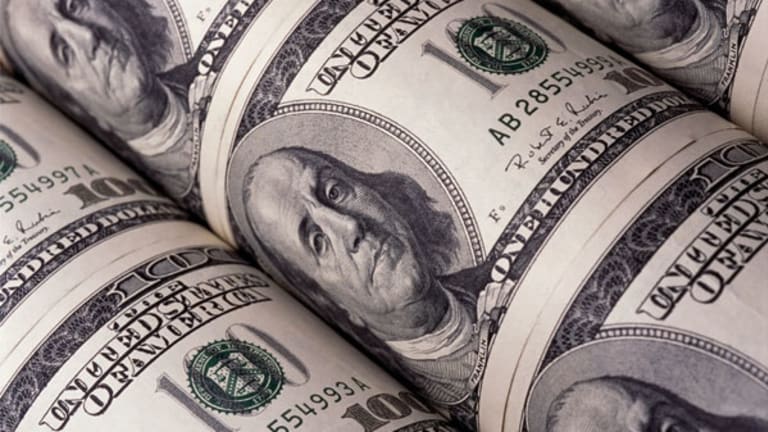 Kass: Facebook-WhatsApp Fallout
The transaction fueled the bubbly action in the market leaders early in 2014.
Worshiping at the altar of price works -- until it doesn't. New tech and social media companies are nothing more than information aggregators driven by advertising that have been insanely overpriced.Twitter (TWTR) - Get Twitter, Inc. Report, as measured by its short interest, is among the most hated. There is a reason why investment bankers priced its IPO only a few dollars more than the initial indication -- they couldn't get a higher valuation. Twitter may be a great platform and concept, but the brain power and luck it will take to make it a sustainable $10-billion-plus company will be greater than what it took to create it from scratch.Despite the recent drop in the Nasdaq, Facebook (FB) - Get Meta Platforms Inc. Class A Report still possesses a $140 billion market cap. Twitter's capitalization exceeds $24 billion. LinkedIn (LNKD) trades at a market cap of more than $19 billion and a cool 750x earnings. Salesforce (CRM) - Get salesforce.com, inc. Report, which has been an awful stock, still has a $32 billion market cap (with financial statements that belong in the clouds because they are so damn confusing). Tesla (TSLA) - Get Tesla Inc Report, down $60 from its high, is still priced as if gasoline won't have a commercial use in five years. Zillow (Z) - Get Zillow Group, Inc. Class C Report, although its commercials are touching, is priced at 20x sales, and last time I checked, it sells advertising and subscriptions. Then there is Yelp (YELP) - Get Yelp Inc Report, a collection of restaurant (and other) reviews, clocking in at 20x revenue.Bottom line: Avoid the whole social media space and cover your ears when talking heads, people in flip flops with MBAs and those walking into traffic on their smartphones tell you otherwise.As to the broader market, short in May and go away.-- Doug Kass, "Short in May and Go Away," Real Money Pro (April 30, 2014)
The beta earthquake that recently produced a return to Earth of the anointed, high-growth market leaders' stock prices has only begun to bring back reality into the markets.
The earthquake also revealed (and is a constant reminder of) the idiocy and irrational behavior of managements when the markets allow them to be relieved of common sense.
Case in point: Facebook's acquisition of WhatsApp.
To remind everyone, Facebook acquired WhatsApp for $19 billion in February.
In my view, the acquisition will eventually be known as the second worst in history -- only rivaled by the 2000 merger between
AOL
(AOL)
and
Time Warner
(TWX)
.
Then and Now
Though mostly a stock deal ($4 billion in cash, $15 billion in equity), perhaps Facebook should have waited a bit longer to make the $19 billion deal.
Below is a table of four leading social media stock prices on the day that WhatsApp was acquired by Facebook (Feb. 19, 2014) vs. yesterday's closing prices:
And below, courtesy of
BTIG's
Dan Greenhaus, is the broader carnage of some of the market leaders thus far in 2014:
The
S&P 500
closed on Feb. 19 at 1840 -- it was lower than it was at Tuesday's 1865 close!
The broad market is still flat on the year amidst this carnage, but if this is history rhyming (i.e., out of momentum stocks and into perceived value and safe havens), I have
that the rotation and leadership change could portend a more significant market correction than we have already experienced.
The AOL-Time Warner Template
"We are emerging from not just old media but from an analog world into a digital world, and philosophically people are beginning to understand that the digital world is a transformational universe." -- Gerald Levin, Chairman of AOL-Time Warner (2000)
Facebook's purchase of WhatsApp for $19 billion dollars can only be described as insanity. In all likelihood this purchase will go down as one of the most inflated acquisitions in history.
Today, as I listen to "Squawk Box's" Becky Quick interview the CEO of (the new) AOL -- its first-quarter results were just released -- I am reminded of the pendulum of corporate history and that we seem to have returned to the days of yesteryear when AOL and Time Warner celebrated their merger 14 years ago.
Although AOL had less than half of Time Warner's cash flow, the shareholders of AOL received 55% of the combined entity.
The wisdom of the AOL-Time Warner merger was simple. Time Warner had the content and broadband infrastructure, while AOL, then the world's largest Internet service provider, acted as a gateway to the Web for some 20 million subscribers.
Only three years after the largest merger in corporate history (in 2003), AOL Time Warner took
a $98.7 billion goodwill impairment charge
in writing down the value of the America Online unit, and Ted Turner resigned as vice chairman of the combined companies.
Both the AOL-Time Warner and Facebook-WhatsApp mergers predominantly used stock; both mergers were heralded as being transformational.
One merger bombed; the other one will as well.
In the fullness of time, probably sooner than later, the WhatsApp deal will likely yield a $19 billion write-off, mimicking
the ill-fated AOL-Time Warner deal
.
I use WhatsApp's product/service. It is an instant message chat room, literally nothing more and nothing less. I am not certain, but I believe WhatsApp has no revenue.
Below are some relevant Facebook-WhatsApp deal articles:
History Rhymes
"What we have learned from history is that we haven't learned from history." -- Benjamin Disraeli
There is always a fine line between insanity and brilliance.
In the final analysis, that's what's up with WhatsApp -- it's insanity cubed.
From my perch, I would declare this deal as dead at birth.
The transaction stepped over that line and gave fuel to the final bubble-like move in the market leaders early in 2014.
Just as I successfully avoided and shorted AOL on the announcement of the Time Warner merger, I have no interest in ever investing in Facebook, the management of which gave birth to the ludicrous WhatsApp transaction.
To paraphrase another disruptive innovator, Thomas Edison, vision without value is hallucination.
This column originally appeared on
Real Money Pro
at 9:08 a.m. EDT on May 7.
At the time of publication, Kass and/or his funds were short TSLA, although holdings can change at any time.
Doug Kass is the president of Seabreeze Partners Management Inc. Under no circumstances does this information represent a recommendation to buy, sell or hold any security.