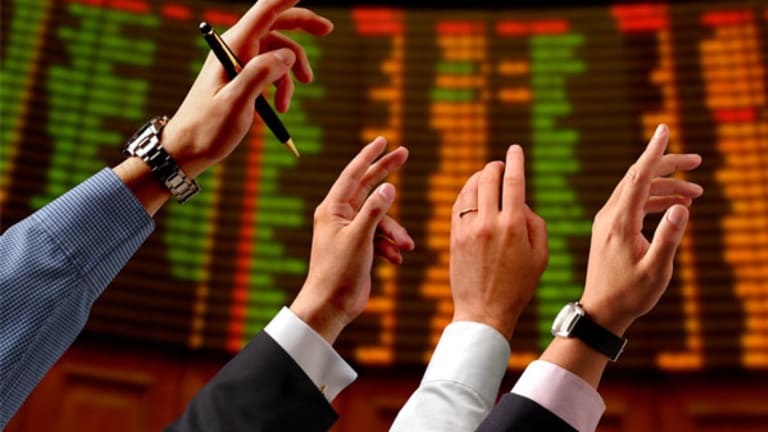 Kass: Everybody in the Pool
Swimmers have returned in numbers during the munificent climb from the depths of 2008-2009.
Investors of all sizes and shapes are nearly all in the pool now.
Investor sentiment (in most surveys) is tilted very bullish, mutual fund investors hold near-record-low cash reserves, hedge funds are at multiyear highs in terms of net long exposure, and retail investors (though not at the extremes of 1999-2000) have plowed money into domestic equity funds en masse since the beginning of the year.
Importantly, margin debt, the straw that stirs the market's drink, reached another high in October of $413 billion (up 3% month over month after rising 5% in September). In fact, margin debt is approaching the March 2000 and July 2007 highs as a percentage of GDP. Currently, margin debt is about 2.4% of nominal GDP vs. 2.6% in July 2007 and 2.8% in March 2000.
Monetary Policy Trumps the Real Economy
The many potential headwinds (e.g., Washington shutdowns, geopolitical risks/uprisings, a probable taper, rising interest rates, tepid bottom- and top-line corporate sales and profit growth, signs of ineffective
Fed
quantitative easing policy, the
vulnerability of corporate profit margins
, the growing schism between the "haves" and the "have-nots" in a failure of trickle-down economic policy, the consequences of financial repression done for the greater good on the savers class, etc.) have, to date, been ignored and dismissed by stock market participants.
Importantly, the disconnect between the real economy and the stock market has grown more pronounced, as the markets continued their ascent in recent months.
The most recent leg of the bull market started at about 1670 on the
S&P 500
(which approximated
). Since then, the S&P has rallied by over 8%.
Since October, however, the
Citigroup Economic Surprise Index
has declined from 53 (reflecting a period in which reported economic data substantially outdistanced consensus forecasts) to only 6 recently (as the last two months of economic data have been only in line with consensus).
Taken back to Jan. 1, 2013, Citigroup's Surprise Index has dropped from 40 to 6; at the same time, the S&P 500 rose (year-to-date) by almost 28%.
In "
," I highlighted that the U.S. stock market has been driven by the liquidity of monetary policy, not by the underpinning of domestic economic growth and corporate profits, and that many market metrics are at danger zones:
The median price-to-revenue ratio of the S&P 500 is now at an historic high, eclipsing even the 2000 level.
The Shiller P/E is above 25, exceeding all observations prior to the late-1990s' bubble except for three weeks in 1929.
Market cap-to-GDP is already past its 2007 peak and is approaching the 2000 extreme. (This ratio is stretched at over two standard deviations above its long-term average.)
The implied profit margin in the Shiller P/E (denominator of Shiller P/E divided by S&P 500 revenue) is 18% above the historical norm. On normal profit margins, the Shiller P/E would already be 30.
If one examines the data, these raw valuation measures typically have a fraction of the relationship to subsequent S&P 500 total returns as measures that adjust for the cyclicality of profit margins (or are unaffected by those variations), such as Shiller P/E, price-to-revenue, market cap-to-GDP and even price-to-cyclically-adjusted-forward-operating-earnings.
Because the deficit of one sector must emerge as the surplus of another, one can show that corporate profits (as a share of GDP) move inversely to the sum of government and private savings, particularly with a four- to six-quarter lag. The record profit margins of recent years are the mirror-image of record deficits in combined government and household savings, which began to normalize about a few quarters ago. The impact on profit margins is almost entirely ahead of us.
The impact of 10-year Treasury yields (duration 8.8 years) on an equity market with a 50-year duration (duration in equities mathematically works out to be close to the price-to-dividend ratio) is far smaller than one would assume. Ten-year bonds are too short to impact the discount rate applied to the long tail of cash flows that equities represent. In fact, prior to 1970, and since the late-1990s, bond yields and stock yields have had a negative correlation. The positive correlation between bond yields and equity yields is entirely a reflection of the strong inflation-disinflation cycle from 1970 to about 1998.
The joyous swimmers have returned to the investment pool in numbers during the munificent climb from the market depths of 2008-2009.
Not only have traders and investors ignored the potential investment headwinds but they have rewarded the S&P 500 with a quantum increase in valuation. Though P/E ratios have risen on average only 2% a year since 1990, valuations have climbed by nearly 25% in 2013.
Where Are the Bubbles?
There has been a lot of bubble talk of late. That talk (and the very existence of those questioning bubbles) seems to many as a rejection that there is a stock market bubble at all.
In "
10 Laws of Stock Market Bubbles
," I noted that the problem with bubbles is that if you sell stocks before the bubble bursts, you look foolish, but you also look foolish if you sell stocks after the bubble bursts.
I also concluded that the market is not yet a bubble; it is simply
(maybe by as much as 10%).
If I were pressed, however, to express if and where the bubbles reside today, they likely exist in the extraordinary faith in the Fed and central bankers around the world to shoulder the responsibility of catalyzing economic growth and in the general notion that corporate profit margins (and thus the outlook for future corporate profits) are inflated and in bubble territory at about 80% above the long-term average over the past six decades.
Too High
To date, the aforementioned headwinds have been seen simply as opportunities for investors to buy more stocks on weakness.
Grandma Koufax used to say, "Dougie, investment trees don't grow to the skies."
To a rising chorus of self-confident and almost boisterous bulls, fueled by a nearly unprecedented and continuing market rally, the investment trees indeed appear to be rising into the sky.
The argument, gaining credence with every 10-handle move in the S&P 500, is that with short-term interest rates anchored at zero, there is no alternative. But as Tennessee Williams wrote, "There is a time for departure even when there's no certain place to go." For, at many points in history, regardless of yield, cash has been king.
One day, perhaps in the near future, our investment pool will be drained.
When that will happen (tomorrow, in two weeks, in two months or in two years) is anyone's guess.
While the catalyst to the first meaningful market correction (in some time) can never be known for sure, it could come in the form of poor forward profit guidance, recognition that profit margins will
or, more likely, it might just be that buyers have been sated when they all are in the same pool.
In less than five years, we have moved from a generational market low to a generational market high, and investors (many of which started 2013 in a sour mood) are now anticipating a sequel in the year ahead.
This column originally appeared on
Real Money Pro
at 9:59 a.m. EST on Dec. 2.
At the time of publication, Kass and/or his funds had no positions in the stocks mentioned, although holdings can change at any time.
Doug Kass is the president of Seabreeze Partners Management Inc. Under no circumstances does this information represent a recommendation to buy, sell or hold any security.