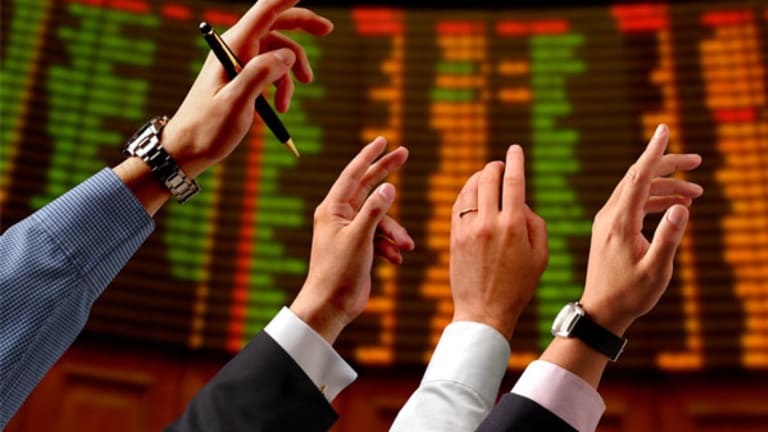 Kass: Conversing With the Oracle
What a truly amazing 48 hours I had in Omaha.
This column originally appeared throughout the day on Real Money Pro on May 5.
NEW YORK (
) -- Let me summarize my once-in-a-lifetime experience.
Upon landing in Omaha on Thursday night, I immediately went to meet Lindsey Bell and
TheStreet
crew at the Omaha Hilton, right across from the convention center where the
Berkshire Hathaway
/
(BRK.B) - Get Berkshire Hathaway Inc. Class B Report
annual shareholders meeting would begin the next morning.
Lindsey did a nice job in the interview, seeking out not only my emotions but also the main subjects on which I planned to grill The Oracle on Saturday.
.
I spent the rest of the evening at 801 Chophouse, having an unbelievable steak and editing my questions at the bar and a bit later back at the hotel room.
Friday morning I was on
CNBC's
"Squawk Box" with Becky Quick and my buddy/friend/pal Mario Gabelli. It was a fun interview on the stage of the convention center that was later to be the locale of the annual shareholders meeting.
Becky asked me how I felt, and I said that I felt like a journeyman pitcher facing my Hall of Famer cousin Los Angeles Dodgers pitcher Sandy Koufax. What is worse is that I faced two terrific hitters. In the No. 3 position in the batting order was Charlie Munger, with a lifetime batting average of .390, and in the cleanup spot was the greatest hitter in the history of Major League Finance, Warren Buffett.
Nevertheless, in
, I had hoped to throw the duo a few tough curveballs.
She asked me how I prepared. Similar to Mario, I had been researching stocks, but since Berkshire has been under a microscope, I had to do a deeper dive -- almost as an investigative reporter. Fortunately, I had some experience, having been a Nader Raider and coauthoring
Citibank
with Ralph Nader and The Center for Responsive Law.
I not only re-read the important books on Berkshire and Buffett (written by Carol Loomis, Alice Schroeder and Roger Lowenstein) but I also spoke to numerous acquaintances (both business and personal), many of whom disclosed previously undisclosed (and some non-disclosable) information that was quite interesting and helpful in the formulation of my questions.
Here is the link to the interview on CNBC
.
I now know why this weekend is called "The Woodstock of Capitalism." The action all day in the lobby of the Omaha Hilton was like being at a rock concert for capitalists.
I not only saw numerous business leaders milling around -- including the Chairmen of numerous large corporations such as
Geico
,
Coca-Cola
(KO) - Get Coca-Cola Company Report
,
Microsoft
(MSFT) - Get Microsoft Corporation (MSFT) Report
and others -- but numerous celebrities, too, such as filmmaker George Lucas.
The pals that accompanied me on the trip to Omaha with (Marty, Miles, Steve, Lee, Harvey, etc.) were no slouches in the executive department -- a bunch of masters of the universe in real estate, money management, finance, advertising and hedge funds, in their own right.
I spent most of the rest of the day solidifying my questions for the annual meeting. I did, however, have a number of other media interviews.
A Growing Bundle of Nerves
I must admit to having been a bit nervous as the day progressed, but not terribly so. I think I was just so darned excited for Saturday to come.
My son Noah -- the author of
TheStreet
column "
" and soon-to-be doctorate candidate at the University of Pennsylvania -- finally arrived at the hotel. (He came with Mikey, Steve and Marty in a separate group that left the New York area midday Friday.)
I gave him a big hug and kiss -- I was so happy he was there to participate in the unique experience I was about to face.
In the early evening, Mario Gabelli invited me and Noah to a cocktail party and panel discussion for the benefit of Columbia Business School at the Hilton Hotel where I was staying. Among the speakers was my friend/buddy/pal Lee Cooperman, who gave an excellent presentation for the students and alumni of Columbia, as well as Mario's other guests. The meeting was informative and well-attended -- I saw Pershing Square's Bill Ackman and a lot of other hedge-hoggers in the audience.
MDC Partners' Miles Nadal, Noah and I then proceeded to the legendary Gorat's Steak House that Warren Buffett favors and always talks about. There we met Lee Cooperman; Mario Gabelli; an acquaintance from David Einhorn's Greenlight Capital organization;
Vornado Realty Trust's
(VNO) - Get Vornado Realty Trust Report
Steve Roth; Cohen and Steers' Marty Cohen; my buddy/pal/friend Mikey Salzhaurer; and
The New York Times'
and "Squawk Box's" Andrew Ross Sorkin.
The group was animated, and it was a very festive dinner. The conversation was great -- far better than the steaks! Our discussions circled around Berkshire Hathaway -- I told the group about a lot of "
" I had learned about Warren, and I entertained the group with some
commonalities between The Oracle and myself
.
Andrew reminisced about the previous meetings he had attended, and Steve Roth told some extraordinary stories about his experiences with Warren, who was on the board of directors of Vornado before Steve took control of the company in the late 1970s. Steve eventually bought out Warren's Vornado stock position! Others, like Lee, had equally interesting stories about Warren.
Later in the evening, Andrew -- who was, for the fifth year, a panelist at the annual meeting -- reminded me to have some alternative queries in the event that my questions were asked by others. Fortunately, I was already well-prepared for that.
Our three-hour dinner finally ended, and we returned to the hotel, where I finished off the edits to my questions.
Noah and I awoke early Saturday, had some coffee and ran over to the convention center to reserve seats for my buddies. Though we arrived nearly one-and-a-half hours early, the entire convention center's seating was almost completely filled!
We managed to reserve eight seats in the nosebleed section, though there was still a reasonable view of the stage.
After putting T-shirts on the chairs (thanks, Mikey, for that thoughtful present of "Go Dougie Go -- Omaha 2013" T-shirts for the group), Noah and I ventured down to the stage, where I was to present my questions.
From there we went into the exhibition area next to the convention center, where many of Berkshire Hathaway's subsidiaries were selling merchandise --
Fruit of the Loom
,
See's Candies
,
Benjamin Moore
,
Dairy Queen
and so on. Even Geico had booths selling automobile insurance!
I spent nearly $250 on assorted merchandise to bring back to New York and Florida for my friends, and especially for two of my analysts -- Kelley Hopkins and Nick Pollari -- who helped me with my one-and-a-half months of researching for questions. Among the products I bought were Warren Buffett/Charlie Munger boxer shorts and Berkshire Hathaway hats and T-shirts. I even purchased five basketballs signed by "Handles," a member of the Harlem Globetrotters basketball team. (Naturally, "Sweet Georgia Brown," the Globetrotters theme song, was playing throughout the concession booths.)
The 'Woodstock of Capitalism' Commences
It was now time for the meeting to begin.
As I walked up to the stage, numerous members of the audience recognized me and mostly yelled out, "Good luck" -- though there were some Bronx cheers. I felt like a heavyweight fighter approaching the ring to the cheers and boos of the crowd. It was very exciting. In fact, this happened throughout the weekend as many of the Buffettphiles recognized me and either cheered or jeered me. It was all in good fun -- I think!
Before getting up to the stage, Warren came up to me and wished me good luck -- "Give it your best shot," he said. I introduced myself to Charlie Munger, who initially sat next to Buffett with the other members of Berkshire's Board of Directors.
I was then introduced to Berkshire Board member and Microsoft Chairman Bill Gates, which for me was one of the highlights of the day.
Slowly we all began to assemble on the stage.
On the left were the journalists --
Fortune's
Carol Loomis,
The New York Times'
Andrew Ross Sorkin and
CNBC's
Becky Quick. In the middle of the stage was Charlie Munger and Warren Buffett. On the right were Nomura's insurance analyst Cliff Gallant, Ruane Cunniff's Jonathan Brandt and myself.
For the first time I grew nervous as I faced nearly 40,000 people in the Century Link Center crowd, and as the legendary Oracle sat only a few feet away from me. The entire board of directors, including Bill Gates, were in the first few rows in front of me.
As the meeting started, and throughout the first hour, I literally felt my heart thumping. I thought I was going to have a heart attack. Yup, that's how I felt.
But, in time, and after a hysterical 45-minute start -- during which a "Dancing with the Stars" video was shown to the audience that included Charlie and Warren dancing to PSY's "Gangnam Style" -- an almost eerie calm descended on me.
The best commercials for Coca-Cola, Geico and other Berkshire subsidiary products were shown, and there was also a wonderful video parody of "Breaking Bad" which saw Bryan Cranston and Aaron Paul reprising their roles as Walter White and Jesse Pinkman. Instead of cooking up meth, the drug-dealing duo opts to focus on peanut brittle, and Warren appears at their motor home in the desert and offers to buy out their peanut-brittle business. They have a stare-down -- and Warren, of course, wins and buys their company. He calls Charlie Munger after the deal is agreed to and Charlie's response is priceless: "Brittle, bitches!"
Then there was video from Warren's congressional testimony in the early 1990s regarding the Salomon Brothers fiasco, as well as some clips from a Carol Loomis/Warren Buffett appearance on "The Daily Show With Jon Stewart."
That was in addition to a very funny Terminator parody in which Warren wants to star in the movie with Arnold Schwarzenegger, only to be one-upped by Charlie.
Finally, a disco ball dropped in the Convention Center and the screen showed the Berkshire executives while the Village People song "YMCA" played.
Warren erupted from his chair and started enthusiastically dancing and doing the YMCA letters with his arms to the delight of the crowd. Everyone cheered and joined in.
I magically became collected, and I had regained my composure. I am not sure why, but perhaps it was the humor of the videos. I was calm and ready for the meeting to begin, and excited to ask my questions.
The question-and-answer period commenced after Warren spent a few minutes on the first quarter's results.
Then he introduced the panelists. When he got to me, he said in his introduction that inviting a "credentialed bear" was an unprecedented move by a company, and the he looked forward to the polemic.
Fortune's
Carol Loomis asked the first question. Interestingly, the essence of her question -- taken from an email to her -- embodied most of my first question that I intended to ask. Fortunately I was prepared with some alternative ones!
My Conversation With the Oracle
I won't get into the questions now -- I will save that for Monday morning on
Real Money Pro
, along with my analysis of Warren's responses to my interrogation.
But I will mention that I ad-libbed a bunch of times, starting with before I asked my fist question: "Warren and Charlie, thanks for the invitation today. I am honored. I am looking forward to the role of playing Daniel in the Lion's Den to both of you, and to the 45,000 of your closest friends and greatest admirers in the Center today."
To my surprise, the crowd cheered for me.
At some risk, I started my first question off with a double entendre: "As it is said, Warren, size matters!"
My approach worked and didn't misfire. I think it even set up the tone well for the rest of my questions, putting everyone in a relaxed mode. My other attempts of humor worked too -- phew!
Remember, I viewed my assignment as an opportunity to ask hard-hitting questions that were original, would elicit newsworthy responses and allow investors and the crowd to get a different view -- a skeptical one -- about Berkshire Hathaway's prospects. At the same time, while asking pointed questions, I wanted to conduct myself with respect, and to be courteous to the greatest investor of all time.
My six questions were diverse in context. They ranged from the issue of inevitable declining returns, which have been an outgrowth of Berkshire's remarkable success, to business strategy, investment process, a "defense" of short selling, succession and so on.
I even issued a "challenge" to Warren in a question.
After he answered my first question, he lobbed me a "zinger" and a challenge: "Doug, you haven't convinced me to sell the stock, but keep trying!"
Warren answered most of my inquiries, though my last question -- regarding his son Howard's eventual role as non-executive chairman of the board -- was the one I felt he didn't answer fully. He may even have felt somewhat uncomfortable about it.
I also ad-libbed before that hard (and even uncomfortable) question when I framed it by saying, "Warren, you and I both have two sons that we love. You and I both have a son in the audience. This question is not meant to be disrespectful, but I thought it was a question that must be asked."
That aside, there were a couple of spontaneous and amusing exchanges between Warren and myself, including the "Warren," "Doug," "Warren," "Doug" routine.
Another memorable moment: When I prefaced my questions in the afternoon by saying, "When you are gone, and we hope that's not for a long time," Warren quickly and cleverly quipped, "No one more than I."
I am also happy that I was successful in was bringing some levity into my serious questions, as I wanted to lighten things up. I even interjected a good quote from Mae West -- another ad-lib -- into one of my questions on investment process, as Warren has done over time in his Chairman's letters. The quote: "The score never interested me, only the game."
When the meeting broke up for an hour for lunch, I spent a lot more money buying souvenirs for my friends. Then I went to the special section reserved for board members and management for lunch, and met a number of Berkshire's directors. For me, the highlight was when the husband of Warren's sister came up to me and introduced himself, telling me my first three questions were among the best ever asked at a Berkshire annual meeting.
At halftime, I also had a great interview with Susie Gharib on
CNBC
, which will be broadcasted Monday. I also did another interview with Lindsey "For Whom the" Bell "Tolls" at
TheStreet
.
.
Also, here an
excellent and thorough blog of the meeting
by Michael de la Merced of
The New York Times
.
Here, as well, is a
and a
of the meeting.
As I've already mentioned, on Monday and Tuesday I will review the questions I asked in my Diary -- and detail some of the questions that I didn't ask -- as well as analyze Warren and Charlie's responses.
Overall, I couldn't be happier about my delivery and the substance of my questions. I believe they contributed to a value-added session by highlighting issues never previously discussed in this forum.
I hope Charlie and Warren agreed.
Interestingly, three members of the Berkshire Hathaway board of directors came over to introduce themselves to me after the meeting concluded -- and they all said my questions were among the best in the last decade. Two of the directors said they were going to recommend to Warren that he have me back next year!
That would be some treat for me, as I would enthusiastically welcome the opportunity to challenge Charlie and Warren. I have a lot more questions to ask The Oracle.
As I mentioned
, after the invitation from Warren to be the "credentialed bear" at the annual meeting, I became reflective. In particular, I recalled my attendance at the Woodstock music festival on Max Yasgur's farm in Bethel, N.Y., in 1969 -- 44 years ago.
Now, having attended the Woodstock of Capitalism in Omaha, Nebraska, I have become reflective once again.
I have to say that I enjoyed the experience even more than Woodstock.
I certainly learned more from Charlie and Warren than I did from The Grateful Dead and The Who -- and I most assuredly remembered more about this weekend!
At the time of publication, Kass and/or his funds were short BRK.B, although holdings can change at any time.
Doug Kass is the president of Seabreeze Partners Management Inc. Under no circumstances does this information represent a recommendation to buy, sell or hold any security.