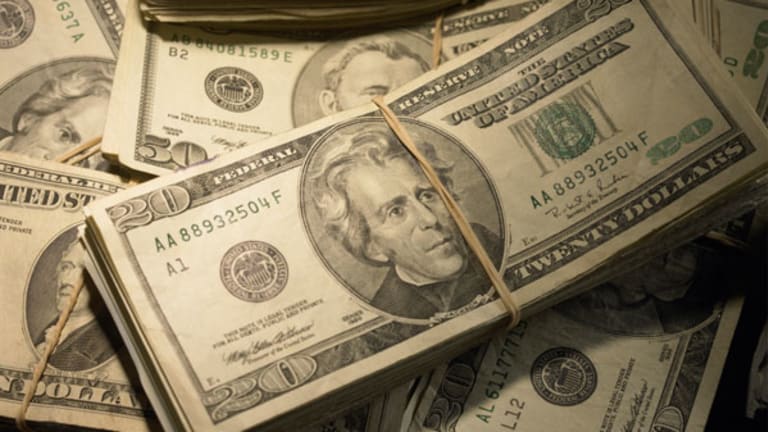 Kass: Beware the Interest Rate Cliff
The U.S. addiction to low rates runs deep.
The U.S. addiction to low rates runs deep.
This column originally appeared on Real Money Pro at 8:30 a.m. EDT on May 29.
NEW YORK (
) -- I have long thought that the two greatest market concerns were the earnings and interest rate cliffs, not the fiscal cliff. I have frequently written that profit growth expectations are too optimistic and nothing new on the economic front makes me retract that view. Today I wanted to discuss the interest rate cliff.
Since early May, the yield on 10-year U.S. Treasury notes and 30-year U.S. bonds have risen abruptly, by a bit more than 50 basis points. Yesterday was the
worst day for U.S. fixed income
in years, with a 6.5% increase in yields (10-year). Stated simply, the markets are running ahead of the
Fed's
tapering.
The bullish argument on interest rates is that as long as rates don't rise too fast, the optimistic outlook for the economy and the equity market will remain intact. I am less certain, as I see a false economic dawn in the U.S. and around the world.
The bottom line is that interest rates are an important raw material of the U.S. economy. As they rise, it will affect everything (profits, capital spending, hirings, etc.), and stock prices will likely have to adjust (and the adjustment won't be upward).
Addicted to Low Interest Rates
U.S. corporations, consumers and even our government are addicted to lower interest rates.
Corporations have benefited from lower rates (and lower taxes). The combined impact has contributed to nearly a third of the profit margin expansion over the last decade. (Remember: This series is among the most mean-reverting extant.) It should be noted that despite the large amount of debt refinancing over the past few years, there remains a lot of corporate floating rate debt outstanding (e.g., in recently IPO'd private companies).
Consumers have benefited from lower rates. Borrowing costs of all kinds facing the individual are variable. Most important of these are mortgage rates. (Note: Even before the recent rate rise, mortgage purchase applications fell by near double-digit rates.)
The U.S. government has benefited from lower rates. Consider that with our $18 trillion deficit, every 100-basis-point interest rate rise translates into $180 billion of additional interest costs. (Note: The current U.S. debt load has about a five- to six-year maturity.)
No Great Rotation Expected
What about the widely anticipated great rotation out of bonds and into stocks?
We haven't seen it yet, and I suspect we won't. Even if interest rates rise, given the still-uncertain fate of the consumer ("screwflation," the aftermath of the Great Recession, the second large stock market drawdown in a decade, the still-elevated unemployment rate as corporations re-rate their full-time job needs in the face of the costly burden of Obamacare), my guess is that the yield-deprived consumer/retiree will grab higher-yielding fixed income instruments that they perceive to be safer than stocks.
Rising Rates Will Disproportionately Impact the U.S. Housing Market
Fitch Ratings believes the recent home price gains recorded in several residential markets are outpacing improvements in fundamentals and could stall or possibly reverse. Many of these areas are in California, which has seen price increases of 13% over the last year.In many markets, fundamentals are improving as unemployment rates continue declining, while low prices and low interest rates have kept affordability high. However, especially in cities that never fully unwound the mid-2000s bubble, rapidly increasing price levels are a potential cause for concern. For example, in Los Angeles, prices are up more than 10% in the past year despite a stubborn unemployment rate that remains above 10% and real incomes that have declined over the past two years. Prices are now more than 75% above pre-2000 levels.Several factors are combining to form an environment supportive of brisk home price growth, but few are capable of providing long-term support to sustain the recent pace of improvement. Primarily, restricted supply and bolstered demand factors are bidding prices up.The demand is artificially high as borrowers remain on the side lines waiting for prices to stabilize. We believe this level of housing demand is likely to abate once the pent-up demand is satisfied.The supply is also artificially low, as recent regulations have limited the pace of foreclosure sales and the large percentage of underwater borrowers continues to hope for further price increases to be able to sell their homes at a profit.The supply-demand imbalance is even more pronounced in regional markets that are seeing strong institutional and retail bids for rental properties. The low rate and steep drop in prices, coupled with the decline in homeownership, have attracted an estimated $8-$10 billion of new capital to this sector. Many markets have a large number of buyers vying for a limited number of homes."-- Fitch Ratings
What impact will higher interest (and mortgage) rates have on the all-important U.S. real estate markets?
In my view, plenty.
Already, a small rise in rates has adversely impacted mortgage purchase applications. After falling by 9.8% two weeks ago, applications dipped by another 8.8% in the past week. This is especially true if not only mortgage rates climb but if
; this is a toxic cocktail that is already showing signs of pricing first-time buyers out of the market.
Making matters worse and housing markets tighter (see the Fitch Ratings quote above) are (on the supply side) recent regulations' impact on a slower pace of foreclosure sales as well as (on the demand side) the aggressive push by hedge funds and other institutional buyers to purchase homes (to rent out).
Rising Japanese Government Bond Yields Could Cause a Rate Contagion
"What hath Kuroda wrought? JGB yields a bigger influence on Treasuries than tapering potential." -- Pimco's Bill Gross
Then there is Japan and its bond market where the recent rise in Japanese government bond yields could threaten Japan's recovery (as the country's debt-to-GDP ratio is 200%) and, arguably, is beginning to impact U.S. bond rates. Indeed, one can argue that the price movement in JGBs is having more of an impact on our fixed income market than the prospects and perceived timing of Fed policy (and tapering).
Stock Valuations Are Adversely Impacted by Rising Interest Rates
Whether you believe the Fed has successfully manipulated the yield curve or not, just the fact that they are in the market means no one really knows where Treasuries should trade. For this reason, we don't know where asset prices should trade. However, it seems we are about to find out, and I think it is going to be a very uncomfortable process. I don't think equity investors appreciate how the market will go about re-pricing from a 2.0% to fair value. It might be 2.0% or 4.0% or somewhere in between. We can make some assumptions based on historical relationships to consumption growth and inflation, but nevertheless, the market is not likely to take a smooth trip to get there and the price swings could be significant.-- Pimco's Mohamed El-Erian, Financial Times
Finally, every
utilizes interest rates in calculating fair value. Higher interest rates reduce the theoretical value of the market and individual stocks.
As well, higher Treasury yields (as discussed in the great rotation section of today's opener) will not only continue to hurt the rate-sensitive segments of the U.S. stock market (utilities, staples, etc.) but they will also likely result in fixed-income products becoming more appealing to yield hounds.
Summary
A 50-basis-point rise in U.S. note and bond yields in just three weeks is being ignored by the market participants. This might be a mistake in judgment as the seeds of slowing economic growth accompany the planting of higher interest rates.
The bottom line is that as interest rates rise, it will affect everything; prices will have to adjust, and the adjustment won't be upward.
Beware of the interest rate cliff -- the addiction to low interest rates runs deep.
At the time of publication, Kass and/or his funds had no positions in any stocks mentioned, although holdings can change at any time.
Doug Kass is the president of Seabreeze Partners Management Inc. Under no circumstances does this information represent a recommendation to buy, sell or hold any security.