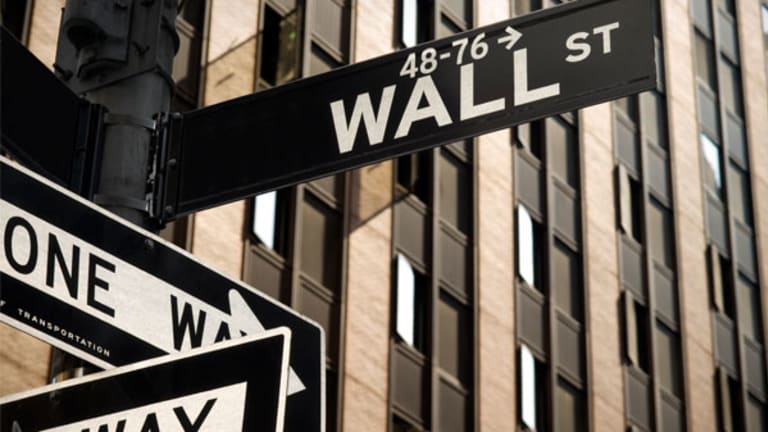 Kass: Apple Loses Its Flavor
It appears as though the easy compares and salad days are behind this iconic company.
This column originally appeared on Real Money Pro at 7:31 a.m. EDT on Oct. 26.
NEW YORK (
) -- By now, most know that
Apple
(AAPL) - Get Apple Inc. Report
in-line quarterly revenue and profits but provided weak guidance on gross margin (36% to 37%) and earnings ($11.75 a share). Though the company is a sandbagger by nature, the EPS guidance would represent the first year-over-year profit decline in many years. The decline in gross margin was explained by the broadest product refresh in the company's history -- the costs of the new products are higher than the previous menu -- with new products expected to account for about 85% of the December quarter's sales.
At issue is whether the gross-margin turndown is a function of the need to produce lower-priced products in order to maintain its growth curve and product demand. Will the next quarter represent the nadir in margins, and will yields improve as the company navigates the cost curve successfully (as it did following the iPhone 4 launch in 2010)?
Supply concerns seem to have be answered (no component constraints), and the international carrier rollout is on schedule. Cook said backlog is "significant." But nothing was discussed regarding the next new thing (e.g., Apple TV).
Bullish take
:
The company set the bar low (and met that bar).
The P/E and price/sales multiples are low.
It's a great company.
People like its products.
Some will play for a Christmas rally.
Bearish take
:
The company had to set the bar a lot lower than people thought to be comfortably beatable.
Three quarters in a row with declining margins, even with iPad Mini priced 30% more than competition -- never buy a tech stock with declining margins and that is very overowned.
Apple is not the fairest of them all anymore -- even Lebron James is using Samsung Galaxy now.
Though some might play for a Christmas rally, a lot of hot money will exit at the slightest concern.
Importantly, while Wall Street research reports this morning will call this quarter's guidance as representing the bottom for gross margin, recognize that even current depressed gross margins are still substantially higher than normal for the industry and its competitors.
Bottom Line
Though Apple has proven to be a disruptive innovator that creates new markets -- the future key is apps, and no one knows what will come next -- it is my view that, over the next few quarters,
Apple is a trading sardine, not an eating sardine
. Though we don't know the precise limit to Apple's penetration (and different ways the company will find to collect tolls), for now, it appears that the easy compares and salad days are behind this iconic company. Risk/reward seems uninspiring with a wide projected price range between $550 and $700 a share being my expectation into the first half of 2013.
Trailing 12 months enterprise value/earnings before interest and taxes with a 9% free cash flow yield limits downside. So does a low cash-adjusted P/E and a market-cap/sales of only 2.3x -- $195 billion of sales, enterprise value of $450 billion (after backing out cash of $123 billion).
But, as I have
before, there are now blemishes and bruises on the world's favorite fruit, as signs of Apple losing its first-mover advantage have appeared (and with them the elevated gross margins previously achieved). We now must closely watch whether the company's upgrade cycle is lengthening because of a less-differentiated product, we must monitor the ability to deliver a large amount quality product with limited flaws (e.g., apps such as Maps, scratching, Siri, weight/feel, etc.), and we must closely track cost and margin trends and, of course, the competition.
At the time of publication, Kass and/or his funds had no positions in the stocks mentioned, although holdings can change at any time.
Doug Kass is the president of Seabreeze Partners Management Inc. Under no circumstances does this information represent a recommendation to buy, sell or hold any security.