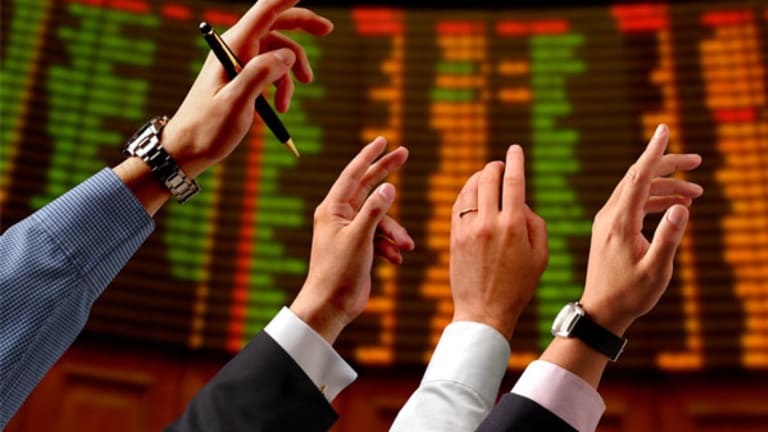 Publish date:
Kass: A Touch-and-Go Status Quo
Helicopter Ben passes the baton to Whirlybird Janet.
Helicopter Ben passes the baton to Whirlybird Janet.
Tuesday night Fed Chairman Ben Bernanke issued a dovish speech that, though not unexpected, initially caused S&P futures to rise by 6 handles -- they have since retreated back into slightly changed.
The Fed head reiterated his view that the trajectory of growth in the domestic economy is far from where authorities want it to be. The Fed, Bernanke said, is committed to "highly accommodative policies"; it "may be some time" before "normal settings" return, and a zero fed funds rate could remain well after tapering starts and well after a 6.5% unemployment occurs. Bernanke went on to say that the May-June rise in interest rates was unwelcome and unwarranted.
The message I took continues to be that tapering will only occur when there is a preponderance of data that justifies tapering. There should be no surprise that a December tapering is off the table, a January start to tapering remains a long shot and that March is likely the soonest that tapering will begin.
The overwhelming consensus remains that this Bernanke/Yellen put to protect the S&P 500's downside could underpin higher stock prices in the year ahead.
In yesterday's opening missive, I questioned the effectiveness of more quantitative easing, and I took issue with the notion that stocks are headed higher.
In that column I asked the following questions:
Will it QE end badly by a bursting of an equity bubble or benignly if there is a modest but sustained re-acceleration in economic growth, allowing the Fed to exit smoothly from its currently nontraditional and aggressive QE and ZIRP policies? Will it result in higher inflation and rising interest rates? Will the gap between the wealthy and the rest of the population grow so large as to engender political and social risks? Are there other unintended consequences of aggressive monetary easing over a lengthy period of time (e.g., rate suppression penalizing the savings class)? What are the ramifications of the Fed exiting policy with such a bloated balance sheet? Does aggressive monetary policy delay responsible fiscal policy of our leaders in Washington, D.C., and how long can this continue without permanent damage to the U.S. debt rating and our budget deficit? Will the bond market decouple from the intention of monetary policy to keep interest rates low?
My questions are fair (maybe even logical), and there could be some unintended consequences from Fed policy -- an equity bubble cannot be ruled out.
subscribes to the notion that there might be social risks with respect to income inequality (partly fostered by Fed policy) and that Fed policy has allowed for dysfunctional fiscal policy. For the next 12 to 15 months, however, the consensus view remains upbeat:
a synchronized, long-lasting, self-sustaining, not-too-hot/not-too-cold global economic expansion;
a synchronized global monetary accommodation that should persist for an extended period of time;
a market P/E that is not at all in bubble territory;
no effective alternative to stocks; and
buckets of cash returned to investors via dividends/buybacks.
All of the above items will dominate the landscape and allow for higher share prices in 2014 and a high-single-digit/low-double-digit return for the S&P 500. (With a likely higher stock market into year-end, however, most agree that we are borrowing from next year.)
Slowly, a larger minority seems to be moving toward my view and is now saying that more cowbell is simply screwing savers, creating distortions in the economy, and rewarding risk takers and owners of stock. Given the Fed's concerns over unemployment, however, the rational thing to do would be targeted fiscal policies to stimulate employment and not total reliance on monetary policy. But we know that our leaders in Washington, D.C., are divided and partisan, so they will do nothing.
Naysayers further point out that a world of 1.5% inflation, 2.5% real growth, 5% profit growth, zero short rates and 2.70% 10-year yields is not a world where stock prices rise 25% per annum. To those observers, the market appears, at the very least, fully valued today.
The stalwart supporters of current monetary policy say all this is true and that fiscal policy would help but conclude that we can object to current money policy all we want on many grounds, but the S&P 500 is likely to move higher.
Choose your side and invest/trade accordingly.
I remain net short.
This column originally appeared on
Real Money Pro
at 7:55 a.m. EST on Nov. 20.
At the time of publication, Kass and/or his funds were short SPY, although holdings can change at any time.
Doug Kass is the president of Seabreeze Partners Management Inc. Under no circumstances does this information represent a recommendation to buy, sell or hold any security.