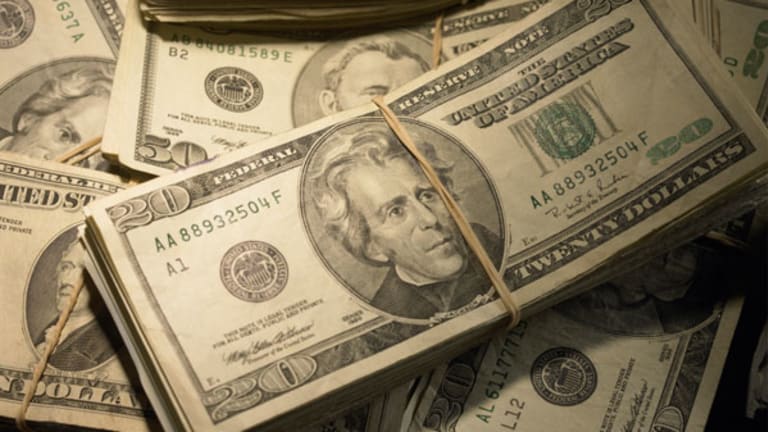 Kass: A Brief Bounce
Today's rapid rally most likely will be short-lived.
This column originally appeared on Real Money Pro at 7:50 a.m. EDT on June 29.
NEW YORK (
) -- On Tuesday, I made another ludicrous forecast:
Suppose there is some progress at the EU Summit on Thursday.Given that Friday is quarter-end, is it possible for another rip-your-face-apart rally just as everyone has de-risked?
Overnight, an upside surprise occurred at the European leaders' summit in Brussels. (The tip off was the cancelation of Merkel's press conference early last night.)
Initially, the leaders signed off on a 120-billion-euro growth pact, which was disappointing, and S&P futures dropped 5 to 6 handles. After an all-night session, however, the leaders of the eurozone agreed that rescue funds could be used for sovereign debt purchases ("to stabilize markets for member states") without forcing countries to adopt extra austerity measures. (The ECB would act as an agent and purchase bonds on behalf of the EFSF/ESM.) In addition, after a single supervisory body for European banks has been created, funds could be lent directly to banks for recapitalization without penalizing existing debt holders.
Of course, the devil is in the details.
The announcement said, "We task the eurogroup to implement these decisions by July 9, 2012." Does this include the sovereign bond buys? It is unclear. (There needs to be unanimous agreement of this deal.)
is the complete communiqué.
How long will the euphoria of the meeting's decision last?
How long will today's rip-your-face-apart rally last?
Hard to say.
But for a number of reasons, it is most likely that it will be short-lived.
The most significant reasons for this view include the recently weakening corporate profits picture in the U.S. -- see
Nike
(NKE) - Get NIKE, Inc. Class B Report
,
Ford
(F) - Get Ford Motor Company Report
and the like -- and the likely expanding divide between the Republicans and Democrats following yesterday's Supreme Court decision on healthcare. On the latter point, there is a positive in that the Supreme Court's ruling could energize the Republican Party's base and lead to a stronger turnout, which would bolster Governor Romney's chance of election in November.
As well, another important reason why today's ramp might exhaust itself is that the initiatives fail to address the deep structural problems facing the EU.
In order to gauge the rally's half-life, we should pay close attention to peripheral yields today. (European bank stocks and the euro are quite strong.) We should also watch the U.S. bond market.
My conclusion: After buying the rumor, I would begin to sell the news.
At the time of publication, Kass and/or his funds were long Ford, although holdings can change at any time.
Doug Kass is the president of Seabreeze Partners Management Inc. Under no circumstances does this information represent a recommendation to buy, sell or hold any security.