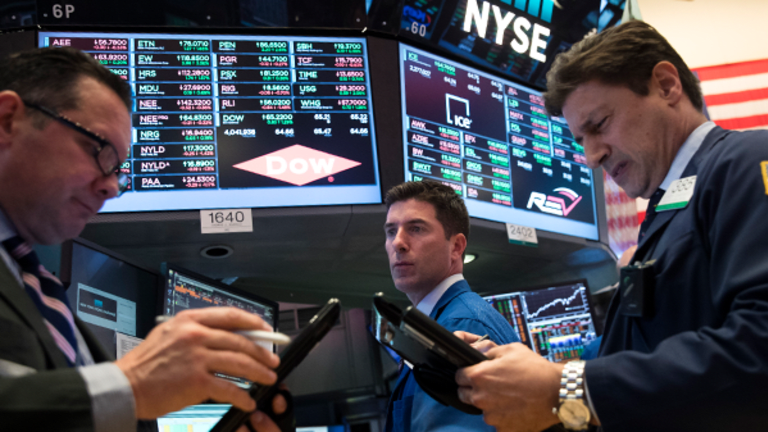 Just Another Short-Lived Correction or Is This Time Different?
Action like the market experienced on Tuesday gives the bears hope, but the pattern of action has been a quick and easy recovery.
This column originally appeared on Real Money, our premium site for active traders. Click here to get great columns like this from Jim Cramer and other writers even earlier in the trading day.
"The four most dangerous words in investing are 'This time it's different.'"
--Sir John Templeton
Action like the market experienced on Tuesday gives the bears hope, but the pattern of action has been a quick and easy recovery. The last time there was similar selling was on May 17, as market players embraced the idea that Donald Trump was facing some political problems that mattered. That selloff was followed by six straight positive days in the S&P 500 that led to new all-time highs a couple weeks later.
The big question, once again, is whether this is just another short-lived correction that will be quickly forgotten, or is this finally the start of the long-awaited topping process? Traders are already gearing up for the bounce process, and there is talk that the technical damage that was done yesterday was a positive, as it triggers the computer algorithms that have done so well buying any and all pullbacks.
The bears want to believe that this time it is different and they have plenty of good arguments to support their case.
Increased hawkishness by Mario Draghi in Europe, breakdowns in the key momentum and FAANG names -- Action Alerts PLUS holdings Facebook (FB) - Get Report and Apple (AAPL) - Get Report , Trifecta Stocks name Amazon (AMZN) - Get Report , Netflix (NFLX) - Get Report and Google parent Alphabet (GOOGL) - Get Report -- negative seasonality, mixed economic news and the toxic political atmosphere in Washington are all supportive of a deeper correction.
The problem the bears face is the same one that has been in place for years. This market moves more on price action and technical setups than it does on news flow. The selling doesn't gain momentum because the pattern of action has been fast recoveries that turn into V-shaped bounces. Traders will stick with patterns until they stop working, and the pattern of V-shaped bounces has worked very well.
At some point, the V-shaped bounce will turn into a trap that results in acceleration to the downside when buyers try to escape, but so far, the tendency is for the bounces to be self-fulfilling. Once they start, they feed on themselves as market players worry about being left behind yet again.
This morning we are seeing a good example of how well trained traders are to buy the dip. They are so anxious to buy a gap-down open, that they produce a gap-up instead. There isn't any significant news and the Nasdaq 100 suffered an obvious breakdown with a close under its 50-day simple moving average, but that sort of technical issue seems to trigger buying more than selling in the world of computerized trading.
The old technical textbooks tell us that action like yesterday should make us more cautious. Investor's Business Daily, for example, shifted its market view to "uptrend under pressure". Half the stocks in IBD's list of momentum favorites were down more than 2% yesterday, but that isn't the dynamic that matters in this market. The dynamic that matters the most is the potential for a V-shaped bounce. That is what traders are focused on, and that is why we are gapping up.
What we need to do is to watch to see if this pattern plays out again and we quickly forgot yesterday or will the automatic dip buyers finally be surprised. Will the pattern work again, or will the market finally undergo a real change in character?
Visit here for the latest business headlines.
Read More Trending Articles:
The Federal Reserve Is Too Optimistic in the Face of a Stealth Economic Slowdown: Market Recon
The 14 Worst Cruise Ships on the CDC's Sanitary Inspection List
When Walgreens Finally Acquires Rite Aid, It Will Be a Terrifying Drug Selling Monster
At the time of publication, Rev Shark had no positions in the stocks mentioned.