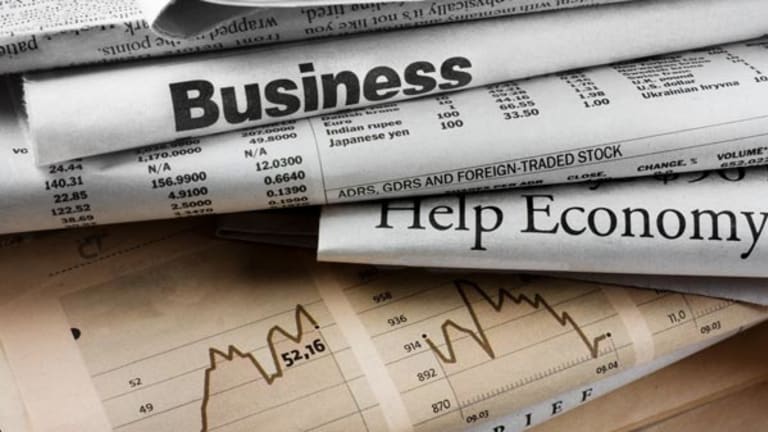 JPMorgan's 13 Favorite Stocks for 2011
JPMorgan's <I>Focus List</I> includes 10 U.S. stocks, which are expected to rise at least 15% and as much as 75% during 2011.
BOSTON (
) -- The
JPMorgan
Focus List
includes 13 stocks, expected to deliver annualized gains in excess of 20%. Picks 13 to 11, based on return potential, are
Knightsbridge Tankers
(VLCCF)
,
TreeHouse Foods
(THS) - Get TreeHouse Foods, Inc. Report
and
CME Group
(CME) - Get CME Group Inc. Class A Report
. Now, here is a look at the bank's 10 top stock picks for 2011, ordered by upside.
10.
U.S. Steel
(X) - Get United States Steel Corporation Report
manufactures flat-rolled steel and tubular products. JPMorgan believes that "X marks the spot for the best leverage to an eventual steel demand recovery" because of iron ore integration and export potential. U.S. Steel's stock rose 1.6% last year. JPMorgan expects a 2011 rebound.
The company has grown sales and net income 35% and 41% in the past 12 months. Despite historically low inventories, steel buyers remain cautious, according to JPMorgan. The bank recently cut its target and fourth-quarter earnings projection, but remains optimistic about the 12-month return potential in this historically undervalued name.
9.
United Parcel Service
(UPS) - Get United Parcel Service, Inc. Class B Report
, or UPS, delivers packages worldwide. Most recently, JPMorgan was encouraged by the company's issuance of $2 billion of notes, with $1.5 billion of 10-year notes at just 3.2% and $500 million of 30-year notes at nearly 5%.
UPS plans to use the proceeds from this low-cost debt to make cash contributions to pension funds, removing pension expense risk in 2011. JPMorgan views this move as a positive catalyst for UPS shares as it increases the likelihood of a significant share buyback in the near-term or a dividend increase.
Other Wall Street researchers are also bullish on UPS, with 19, or 73%, of analysts rating its stock "buy" and the remainder ranking the shares a "hold."
8.
J.B. Hunt Transport
(JBHT) - Get J.B. Hunt Transport Services, Inc. Report
is a truckload carrier, logistics and intermodal transportation company. This cyclical play has a market value of $5 billion, placing it in the mid-cap category.
JPMorgan likes J.B. Hunt's "broad total portfolio of transportation services and favorable pricing cycles in truckload an intermodal." The bank is encouraged by newly-appointed CEO John Roberts, who appears committed to sustainable top-line growth through an integrated approach to selling, rather than near-term margin maximization. The greatest risk to JPMorgan's investment thesis is a slowdown in economic growth, especially in manufacturing or consumer spending.
7.
Kraft Foods
( KFT) is a packaged foods company and
Dow
component, with a market capitalization of $55 billion. JPMorgan was disappointed by the lackluster third-quarter performance of
Cadbury
, an acquisition made in 2009, and weaker-than-anticipated organic growth, at 2.5% vs. JPMorgan's predicted 4.3% growth.
Still, JPMorgan expects solid earnings growth in 2011, helped by cost and revenue synergies from the Cadbury acquisition. Also, margins were crimped by a recent investment in marketing initiatives, which may have paid off during the fourth quarter.
Kraft rose 16% in 2010 and still receives favorable analyst reviews, with 40% ranking it "buy."
6.
Invesco
(IVZ) - Get Invesco Ltd. Report
is an investment manager. JPMorgan recently boosted its outlook for the entire asset management group, given the strong quarterly performance of global equity markets.
Also, strong equity fund flows indicate that individual investors are beginning to transition out of bonds into riskier assets, which may buoy the market and earnings profile of the asset management industry.
Invesco is JPMorgan's top pick in the industry because of its valuation. The stock trades at a forward earnings multiple of 14, a 26% discount to its peers. JPMorgan believes the company has incremental earnings potential from its purchase of
Van Kampen
as well as the retail unit of
Morgan Stanley
.
5.
Apple
(AAPL) - Get Apple Inc. Report
sells consumer electronics. It is a top pick on Wall Street, receiving "buy" recommendations from 91% of analysts covering the stock. JPMorgan's $420 target is third-highest, behind the $438 projection of
Piper Jaffray
and the $430 prediction of investment bank
Goldman Sachs
.
Apple was also named to the respective
Best Stock Picks
lists of Goldman and
Morgan Stanley
. JPMorgan boosted its price target in December to incorporate incremental earnings of $1.25 from a
Verizon
iPhone. It expects Mac computers, particularly the Macbook Air, to regain prominence in 2011 and expects iPad shipments to accelerate.
4.
MF Global
( MF), which has a market capitalization of $1.1 billion, is a brokerage firm offering cash and derivatives services as well as execution and clearing to capital markets clients. MF Global's third-quarter earnings were in line with JPMorgan's estimate for a profit of 2 cents.
But, that performance missed Wall Street's consensus expectation for earnings of four cents per share. The company also missed on the top-line, but its stock popped 2.4% on the announcement as management cut compensation costs as a percentage of revenue.
Trading volume fell 18% sequentially, hurting business. JPMorgan believes that the credit crisis hurt smaller trading firms, but perceived counterparty risk will subside and that MF Global is poised to benefit.
3.
Rubicon Technology
(RBCN) - Get Rubicon Technology, Inc. Report
manufactures wafers for light-emitting diodes, or LEDs, which have numerous technology applications, including liquid-crystal-design televisions and lighting.
Rubicon has lead market share, at roughly 80%, for six-inch wafers. Many of its competitors cannot cost-effectively compete in the large-wafer space, which is expected to see demand grow in 2011, according to JPMorgan. Although Rubicon will incur heavy capital expenditure costs as it builds out operations in 2011, JPMorgan expects it to generate positive free cash flow. The bank's target suggests a 68% return.
Piper Jaffray
is even more bullish, predicting a 132% gain.
2.
Veeco Instruments
(VECO) - Get Veeco Instruments Inc. Report
is another high-tech stock pick. It sells manufacturing equipment and services to LED, solar, data storage and materials science companies. Veeco's stock more than quintupled in 2009, then climbed 30% in 2010.
JPMorgan predicts a rise of 70% to $75 in 2011. Its investment thesis is predicated upon strong demand for MOCVD, or metal organic chemical vapor deposition, systems, which are used to make LEDs.
Also, a recent sell-off, in part due to poor television sales data at
Best Buy
, has created a buying opportunity, according to JPMorgan, which views the data as "backward-looking." Veeco receives "buy" ratings from two thirds of analysts covering it.
1.
Itron
(ITRI) - Get Itron, Inc. Report
provides metering, data collection and utility software services. JPMorgan speculates that investors have been avoiding the stock because they feel that Itron's competitive position, particularly in automated-meter infrastructure, is insecure.
But the company still has 16% market share, according to JPMorgan channel checks, and it has beaten consensus earnings expectations for four consecutive quarters. Furthermore, its backlog is at a record level and its stock, down 19% in 12 months, is trading at a multi-year low, based on earnings.
The stock sells for a cash-flow multiple of 10, a 55% peer discount. Itron receives "buy"-ratings from 56% of Wall Street analysts, a middling net review.
-- Written by Jake Lynch in Boston.
JPMorgan's 13 Favorite Stocks Portfolio
RELATED STORIES:
Credit Suisse's 18 Best Stock Picks for 2011
Goldman's 10 Best Stock Picks for 2011
Become a fan of TheStreet on Facebook.
Disclosure: TheStreet's editorial policy prohibits staff editors, reporters and analysts from holding positions in any individual stocks.