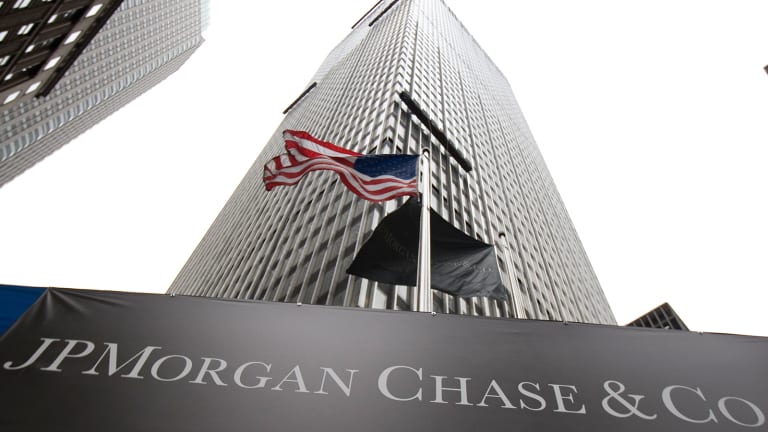 JPMorgan's Dimon Sees Economic 'Momentum' Building as Trading Surges
Revenue on the New York-based bank's bond-trading desk climbed 31% from a year earlier to $3.37 billion as investors adjusted to a radically different political landscape.
This article, originally published at 8:21 a.m. on Friday, Jan. 13, 2017, has been updated with comments from executives and market data.
JPMorgan Chase (JPM) - Get JPMorgan Chase & Co. Report , the largest U.S. lender, posted higher profit than analysts estimated as fixed-income trading boomed amid Donald Trump's unexpected victory in the U.S. presidential race and the Federal Reserve's first interest-rate hike in a year.
Revenue from trading bonds, currencies and commodities rose 31% to $3.37 billion, "reflecting broad-based strength across products," the New York-based lender said in a statement. Bond-trading benefited from "increased client risk appetite" while commodities gained on "increased client activity in a better energy market."
Large trading firms have profited from a frenzy of transactions since Trump's Nov. 8 victory. His policy pledges have prompted speculation that imminent tax cuts and higher government spending will spur faster inflation, which sent U.S. Treasury-bond yields on a rapid runup from record lows.
As a result, many investors and corporations scrambled in November and December to readjust their bond portfolios and interest-rate hedges -- showering trading firms with juicy commissions. JPMorgan CFO Marianne Lake said the trading business had its best-ever fourth quarter. 
"The U.S. economy may be building momentum," CEO Jamie Dimon said in the statement. "Looking ahead there is opportunity for good, rational and thoughtful policy decisions to be implemented, which would spur growth, create jobs for Americans across the income spectrum and help communities, and we are well positioned to play our part."
Like Charlotte, N.C.-based rival Bank of America (BAC) - Get Bank of America Corp Report, JPMorgan saw some benefits from the Federal Reserve's decision last month to boost short-term interest rates for only the second time since the financial crisis. Both companies passed on the 25 basis-point hike in short order, boosting their prime rates to 3.75%.
Net interest income, which measures gains from lending after payments to depositors, rose 5% to $12.1 billion at JPMorgan. Investors are already taking advantage of the growth: The company, along with rival Goldman Sachs (GS) - Get Goldman Sachs Group, Inc. Report , has led the Dow Jones Industrial Average's march toward a record level of 20,000 in the wake of Trump's election. 
The quarterly results may provide a catalyst for further increases in bank stocks, which rallied in 2016 on speculation that Trump would usher in a new era of deregulation and soften stiff rules that were implemented in the wake of the 2008 financial crisis and bailouts.
"In the clear light of day, no rational person I know can possibly say that all the things that were done were accurate," Dimon said on a conference call with analysts.
Trump also has pledged to slash corporate tax rates, a move that would provide an additional boon to net income for both banks and their clients. The president-elect's promise to increase spending on infrastructure such as highways could help to accelerate loan growth. 
Dimon was named by Trump last month to a new President's Strategic and Policy Forum, which will advise the future president starting in February. One idea is to make it easier for first-time borrowers to get mortgages, he said. 
It's impossible to say how all the regulatory and legal changes under Trump might affect the bank. 
"There's a lot of wood to be chopped and sausage to be made," Dimon said. 
The fourth quarter marked the third straight period in which large banks have reaped a windfall from handling trades spurred by political and economic events. In the second quarter, transactions surged following Britain's surprise vote to exit the European Union. Then in the third quarter, markets gyrated amid speculation on when the Fed might raise rates. 
On a conference call with reporters, Lake declined to speculate whether JPMorgan had picked up any business from Deutsche Bank, the German lender that has retrenched amid concerns about its financial strength. However, she did say there seemed to have been some gains in market-share for JPMorgan. 
"There's no real way of knowing," Lake said of the market-share gains. "We feel like we did." 
For the full year, JPMorgan posted record net income of $24.7 billion. The company's shares rose 0.5% to $86.70 at the close of New York trading on Friday, taking its gains over the past 12 months to 51%, more than twice the growth on the broader S&P 500.
During the fourth quarter, deposits in the consumer bank grew by 11%, while core loans climbed 14%, according to the statement.
The results included a gain of $198 million from releasing reserves that had previously been set aside to cover loan losses in the corporate banking business. The reserve release primarily came on oil, gas, metals and mining loans, a reflection of last year's dramatic rebound in commodity prices.
"As long as the energy market remains stable, we are hopeful that we will see more reserve releases in the future," Lake said. 
So far in January, the strong trading environment appears to be continuing, Lake said on the conference call with analysts. Trump takes office next week, and investors will be looking for details on the timing of his proposals and how they differ from his campaign pledges. 
"There will be a lot of micro and event-driven activity," Lake said. "So far, generally, there's been more risk appetite in the investor base, but that can change quickly."