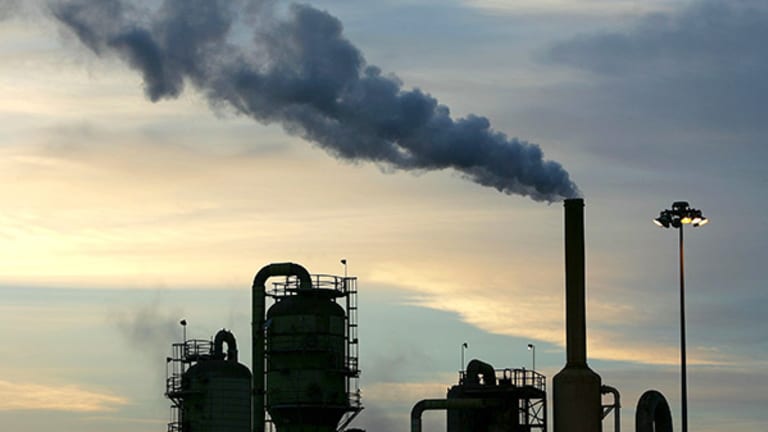 JPMorgan Is Best in Class on Energy Loans -- Where Are Rivals?
JPMorgan carries less risk from souring energy loans than any of its big rivals, according to a new report from credit-ratings firm Moody's. Jim Cramer weighs in.
This article, originally published at 10:41 a.m. on Friday, Feb. 5, 2016, has been updated with comment from TheStreet's Jim Cramer.
JPMorgan Chase (JPM) - Get JPMorgan Chase & Co. (JPM) Report carries less risk from souring energy loans than any of its U.S. rivals, according to an analysis by debt-ratings firm Moody's. The bank with the most is Morgan Stanley. 
Across all five of the so-called global investment banks -- which also include Bank of America, Citigroup and Goldman Sachs -- borrowings by oil and gas companies represent an average 2.3% of loans, according to Senior Vice President David Fanger, the report's lead author. The ratio is just 1.5% at New York-based JPMorgan and 5% at crosstown rival Morgan Stanley (MS) - Get Morgan Stanley (MS) Report , Moody's said.
The banks are facing increased scrutiny from investors, as a 40% slide in oil prices makes it tougher for energy firms to repay money borrowed when energy prices were spiking. That concern is reflected in their stock prices: A drop of 11% on the KBW Bank Index in the past year outpaces declines of 8.2% on the Dow Jones Industrial Average and 7.1% on the Standard & Poor's 500.
While the risk appears manageable, some banks will have to boost their reserves if oil and gas prices remain low for a long time, Moody's said in the report, published Friday. That would compound their earnings challenges "in the present difficult operating environment," Fanger wrote.
The ratio of energy loans to total lending is 3.1% at Goldman, 3.3% at Citigroup (C) - Get Citigroup Inc. Report and 2.4% at Bank of America (BAC) - Get Bank of America Corp Report , the report shows. 
 While lower gas prices have fattened Americans' wallets, which may eventually give the banks a boost, consumers "are mostly saving the windfall rather than spending it," Fanger said in a telephone interview. That has limited the "stimulative effects," he said.
Still, loans to junk-rated energy firms do not account for more than 11.5% of common-equity capital -- a measure used by federal regulators to evaluate the health of finance companies -- at any of the banks.
At JPMorgan, "our energy book isn't that large" in comparison to the parent firm, CEO Jamie Dimon said on a January earnings call. "The oil folks have been surprisingly resilient, and these are asset-backed loans. A bankruptcy doesn't necessarily mean the loan is bad."
Should oil prices remain around their current level of $30 a barrel for 18 months, JPMorgan would have to increase its reserves by $750 million, CFO Marianne Lake said.
Goldman's (GS) - Get Goldman Sachs Group, Inc. (GS) Report total energy loan commitments to oil and gas companies, not all of which have been drawn down, amounted to $10 billion at the end of 2015, CFO Harvey Schwartz told analysts in January. Only $1.5 billion has been disbursed to companies with a credit rating below investment grade, he said.
"The dramatic decline in commodity prices broadly has been disruptive to the market," Schwartz said. "Obviously that sector, if prices remain where they are, is going to be under stress. That's an inevitability."
Morgan Stanley had committed $16 billion in energy loans as of the end of 2015, and borrowers had drawn only about 30% of that amount, CFO Jonathan Pruzan told analysts last month. More than half of the borrowers had investment-grade credit ratings.
"We will continue to monitor that portfolio very closely," Pruzan said. "We regularly stress test it. We're watching for signs of a contagion and we're hedging accordingly."
Charles Peabody of New York-based Portales Partners, who covered Texas bank failures in the wake of the 1980s oil-price crash, estimates that losses this time around could reach 10% of total energy loans. That wouldn't be enough to cause a crisis for the biggest banks, but it would seriously dent their earnings.
"When I interviewed Wells Fargo CEO John Stumpf, I was confident that this is not a housing crisis," said The Street's Jim Cramer, manager of the Action Alerts PLUS charitable trust. Wells Fargo, where loans to oil and gas companies represent 1.9% of the total, and Bank of America are both among the portfolio's holdings.
"This is not The Big Short for oil," Cramer said. "But it doesn't really matter right now. Everyone is guilty until proven innocent."
Exclusive Look Inside:Want to be alerted before Jim Cramer buys or sells Bank of America or Wells Fargo stock? Learn more now.
Moody's concurred with those assessments of energy lending's impact. "We do not view this as causing anywhere near the magnitude of the financial crisis," Fanger said in the interview.
That crisis, which led to the collapse of investment bank Lehman Brothers in 2008, revolved around mortgages of widely varying credit quality that had been packaged into securities and sold to financial institutions by lenders.
Valuing them became impossible when the housing bubble collapsed and borrowers were unable to repay their loans, prompting massive government bailouts to protect the broader economy.
"The U.S. mortgage market is a much, much larger market than the oil and gas market," Fanger said. "In order of magnitude, this couldn't generate nearly the volume of losses that were generated in the mortgage market."
Still, plummeting oil and gas prices may affect the Federal Reserve's plans to increase short-term interest rates, which it left at nearly zero for seven years to bolster the economy after the financial crisis. Following a December hike of 25 basis points, the central bank had indicated it might raise rates as many as four times this year, before signaling caution in January.
Inflation is below the Fed's 2% target and is likely to remain so in the near future as energy prices drop further, the bank's monetary policy committee said in a statement after its meeting.
Concern about energy loans has dragged some bank stocks to levels last seen in 2011, because "many investors fear that problems with energy and energy-related loans will recreate the crisis of 2008," Dick Bove, an analyst with Rafferty Capital Markets, said in a note to clients this week. 
Bove argues that investors have overestimated the danger. A review of balance sheets of 18 of the largest U.S. banks -- which hold a combined 69% of the industry's loans -- shows that the companies would face more risk in a recession from their real estate portfolios than from energy, metals and mining, Bove said. 
In his hypothetical scenario, energy loan write-offs would be just a fourth of consumer mortgage write-offs and half of commercial real estate losses.
"Not only would an outsized write-off in energy and mining loans not be as large as losses in other bank-loan portfolios, but it would not come remotely close to devastating bank safety and soundness," Bove said.