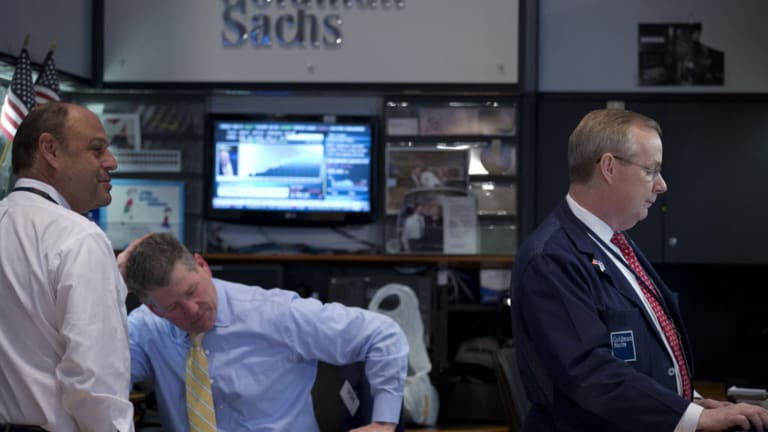 JPMorgan, Goldman Sachs Prepped for the Pain of Volcker Rule
The Volcker Rule limiting proprietary trading at U.S. banks took effect on Tuesday. Rather than bar specific transactions, it tries to limit fallout on taxpayers, said former Congressman Barney Frank.
NEW YORK ( TheStreet) -- Ready or not, banks must adhere to the Volcker Rule starting today.
They say they're ready. JPMorgan Chase (JPM) , Goldman Sachs (GS) , and Morgan Stanley (MS) , which stand to be affected the most because of their size, have had years to prepare for the regulation, a piece of the Dodd-Frank finance reform law that limits speculative trades banks can make on their own accounts.
"We aren't expecting Volcker to have an impact in the near-term trading outlook," JPMorgan CFO Marianne Lake said on an earnings call last week. "We've been talking very consistently over an extended period of time about the fact that we've reshaped our business through time to be compliant in substance and in form with Volcker.
Goldman Sachs President Gary Cohn offered a simlar assessment at the Deutsche Bank financials conference in June, assuring investors that the New York bank was transforming its equity investing to "continue to meet client needs while complying with Volcker."
Initial compliance with the law may cost the industry and regulators from $412 million to $4.3 billion, the Office of the Comptroller of the Currency, a federal banking oversight agency, estimated in 2014. Because the banks have been heavily restructured since the financial crisis, it's difficult to assess how much revenue they would lose. A look at the 2006 annual reports of Goldman Sachs, JPMorgan, and Morgan Stanley, however, shows that proprietary trading was listed as a significant money-generator prior to the financial crisis in 2008.
"The Volcker Rule does not stop them from doing any transaction," former Congressman Barney Frank, a co-author of Dodd Frank , said in an interview. "It just says, please don't do those in a way that would implicate the Federal Deposit Insurance Corporation."
Specifically, Frank is calling out banks such as Goldman Sachs and Morgan Stanley that petitioned the Fed in 2008 to change their status from "investment bank" to "holding company" to receive access to the Fed's discount-lending along with FDIC protections as banks started to fail.
In Frank's view -- and the view of many others -- it would be unsporting to make speculative bets that would require taxpayers' money to rectify if they went sour.
For the banks, though, applying the Volcker is not so clear cut. Some of the trading that starts out as permitted risk-management strategies can take on the appearance of speculative bets if the market moves against the banks. The lack of a clear line between what is and is not permitted has caused some banks to leave certain markets entirely.
Bank of America (BAC) , for instance, lost as much as $500 million in revenue a quarter when it dropped proprietary trading activity banned under early interpretations of the Volcker Rule, CEO Brian Moynihan said in late 2013.
Morgan Stanley, meanwhile, famously whittled down its trading operations following the financial crisis as new regulations loomed and only recently began to ratchet some of them back up. While the bank has avoided many of the scandals that plagued peers who maintained their trading desks, it's had difficulty consistently delivering 10% return-on-equity on an annualized basis.
Further, since Dodd-Frank was adopted in 2010, many investment banks have seen top talent flee to join or start their own hedge funds. There is also evidence that recent college graduates who once vied for positions at the nation's top banks have begun to favor careers in technology and hedge funds where the pay is typically better and comes with fewer regulatory headaches.
But, the effects of the Volcker Rule involve more than just the loss of a few key names: Whole business units have been reorganized, and sometimes disbanded.
The rule, which emerged as one of the most controversial tenets of Dodd-Frank, also cracks down on positions in hedge funds and private equity funds. Banks engaged in that activity because it was profitable, and the earnings from those businesses allowed the banks to take on heightened risk in more vanilla areas such as mortgage lending. When there is an opportunity to make money, however, moral hazard is usually lurking, too.
"It's clear that this activity almost inherently creates conflicts of interest," Paul Volcker, the former Federal Reserve chairman for whom the rule is named, said of proprietary trading in 2012. "And we have enough conflicts of interests in banking institutions anyway, traditionally. But this is a conflict of interest not between two customers, but a conflict of interest between the bank making money and its customers' interests."
It is not an accusation without basis.
In 2010, Goldman Sachs was charged by the SEC with misstating and omitting material information about an investment security linked to home mortgages, which it named "Abacus," and sold to investors investors. While the bank solicited clients, it also allowed a client who was betting against the mortgage market to select the mortgages that would be included in the product, the SEC said, Abacus investors lost more than $1 billion. Goldman eventually paid $550 million to settle the case.
In other cases, trading operations have become so complex and widespread that they were tough to manage. 
"There is an argument that there is too much complexity, that it's hard to keep track of it all," Frank said. "Jamie Dimon, who's considered generally as good a bank CEO as there is, acknowledged he lost track of what was going on in London with derivatives."
Frank was referring to the "London Whale" trading loss that occurred at JPMorgan in 2012 -- just as provisions of the Volcker Rule were being drafted.
A trader in the bank's London office engaged in a series of derivatives trades early that year that resembled proprietary trading far more than the risk-hedging trades the bank's division was permitted to make. The trading strategy unraveled and resulted in a loss of more than $6 billion -- over three times what the bank's initial estimates were.   
Dimon said afterward that the strategy used in those trades was flawed, complex and badly monitored.
"Let's not have institutions where these serious things happen and it's so complicated that the people at the top don't know about it," Frank said.