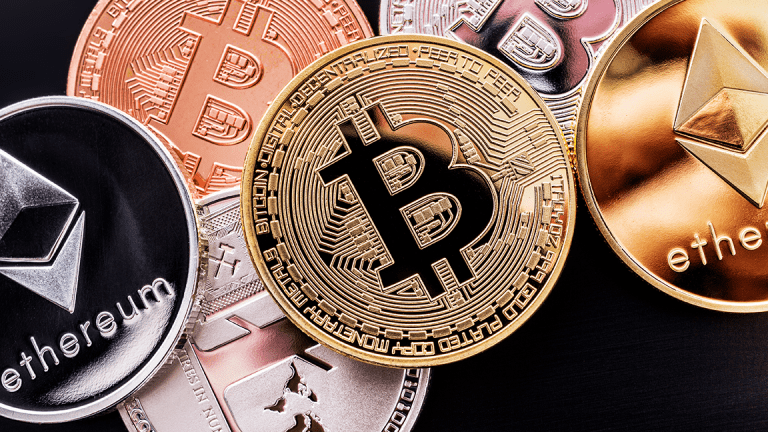 Publish date:
JPMorgan's Foray Into Cryptocurrency Shows CEO Dimon's No Luddite
JPMorgan Chase, whose CEO Jamie Dimon once described bitcoin as a fraud, introduces a new 'JPM Coin' for customers to use to make payments among themselves.
JPMorgan Chase, whose CEO Jamie Dimon once described bitcoin as a fraud, introduces a new 'JPM Coin' for customers to use to make payments among themselves.
When most people think about banks, they think about money.
The reality is that companies like JPMorgan Chase & Co. (JPM) - Get Report that perform the business of banking every day are just a bunch of people with computers, working in buildings.
There's money in the vaults, of course, but that money wouldn't be there if not for the ability of banks to efficiently handle and safeguard customers' money using accurate and closely monitored databases, and to process transactions at ever-increasing speeds for ever-shrinking costs. None of that would be possible without significant, ongoing investment in technology. 
That's why JPMorgan's new cryptocurrency, "JPM Coin," is good for JPMorgan shareholders. Sure, it catapults the bank into the pantheon of players in the emergent markets for bitcoin and other so-called cryptocurrencies, among the hottest of hot fads in the world of fast finance.
But symbolically, JPMorgan's rollout of the new internal-use-only cryptocurrency serves as a reminder of how committed CEO Jamie Dimon is to investing in improved technology as part of his ongoing efforts to serve customers faster, better and more cheaply, while avoiding obsolescence.
The new cryptocurrency -- initially available only to institutional customers like banks, brokerage firms and corporate treasurers -- will be backed by U.S. dollars on a one-for-one basis, according to a fact sheet posted on the bank's website. The announcement was first reported by CNBC.
Customers will put money into a JPMorgan bank account, receive an equivalent amount of JPM Coin and then use the in-house credits to make payments with other JPMorgan customers. Think of it like going into a video-game arcade and buying tokens, and then using those tokens, in the same arcade, to pay for a video game. Essentially, they're just a convenient substitute for quarters.  
Such a framework sets it apart from bitcoin, which can be traded by pretty much anyone with a computer and is notably independent of the global banking system. JPMorgan claimed it's the first U.S. bank to create and successfully test a digital coin representing a fiat currency such as the dollar.
All this is despite Dimon's flip remark at an investor conference in 2017 that bitcoin was a "fraud" and "worse than tulip bulbs," even as he applauded advances in blockchain, the key technology behind cryptocurrencies. He later said he regretted the comments.   
But here's one reason Dimon's opinion on the topic really matters: He's ultimately responsible for a massive amount of spending on technologies like blockchain. 
According to New York-based JPMorgan's latest financial statements, "technology, communications and equipment" represented the second-biggest category of expenses in 2018, after compensation. The technology spending surged 14% to $8.8 billion, even as revenue rose by just 8% and total expenses climbed by 7%. (Compensation, for what it's worth, rose by 6% to $33.1 billion. Dimon himself got a 5% raise to $31 million, natch.) 
Higher tech spending, rather than being a worrisome sign of a profligate management team, does as much as anything to guarantee that JPMorgan stays at the forefront of the global banking industry for years to come, said the five-decade bank analyst Dick Bove of the brokerage firm Odeon Capital.
Investors have worried in recent years that big banks risk falling behind companies like Alphabet Inc.'s (GOOGL) - Get Report Google and Apple Inc. (AAPL) - Get Report , which have signaled almost as serious an intent to push into financial services as banks have to stay abreast of new technology, Bove said.
"The general thesis is that banks tend to be old and stodgy and they don't have new technology, but nothing could be further from the truth," Bove said in a phone interview. "Banks probably spend more money on technology than any other industry in the country other than the tech industry itself, and they don't intend to be left behind."
Indeed, in the fine print on page 25 of JPMorgan's 301-page annual report filed last year with U.S. securities regulators, the bank even went so far as to warn shareholders that it needed to spend more money to stay ahead of the cryptocurrency craze.
"Both financial institutions and their non-banking competitors face the risk that payment processing and other services could be disrupted by technologies, such as cryptocurrencies, that require no intermediation," according to the report. "New technologies have required and could require JPMorgan Chase to spend more to modify or adapt its products to attract and retain clients and customers or to match products and services offered by its competitors, including technology companies."
Last year, when rival bank teams at Bank of America Corp. (BAC) - Get Report and Citigroup Inc. (C) - Get Report were trumpeting their plans to buy back massive chunks of their own stock, following President Donald Trump's late-2017 cut in the official corporate tax rate, Dimon boldly announced he planned to invest the estimated $20 billion windfall in improving the bank's operations and expanding its market footprint. 
Those investments already may be paying off. Amid a downdraft in bank stocks over the past year, JPMorgan's shares have fallen by just 11%, outperforming those of all other big U.S. banks.   
The stock-price performance looks downright spectacular when compared with the 64% plunge to $3,568 in bitcoin prices over the past 12 months, according to the market tracker Coinbase.
Dimon might be onto something. 
JPMorgan, Alphabet, Apple and Citigroup are holdings in Jim Cramer's Action Alerts PLUS member club. Want to be alerted before Jim Cramer buys or sells the stocks? Learn more now.