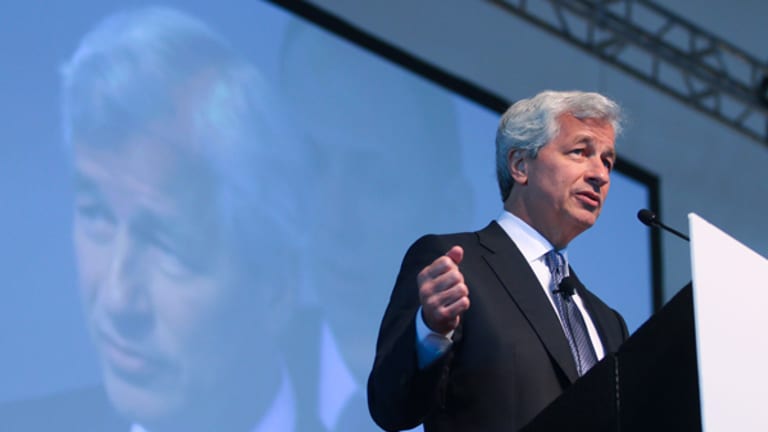 Here Come Bigger Stock Buybacks at JPMorgan, Rivals -- Thanks to Trump
Regulators have pressured U.S. banks in recent years to hoard capital. Now, that's about to change.
Despite the turbulence President Donald Trump inflicted on the stock market this week, bank investors may soon have a reason to thank him: bigger shareholder payouts.
U.S. banks including JPMorgan Chase (JPM) - Get JPMorgan Chase & Co. Report , Bank of America (BAC) - Get Bank of America Corp Report and Citigroup (C) - Get Citigroup Inc. Report  are set to pay out as much as 85% of profits to shareholders in the coming year in the form of dividends and stock buybacks, up from 72% last year, predicts brokerage firm KBW. The 2017 level would be the highest since the payouts were slashed in the wake of the financial crisis. In 2011, for example, the payout ratio was a mere 31%.
So far Trump has failed to deliver on promises to rewrite the landmark 2010 Dodd-Frank Act or push through big tax cuts that would deliver a windfall to big firms like JPMorgan Chase or smaller regional banks like SunTrust. Yet Daniel Tarullo, the Fed governor who had led the central bank's push to impose stiff restrictions on U.S. banks, resigned in April as Trump pledged to ease regulations, as part of a plan to spur more lending and bolster economic growth.
Now, that years-long cycle of banks increasing their capital - the extra cushion of assets that firms are supposed to hold to avoid a collapse - is coming to an end, according to Brian Kleinhanzl, an analyst at KBW.
"Higher capital return was coming, but having Tarullo go and a new administration coming in certainly accelerates it," Kleinhanzl said in an interview.
Large U.S. bank stocks tumbled an average 4.1% on Tuesday following revelations that Trump leaked sensitive intelligence to Russian officials and urged former FBI Director James Comey to drop an investigation into his campaign. The news sparked concern that Trump might face impeachment or lose the support of congressional Republicans, endangering his legislative agenda for big tax cuts and an overhaul of banking laws. 
While bank stocks had rallied as much as 8% this year on optimism over Trump's agenda, they're now down about 1.3% on the year. 
The Fed approves bank payouts through a yearly process called the Comprehensive Capital Analysis and Review, or CCAR. The annual exams are also known as the "stress tests," since banks are supposed to prove they could withstand a financial or economic crisis without losing so much money that they burn through their capital. Results are due out in June.
JPMorgan's net payout ratio - from the combination of dividends and share buybacks -- could rise to 80% from 58% last year, KBW estimates. Citigroup's could climb to 99% from 78%, while Bank of America's increases to 73% from 55%.
And, under a Fed rule finalized in January, banks with less than $250 billion of assets will get a reprieve from "qualitative assessments" of their capital-planning processes that had tripped up some firms in years past.
Birmingham, Alabama-based Regions Financial (RF) - Get Regions Financial Corporation Report , which has about $125 billion of assets, could increase its payout ratio to 107%, KBW estimates, meaning the bank would actually pay out more than it earns. Last year, the bank's payout ratio was 88%.
"Removing the qualitative review for noncomplex banks means there is likely more upside than downside to our capital-return expectations since banks may get more aggressive without the additional scrutiny," the brokerage firm wrote in a report Thursday.
Fed officials declined to comment.
The CCAR test changes slightly every year, and in 2017 banks will be evaluated on their ability to withstand a severe global recession in which the U.S. unemployment rate rises by about 5.25 percentage points to 10 percent, coinciding with a period of elevated defaults on corporate loans and heightened distress in commercial real-estate markets.
To pass the test, banks must demonstrate that they can maintain a capital cushion of at least 4.5% of adjusted assets through such a recession.
But the institutions have hoarded so much capital since the financial crisis that most of them now exceed the minimum levels required by regulators.
JPMorgan, for example, has a non-stressed capital ratio of 12.4%, compared with a minimum requirement of 10.5%, according to KBW.
Morgan Stanley's (MS) - Get Morgan Stanley Report capital ratio stands at roughly 17%, compared with its minimum requirement of 10%. And the New York-based investment bank could pay out 90% of profits to shareholders in the coming year, up from 71% in 2016, based on the KBW report.
"There is no longer a need for a lot of these big banks to hold onto a ton of excess capital," Kleinhanzl said.
Click here for the latest business headlines.