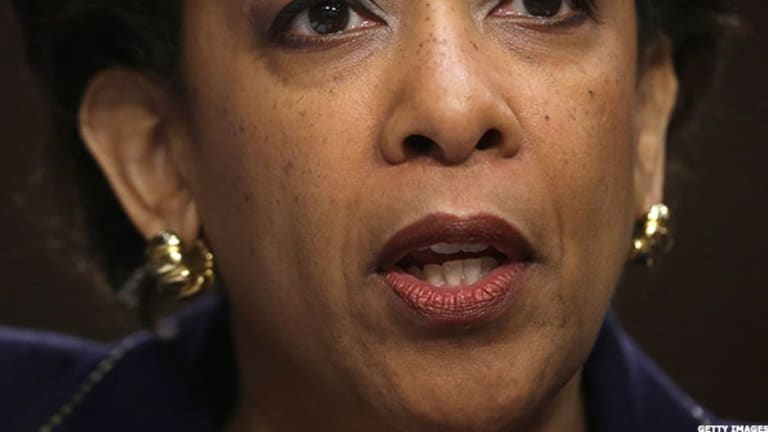 Big Banks Fined $5.9 Billion After Probe Into Rigged Dollar-Euro Trades
The fines follow a currency-rigging probe that lasted almost two years, and the U.S. Attorney General promised to keep prosecuting all those 'who tilt the economic system in their favor.'
UPDATE: This article, originally published at 10:32 a.m. on Wednesday, May 20, has been updated throughout with fines from federal regulators and analyst commentary.
NEW YORK (TheStreet) -- Six of the world's largest banks including, including JPMorgan Chase (JPM) - Get JP Morgan Chase & Co. Report and Citigroup (C) - Get Citigroup Inc. Report, will pay fines totaling $5.9 billion after a federal investigation into rigged trades of the globe's most widely used currencies: the U.S. dollar and the euro.
JPMorgan, Citigroup, Barclays (BCS) - Get Barclays PLC Report, and Royal Bank of Scotland (RBS) - Get Royal Bank of Scotland Group Plc Report, will pay $2.5 billion and plead guilty to violating antitrust laws in a settlement with the U.S. Justice Department, the agency said on Wednesday. While the corporations admitted responsibility and agreed to notify customers and other businesses that may have been been affected, executives separately put the blame on individual employees.
Between December 2007 and January 2013, euro-dollar traders at Citigroup, JPMorgan, Barclays and RBS -- self-described members of "The Cartel" -- gathered in an exclusive electronic chat room and used coded language to coordinate their moves in the U.S. dollar-euro market, according to plea agreements to be filed in federal court in Connecticut. By agreeing not to buy or sell at certain times, they protected each other's trading positions, the Justice Department said.
The government "intends to prosecute all of those who tilt the economic system in their favor, who subvert our marketplaces and enrich themselves at the expense of the American consumer," Attorney General Loretta Lynch said during a news conference.  "The prices the market sets for the currency influences every sector of every economy in the world. It harmed countless consumers, investors, and institutions around the world -- including the banks' own customers."
The dollar-euro market "is as big as it gets," said Assistant Attorney General Bill Baer, head of the Justice Department's antitrust division. About $500 billion in dollars and euros is traded every day, making the market five times larger than all U.S. stock exchanges combined.
"The banks pleading guilty today are not ordinary market participants," Baer said. "They are 'market makers,' representing 25 percent or more of dollar-euro exchange rate transactions each year. As such, they are uniquely positioned to manipulate the market."
Bank traders who were members of "The Cartel" used the chat room to move exchange-rate fixes -- snapshots of the prices to buy and sell currency at specific times of the day -- in whatever direction would be most profitable to them, Baer said.
"The snapshot rates became the price paid for billions of dollars of currency bought or sold on any given day," he said, which cheated customers who relied on the fixes to fairly reflect market prices.
Each of the banks agreed to a fine proportional to its involvement, the Justice Department said: Citigroup, involved from December 2007 until at least January 2013, will pay $925 million; Barclays, involved from December 2007 until July 2011, and then from December 2011 until August 2012, will pay $650 million; JPMorgan, involved from July 2010 through January 2013, will pay $550 million; and RBS, involved from December 2007 until April 2010, will pay $395 million.
Those banks and two others -- UBS (UBS) - Get UBS Group AG Registered Report and Bank of America (BAC) - Get Bank of America Corporation Report will also pay cumulative fines of $3.4 billion to regulators from the Federal Reserve to the Commodity Futures Trading Commission.
The $925 million fine the Justice Department levied against Citigroup is the largest ever imposed for a violation of the Sherman Antitrust Act, Lynch said. Settlements were expected weeks ago but there were delays as the banks worked to confirm that guilty pleas would not bar them from continuing certain operations.
"The behavior that resulted in the settlements we announced today is an embarrassment to our firm, and stands in stark contrast to Citi's values," CEO Michael Corbat said in a statement. "We will learn from this experience and continue building upon the changes that we have already made to our systems, controls, and monitoring processes."
UBS (UBS) - Get UBS Group AG Registered Report was also included in the Justice Department's investigation, and its settlement was announced earlier on Wednesday morning. The Swiss bank was fined $545 million, which will be paid to the Justice Department and the Federal Reserve. UBS was able to avoid criminal charges for forex rigging because it received conditional immunity for reporting misconduct to the Justice Department and promising full cooperation in the investigation.
Still, the bank was forced to plead guilty to wire fraud charges in relation to a previous case involving interest-rate manipulation. The bank had reached a non-prosecution agreement with the Justice Department in 2012 in that case, and the deal was discarded after the currency-rigging probe.
The charges against the banks may simultaneously sound confusing and familiar, and for good reason. In November, JPMorgan, Citigroup, RBS, UBS, Bank of America (BAC) - Get Bank of America Corporation Report, and HSBC (HSBC) - Get HSBC Holdings plc. Report settled with U.S. and U.K. regulators over similar charges to the tune of $4.3 billion.
The multiple investigations and penalties from a variety of agencies in sometimes overlapping cases have been a sore spot for the banks, which say they're being hammered over and over for the same incidents.
"For now, it's simply a reality for big banks," JPMorgan CEO Jamie Dimon said in his annual letter to shareholders in April ."When one or more employees do something wrong, we'll hear from multiple regulators on the subject."
Banking analyst Dick Bove echoed Dimon's sentiments in a note to clients titled, "Banks Admit to Criminal Activity: Who Benefits?"
The Justice Department has declined to say how many people were involved in the rate-rigging, but "as best we can determine, there may have been less than 20 people involved in the activities which have cost shareholders" almost $6 billion, Bove wrote.
In the Justice Department settlement, JPMorgan pleaded guilty to a single antitrust violation, the New York bank said in a statement. In addition to that fine, JPMorgan said it will also pay $342 million in a resolution with the Federal Reserve, its primary regulator. 
The charge related primarily to a single trader who has since been dismissed and his coordination with traders at other firms, the bank said.
"The conduct described in the government's pleadings is a great disappointment to us," Dimon said in the statement. "We demand and expect better of our people. The lesson here is that the conduct of a small group of employees, or of even a single employee, can reflect badly on all of us, and have significant ramifications for the entire firm."