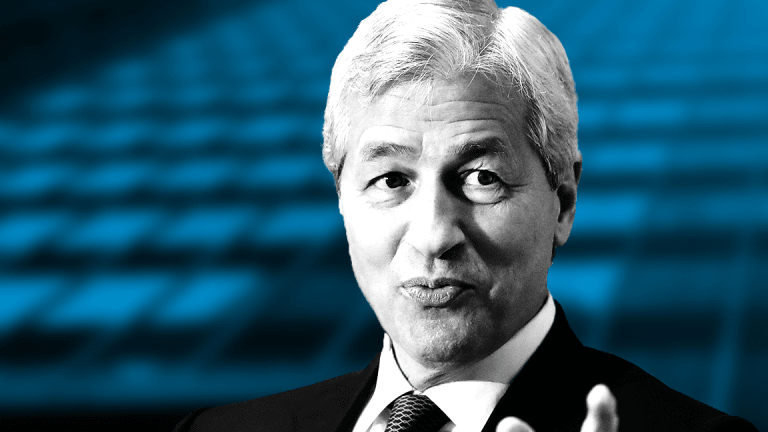 JPMorgan Chase CEO Jamie Dimon's Call for 5% Yields Should Terrify Bulls
Don't think the markets will be so boring in August. Let the Apple iPhone rumors begin. Tesla worth $100 billion soon? Maybe. Papa John's founder John Schnatter may be out to lunch.
Put that morning summer beer down -- there is actually stuff of interest happening in the markets Monday.
If you cover a company for 13 years like I have, you often get a feel for certain things. So to see PepsiCo (PEP) - Get Report CEO Indra Nooyi say Monday she will pass the CEO baton off to Ramon Laguarta is not surprising to yours truly.
Pepsi's shares have lagged the S&P 500 I:GSPC since November 2017 and there have been some changes internally at the company. Nooyi is a rock-star corporate executive, and it's unlikely she is done changing the game at the age of 62.
That said, Laguarta will confront several big challenges from the get-go. First is to decide whether to re-franchise PepsiCo's beverage operations to unlock profits. It's a move rival Coca-Cola (KO) - Get Report has successfully pulled off. Laguarta will also have to make a call on putting expenses back into the business and where. PepsiCo arguably has been hurt in recent years by an intense focus on cost control, one place being marketing.
Other than PepsiCo's leadership change, JPMorgan Chase CEO Jamie Dimon's (JPM) - Get Report call for 5% Treasury yields should scare the hell out of you. If yields hit 5% in 2019 the U.S. economy won't be growing at a 4.1% clip as it did in the second quarter. Keep that in mind ... it may be more like a negative 1% clip. 
Data Dump 
Corporate America loves its stock buyback press releases. Executives can just feel the year-end bonus bump as buybacks pad earnings per share enough to meet annual goals set forth in employment contracts and proxy statements. Buoyed by rising cash levels and a strong U.S. economy, share repurchase authorizations have surged 80% year to date to $754 billion, according to Goldman Sachs.
The investment bank said Monday it lifted its 2018 estimate for repurchase authorizations to a record $1 trillion, which would mark a 46% rise from last year. With valuations off their record highs for the year and seasonal patterns now in the mix, Goldman thinks August could bring a wave of stock buybacks. 
"Investors take note: August is the most popular month for repurchase executions, accounting for 13% of annual activity," pointed out Goldman Sachs strategist David Kostin. "The buyback blackout period has now ended for most companies. More than 80% of firms in the S&P 500 I:GSPC have reported results and may resume repurchasing stock on a discretionary basis after being on hiatus for the past month." Those thinking that this will equate to a 5% bump in stocks this month should relax.
Households, mutual funds and pensions funds have been net sellers of stocks, noted Goldman. So all stock buybacks may do is offset institutional selling. Sorry, bulls. Meanwhile, TheStreet's @ScottGamm looked at how stock buybacks may impact the U.S. economy. 
Around TheStreet 
On Real Money, TheStreet's founder Jim Cramer said hated consumer staples stocks aren't done rallying. What Clorox (CLX) - Get Report CEO Benno Dorer told me about pricing power last week underscores Cramer's call.
In the latest edition of "The Tech Skeptic," tech reporter @AnnieGaus sets up shop across from a California Apple (AAPL) - Get Report store to discuss iPhone rumors. Tis' that time of year again (iPhone rumors) in Apple-land. Apparently the new iPhone X has been leaked, and it's giant in size. As Gaus discussed in another piece, the $1,000 iPhone X may seem cheap compared to new smartphones from the tech giant in the years to come. Be honest, you would pay $2,000 for an iPhone -- if not more -- because the product basically runs your life on Earth.
TheStreet's Tesla expert @BretKenwell looked at why shares of the electric carmaker could be speeding toward a $100 billion market in the latest "Tesla'd" column. For the record, I don't share Kenwell's view but understand his reasoning behind a massive short squeeze that sends shares of Tesla exploding.
Fascinating interview by consumer editor @MichelleLodge with Papa John's (PZZA) - Get Report founder John Schnatter. Amazing -- but unsurprising -- how he fails to accept responsibility for any of the chain's troubles. Schnatter has declared war on the company he founded, and it wouldn't be a shock to see him back as CEO. With almost 30% ownership comes power and influence.