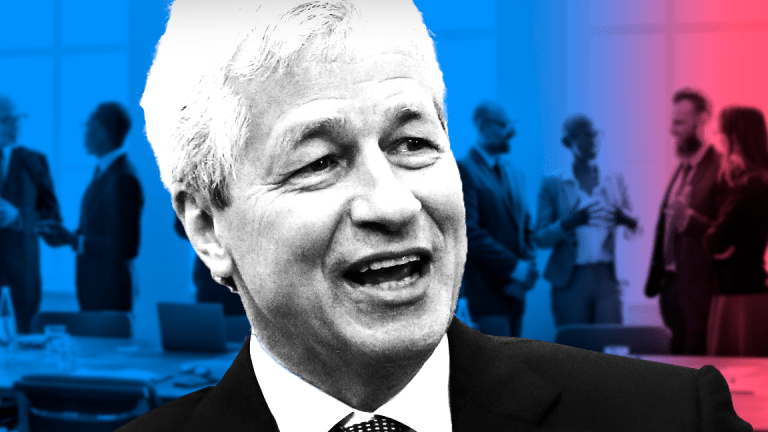 On JPMorgan's Board, Women Are Fewer Than a Few
JPMorgan CEO Jamie Dimon has a much-vaunted track record of promoting women to senior roles on his executive team. But the number of women on the U.S. bank's board of directors has stalled out at two since 2006, despite research showing greater female representation improves long-term returns.
JPMorgan Chase & Co. (JPM) - Get JP Morgan Chase & Co. Report  Chairman and CEO Jamie Dimon talks a lot about promoting women's careers.
He frequently touts the fact that half of the 10 executives on his seniormost leadership team are women, and 50% of the largest U.S. bank's total employees are female. JPMorgan offers more than 20 support groups for female staffers, provides generous parental leave benefits and sponsors programs to encourage more women to choose technology-related careers.
But it stops at the very top: On JPMorgan's board of directors, women are fewer than a few.
Only two female candidates appear on the ballot for election to the 12-member board of directors at the company's annual shareholder meeting Tuesday. That works out to a 17% ratio, ranking in the bottom fourth of the Standard & Poor's 500 Index of large U.S. companies.
JPMorgan's percentage also is well below levels at rival banks: At Bank of America Corp. (BAC) - Get Bank of America Corporation Report , women account for 33% of the board, while the percentage is 31% at Citigroup Inc. (C) - Get Citigroup Inc. Report . Even at the Wall Street firm Goldman Sachs Group Inc. (GS) - Get Goldman Sachs Group Inc. (The) Report , a veritable boys' club where women represent just 16% of CEO Lloyd Blankfein's senior management team, the board of directors has a higher percentage of women, at 18%.
The shortage of women on New York-based JPMorgan's board represents a rare corporate-governance black mark for Dimon, who over the years has earned high praise from investors for his mostly-steady and skilled management of the bank during the 2008 financial crisis and ensuing years. A growing body of research has shown that boards with more women are better at decision-making and bring higher long-term financial returns, and some studies suggest that female directors are less likely to be taken seriously without a critical mass of at least three.
"If you're going to be out there as CEO of this ginormous corporation, and talking all about this do-good behavior, then do it," said Sheila Ronning, founder of New York-based Women in the Boardroom, which helps female executives find seats on corporate boards. "Be a leader. Show us how it's done."
Dimon, 62, has reputation as a leader in corporate America, having served on President Donald Trump's now-defunct Strategic and Policy Forum of top executives and recently teaming up with Warren Buffett's Berkshire Hathaway Inc. (BRK.A) - Get Berkshire Hathaway Inc. Report and Jeff Bezos's Amazon.com (AMZN) - Get Amazon.com Inc. Report to develop a new healthcare company that will attempt to address the industry's challenges.
Asked if he was a feminist during an interview in December, Dimon said the answer was yes if the definition was a person who stands up for women's rights.
"I'm a humanist," said Dimon, a married father of three grown daughters. "I'm a people-ist." He added that he advises female employees to call out clients for inappropriate behavior, such as touching them on the knee.
Yet as more U.S. companies have pushed in recent years to increase the presence of women on their boards, with a heightened emphasis following last year's #metoo movement, JPMorgan has made zero progress since Dimon took over as the bank's chairman in December 2006. In fact, women's presence on the JPMorgan board has stayed constant since November of that year, when the number of female directors doubled to two under then-Chairman William Harrison.
The scarcity of women at the top of JPMorgan is especially notable given the firm's central role in the functioning of global markets and the economy. The bank, which has $2.6 trillion or assets, provides mortgages and loans to businesses and serves as an international hub for money transfers and trading in stocks, bonds, currencies and commodities like oil.
"We are continually committed to strengthening diversity across our firm at all levels," a JPMorgan spokeswoman, Jennifer Lavoie, wrote in an e-mail. She declined to arrange an interview with Dimon.
In March, JPMorgan added a new female director: Mellody Hobson, 49, president of the Chicago-based money manager Ariel Investments LLC; she's also married to film director George Lucas, of Star Wars fame. But the press release announcing her hiring was paired with the announcement that Crandall Bowles, 70, chairwoman of a privately owned investment company, would retire in May after 12 years as a director.
The other female director is Linda Bammann, 62, a retired deputy head of risk management at JPMorgan, who joined the board in 2013. Neither Hobson nor Bammann could be reached for comment.
Meanwhile, JPMorgan has allowed at least five longtime male directors to remain in their seats - despite the belief among some corporate-governance advocates that board members begin to act less independently after more than a decade on the board.
They include Lee Raymond, 79, the former CEO of ExxonMobil Corp. (XOM) - Get Exxon Mobil Corporation Report , who has served on the JPMorgan board for 31 years; James S. Crown, 64, president of Henry Crown and Co., who has served on the boards of JPMorgan and a predecessor bank for 27 years; Laban Jackson, 75, CEO of Clear Creek Properties, with 25 years; Stephen Burke, 59, CEO of NBCUniversal LLC, with 15 years.
The head of the committee charged with recommending new directors is William Weldon, a 69-year-old retired CEO of Johnson & Johnson (JNJ) - Get Johnson & Johnson Report who has served on the JPMorgan board for 13 years. Weldon couldn't be reached for comment, and JPMorgan declined to arrange an interview with him.
The thesis that a higher percentage of female directors can improve corporate performance is supported by an organization called the 30% Club, where the CEOs of JPMorgan's two biggest shareholders -- the money managers BlackRock Inc. (BLK - Get Report) and Vanguard Group - are members.
Diverse perspectives help to foster healthier debates within boardrooms, the theory goes, resulting in more effective strategic decision-making and potentially higher long-term growth.
And the difference becomes clear when a board has at least three women, ensuring that their contributions will be fruitful, proponents say. The dynamic is partly explained by the reality that when there are least three women on the board, they're more likely to disagree with each other, forcing male directors to recognize that the women's individual perspectives aren't solely gender-based.
Companies with three or more female board directors in at least four of the previous five years reported a 46% higher return on equity, a key measure of profitability, than those with lower representation, according to a 2011 study by Catalyst, a nonprofit organization that advocates for boardroom diversity. In 2016, the investment-research and index provider MSCI Inc. reported that three female directors may constitute a critical mass allowing women to contribute more equally to group decision making.
Dimon deserves kudos for elevating more women to his committee of senior executives, while also pushing to promote the careers of lower-ranking women at the bank, said Vicki Kramer, an independent consultant in Philadelphia who provides executive coaching and has conducted research on the role of women on boards.
In 2013, JPMorgan started its Women on the Move program to provide a forum where women can discuss workplace challenges and share ideas on career development. The Women's Interactive Network "provides access to the tools that enable the successful development advancement and retention of women at all levels of the firm," according to the bank's website.
A few of Dimon's direct subordinates are routinely included in lists of the most powerful women in banking and finance. They include CFO Marianne Lake, General Counsel Stacey Friedman and Mary Erdoes, head of the bank's money-management unit, which oversees about $2.8 trillion of client assets.
As recently as last week, JPMorgan announced that it will sponsor the annual awards dinner for the Women's Bond Club, a 97-year-old group that advocates for the advancement of women on Wall Street.
"He's doing something by way of helping the pipeline" of women executives who could be qualified to serve as corporate directors in the future, Kramer said. "So he should get credit for that."
But the lack of gender diversity on JPMorgan's board of directors looks "surprising and disappointing" given Dimon's avowed efforts to help advance women executives, she said.
"If you're going to take leadership on this issue, you want to take it to the highest level, and your board speaks volume about what you really think about diversity," she said.